The Sunday Post is a weekly meme hosted by Kimberly  @ Caffeinated Reviewer. It's a chance to share news~ A post to recap the past week, and showcase books and things we have received.

Stacking The Shelves is also a weekly meme hosted by  Tynga's Reviews and Marlene from Reading Reality.  It's all about sharing the books you are adding to your shelves, may it be physical or virtual. This means you can include books you buy in physical store or online, books you borrow from friends or the library, review books, gifts and of course ebooks!
---
Don't forget to look at my giveaways on the right sidebar.
Sunday was the usual visiting blogs.
Monday I got up early and had a long list of things I wanted to do.  It didn't rain much but it was very wet and humid. I wrote a review. I still haven't gotten to the baby quilt.  I was busy looking at Amazon things which might be on sale for Prime Day.  We did lots more work on hanging things in the garage to continue organizing.  The spinach is just starting to come up!
Tuesday brought Prime Day and lots of computer time looking at deals.  There was the Apple announcement about new phones.  Then I trimmed bushes and shrubs. I used the new power washer to clean blinds which were left in the garage but belong in the dining room.  They are just covered with cigarette smoke (previous owner).  It's tedious but the power washer does seem to remove the stains.  We started prepping the areas where the everblooming lilac and peonies will be planted.   I ordered a gardenia and everblooming azalea for the sunny spot in the front yard where we removed the bushes.  I also ordered up more dirt and paver stones to go around that little space in the front yard.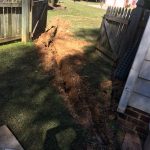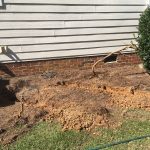 Wednesday was the rest of the Prime Day deals.   We rented a trencher to lay the plastic pipe for rain water management off the drainpipe on both sides of the house.  Also we used it to dig a hole for where the plants would go. Just when I thought I would be power washing and setting up for more weed killer, my daughter got up and said her ear hurt.  So we went off to the doctor.  She got ear drops and since we were already there, we got our flu shots.  That ate up my outdoor time.  At least I finished my audio for the neighborhood book club next week.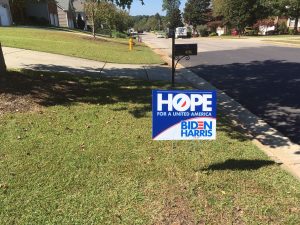 Thursday  I got up and at it and was progressing well on tasks.  In the afternoon, we had the guy come by to talk to us about installing solar panels.  It's a reasonably good idea but I need to do more research. I finally got some posts setup.  Then I loaded audios to my phone.  In the evening, I talked to my brother about solar since he is a Tesla fan and lives in Florida.
Friday,  I did more solar research.  The rebates and credits and different companies and what they recommend.  The research ate up a lot of my day.  It was rainy so at least I didn't lose more yard project time.  I think I got dirt in my eyes on Tuesday and they have been sore and itchy, or it's allergies. I felt like I couldn't even see on Friday.  So I've been using antihistamine eye drops and putting vaseline on the lids at night.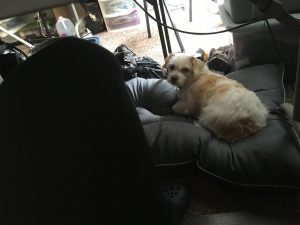 Saturday, my eyes were finally improved. I got a good start on the day.  I talked to another solar guy, outside with masks, and I knew more but he threw something else into the works, so I have more research to do.  I asked my neighborhood who they like and the company also got great reviews so I plan to talk to them.  I hate it because it is so time-consuming but now I'm into it, so I suppose I will finish while all the facts are clear in my head.
I had been so distracted and tired I didn't get to Feedly so I had quite the pile up but I finally got through it today.  After grilling some steaks for dinner,  my daughter and I took Lulu out walking in the neighborhood. Once the vest is on, she sits by the front door and whines until we leave.  It was a nice night to walk and see the Halloween decorations in the neighborhood.
So I've been working on my morning routine, gradually as I did almost 10 years ago.  In those days, I lost 50 pounds in 6 months. I was not eating unless I was hungry and my mind was engaged often forgetting meals.  But the other key was this video.  Irrationally, I thought if Charlie can do pushups I can do pushups.  I could barely do 1 at the beginning. But I got to where I could do them without  struggling, stopping only because I was out of time rather than out of energy, at about 50 a morning.  I started trying to make them harder.  Raise your feet – it's really difficult.  Also, if my nose is ever broken, you will know it is because I tried to clap between pushups. I haven't ever managed it.  I'm at 20, working my way back to more repetitions now.
---
Things I Learned This Week:
OK  if I'm asking for help, I'm also going to share the cool things I learn. You may already know them but hopefully it will help someone.
I learned a lot about solar. I don't know everything I want to know yet and some of it is specific to North Carolina. But I have learned quite a lot if anyone is trying to figure them out.

Stacking the Shelves is hosted by Tynga's Reviews and Reading Reality.  These are the exciting ARCs I received this week (If you click on the cover, it will take you to the Goodreads entry):
Thank you so much to Simon & Schuster,  MacMillan Audio,  and Elizabeth Hunter!
(If you click on the cover, it will take you to the Goodreads entry)
 Storm Cursed was on sale for $1.99.  Then I went wild with the Audible Prime day sale with $6 titles.

Now the really scary one. This is all the Kindle and Audible freebies I grabbed this past week. You can see why I need to do Thrifty Thursday to be sure I read a few at least one each month.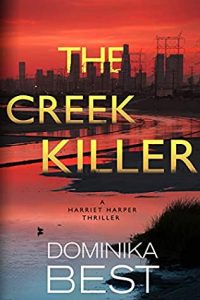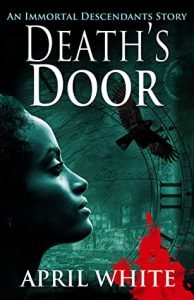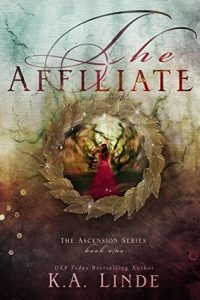 I really meant to cut back on freebies BUT  they are free so I guess that won't be happening.

I'm not including things like reviews posted or upcoming as they are always in the right sidebar. And, my challenge status is also there.
I feel like it was a very distracting week and not as productive as I wanted. But I was probably even more tired.   Still I look forward to spending my Sunday with you and finding out what is happening with you.
Anne
Latest posts by Anne - Books of My Heart
(see all)