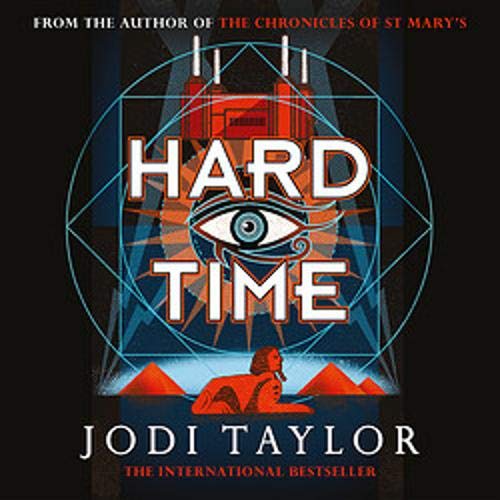 Hard Time
by
Jodi Taylor
Narrator:
Zara Ramm
Series:
The Time Police #2
Published by
Headline
on October 15, 2020
Genres:
Science Fiction Fantasy
Length:
14 hours, 11 minutes
Format:
Audiobook
Source:
Purchased
Goodreads
Amazon
, 
Audible
, 
Barnes & Noble
, 
Apple





The Time Police do not have problems. They have challenges.

Idiots who want to change history have always proved 'challenging'. But now temporal tourism is on the rise - highly illegal but highly lucrative. If you're prepared to take the risk.

To face down this threat the Time Police will despatch their toughest undercover agents. Which is fine until the unthinkable happens. Replacements are needed fast and who better than three young officers who don't even look the part?

Step forward Jane, Luke and Matthew. They may be about to graduate, but there's still plenty of time for everything to go wrong. Throw in the Versailles time slip, a covert jump to Ancient Egypt and a race against Time itself and you've got yourself an assignment worthy of Team Weird.
Hard Time is the second book in the Time Police series, a spin off of Jodi Taylor's hit series The Chronicles of St Mary's.  In it, we have Max and Leo's mostly grown son, Matthew, with the time police in the future trying to figure out his place in the world and in time.  The Time Police are a lot stricter and more regimented than the crazy group of historians at St Mary's but Matthew is on Team Weird so they should we able to get into plenty of trouble in their last days as recruits.
I enjoy this series.  Not quite as much as the Chronicles of St Mary's but the banter and crazy back and forth of that series is hard to beat or even copy.  Still Team Weird does its best and Jane and Parish have a decent banter in the group, even if some of it happens in Jane's head.
There are people out there jumping through time for touring purposes.  That is highly illegal and Team Weird gets called in when one of their tourists accidentally gets left in history 17th century London.  It didn't help that Parish used to date her and so she wasn't exactly thrilled to have him show up to escort her back.  But to find the company running the illegal time tourism, Parish and Jane go undercover to figure out who is behind it all and that is when all the real danger starts.
I do miss all the members of St. Mary's, I was glad we did end up having a few chapters with them in it.  They are a mess, but a crazy fun mess to be sure.  Matthew is really growing into a fine young person and has found a team that matches him well.  I enjoyed the overall story and the set up for some of the bigger bad guy story arc.
There is a lot of danger and fun to be had jumping through time and interesting things to see along the way.  You can read this series without having read The Chronicles of St Mary's but you'd be missing all the fun and history of that crazy lot, so I recommend still reading that series first.
Narration:
Zara Ramm has narrated all if the books set in this world.  The accent is fantastic and works well for the setting of the stories.  I always love the interpretation she brings to all of the books set in this crazy time hopping world.  I listened to the story at my usual 1.5x speed.
Listen to a clip:

Rating Breakdown
Plot
Writing
Characters
Dialogue
Narration (Audio)
Overall:
Related Posts