The Sunday Post is a weekly meme hosted by Kimberly  @ Caffeinated Reviewer. It's a chance to share news~ A post to recap the past week, and showcase books and things we have received.

Stacking The Shelves is also a weekly meme hosted by  Tynga's Reviews and Marlene from Reading Reality.  It's all about sharing the books you are adding to your shelves, may it be physical or virtual. This means you can include books you buy in physical store or online, books you borrow from friends or the library, review books, gifts and of course ebooks!
---
Don't forget to look at my giveaways on the right sidebar.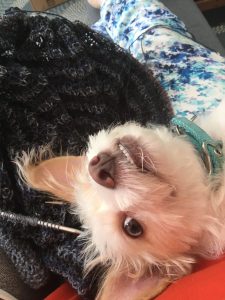 Sunday,  it's going to be a great week with mostly sun and moderate temperatures.  My daughter was up early and feeling good so we did the small errands I needed. Luckily, it wasn't too busy anywhere.  She even took Lulu for a walk to the neighborhood park.  She's already enjoying her spring break.   I ran task manager to see than my RAM and hard drive stats were both fairly high and even CPU sometimes.  I researched options for a new laptop. I decided I needed to redo my Goodreads shelves in the mystery classifications.  I got some more chores done and stayed up too late reading.
Monday,  another gorgeous day with sun.  I chatted again with my brother about the computer situation and purchased a new laptop which should arrive Friday.  I wrote reviews, and setup reviews.  I made another batch of Lulu food. Lulu was determined to help my daughter knit the new blanket for the sofa! I was hurting so I went to bed early.  I was able to sleep 7 hours, and then another 3 hours.
Tuesday, with a good night's sleep and a gorgeous day I got up feeling pretty good with very little pain.  I researched places nearby where we might get a COVID vaccine.  I picked broccoli from the garden.  Another night of hurting after dinner, so I laid down, and slept 7 hours!
Wednesday I got an Aldi Instacart.  My daughter and I were both up mid morning.  My Amazon orders came today, even my new computer which wasn't supposed to be here until Friday.  I'm not ready.  I have to plan everything and how I will move it. But I have my computer notebook with notes on how I have done every change to my computers since 2008.  So at least I can follow my notes from the last time.  I did watch the first 2 episodes of SWAT which I've wanted to see for 4 years.  I have a good start on Lulu's next sweater.  It turned into a bad pain night with interrupted sleep.
Thursday, I dreaded the pain and didn't want to get up.  But it wasn't too bad so I proceeded with my plans for the day.  We got our next pharmacy pickup and a quick stop at Dollar Tree for essentials like dog poop bags.  Then we had our chiro/ massage appointments.  They tested out my hip muscles and determined it is not the anterior or lateral hip muscles, it is the posterior hip muscles hurting me.  So it is not IT band but they are saying hip rotator.  They gave me a new exercise which is somewhat similar to the one I have been doing which helps some.  I also sent a message to my PCP to see if she has any further info.  12 weeks now.
Friday,  last night the state sent a message that my group can get vaccines March 17, rather than the 24th.  So I looked into more info on the Internet on where to sign up. I talked to a new FEMA clinic and they said to check for appts Monday. We have been looking for the second mesh bag I purchased for my daughter's laundry basket for more than a year. Yesterday, we bought another one at Dollar Tree. Today, I found the one I purchased in 2019. Of course.  I wanted to do a lot today and made 3 trips up and down the stairs but I paid for it in pain.  I ordered a new USB external CD/DVD writer for my new laptop.  I got out my old one, which I haven't used anytime recently, the box says it was compatible with Windows 98.  So yes I needed a new one.   We got a neighborhood chef dinner of scallops with pesto risotto. Yummy.
Saturday, I stayed in bed a bit to read this morning.  Once I got to the office, I did the usual computer stuff and then went to check on COVID clinics.  FEMA had just opened up appt scheduling for Mar 13-24.  I called because I wanted us in the same car to be scheduled together.  I got our appt for a Pfizer vaccine on March 17th!!!!   So that's organized. YAY.  I set up a bunch of posts.  I rearranged the work room without hurting myself and I'm happy with it.   Tomorrow my ex arrives to visit which is good and bad.  With the two of us having so much trouble, he will be able to help us.  And I want to get my garden planted before the end of March.
---
How do I do it?
If you read a book utilizing both ebook and audio, how do you record it in Goodreads?  I don't want to put read for both books because then it shows as 2 books instead of 1 book.   Suggestions or recommendations?  I suppose I could make another exclusive shelf now that I know how to use that feature.
If you have any tips for me, please comment.
---

Stacking the Shelves is hosted by Tynga's Reviews and Reading Reality.  These are the exciting ARCs I received this week (If you click on the cover, it will take you to the Goodreads entry):
Many thanks to St. Martin's Press,   Macmillan-Tor/Forge, Harlequin Audio.
(If you click on the cover, it will take you to the Goodreads entry)
I managed to find 2 at the Audible 2-1 Credit sale.

Now the really scary one. This is all the Kindle and Audible freebies I grabbed this past week. You can see why I need to do Thrifty Thursday to be sure I read a few at least one each month.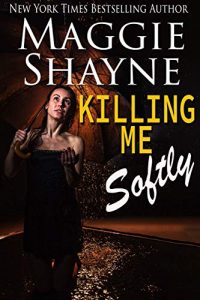 I really meant to cut back on freebies BUT  they are free so I guess that won't be happening.

I'm not including things like reviews posted or upcoming as they are always in the right sidebar. And, my challenge status is also there.
Anne
Latest posts by Anne - Books of My Heart
(see all)