Review copy was received from Author. This does not affect my opinion of the book or the content of my review.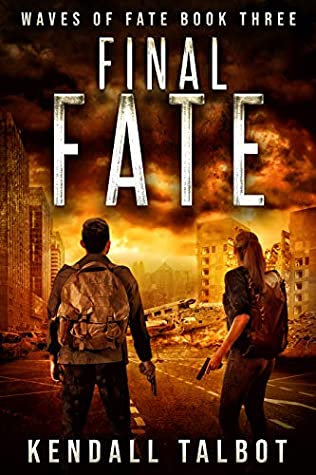 Final Fate
by
Kendall Talbot
Series:
Waves of Fate #3
on March 21, 2021
Genres:
Dystopia
Format:
eARC
Source:
Author
Goodreads
Amazon





Adrift at sea for weeks, a rescue party finally offers safe haven to the four survivors who escaped the island. But the civilized society they've always known has fallen… and a fractured, dangerous anarchy has taken its place.

Gunner. Charging into the chaos of the mainland, Gunner is determined to find his wife and daughter. But he has a new hell to deal with—desperate people with cutthroat motives.

Zon. Returning home forces Zon to face his worst nightmare—losing Jessie, the only woman he's ever loved, in order to save her family.

Gabby. Still trapped on the island with the other desperate survivors, Gabby and Madeline fear they've been forgotten. But nothing could prepare them for the danger that washes up on the shore.

America is gone. Hope is all they have left. In a world of disorder, will the remaining passengers from Rose of the Sea ever make it home? Or will the darkness of human nature destroy what little is left?

Find out in this gripping post-apocalyptic EMP survival thriller.
The final leg of the adventure that began when an EMP bomb was detonated over the US, and the crew and passengers, on a cruise ship out in the middle of the Pacific, must figure out how to survive.  Everyone has been pushed beyond what they thought they could handle and the loss of life has been prodigious.  Now, the survivors who have been forged in fiery trial now must show endurance, ingenuity, and grit when they attempt to reconnect with loved ones and rescue those left behind.  The stakes are high just like a final book should offer.
Gunnar, Pauline, Zon and Jessie are on a mission to get back to the States, connect with their families, and return to rescue those left on the island.  They had no idea that crossing the stormy, unpredictable sea would be the easy part.  Gunnar and Zon have gone head to head since the beginning and it was fascinating seeing them have to work through the antagonism to achieve a common goal.  But, it was Jessie who really stepped up.  She took all she had learned from her Prepper dad and guided them through the roiling disaster that awaited them on land.
Meanwhile, Madeline and Gabby along with the others on the island are convinced the rescue team are not coming back.  Madeline has been holding Gabby's profession against her, but a tiny discovery might be the means of her letting the past go so the women can be friends.  Gabby's seizures without her meds are getting worse, but she hides the weakness even as she steps up and shows she is no longer a woman utterly driven by her career and out of touch with what really matters.  Her past, when she shared about it with Madeline, is a stunner.  But, the islanders have more to face when another boat is sighted.  By now, they are not the soft, incompetent, ship of individuals, but have melded as friends, family, and fellow survivors so it was exciting to see them working together to do what it takes to keep everyone and their supplies safe.
As with the previous books, the author showed just how much she researched and analyzed what such a mega disaster would do to a country and people.  How it all would fall apart?  How it would play out?  And, the struggles to rebuild even in this modern era.  It is eerily accurate and plausible.  This final book revealed what survivors in a country dependent on tech without its tech behave and do.  Humanity is stripped to its true face and most of it isn't pretty or polite.
So much happens, but I liked how the series concluded.  I got to know the characters and really invested in their lives as they revealed who they were and changed under the circumstances.  Zon remained my favorite all the way- calling it the way he sees it and pragmatic to the core.  There is hope, but it is flavored with the weary knowledge of what has been and what has to happen.  Loss is acknowledged, but so is what is gained.  Again, I applaud this book and series and think those who love action adventure, mega disasters, and post-apocalyptic stories should grab this trilogy.
Related Posts