Review copy was received from Publisher. This does not affect my opinion of the book or the content of my review.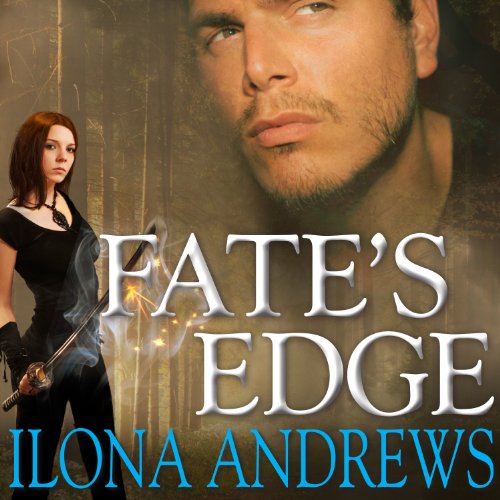 Fate's Edge
by
Ilona Andrews
Narrator:
Renée Raudman
Series:
The Edge #3
Published by
Tantor Audio
on March 9, 2021
Genres:
Urban Fantasy
Length:
14 hours, 18 minutes
Format:
Audiobook
Source:
Publisher
Goodreads
Amazon
, 
Audible
, 
Libro.fm
, 
Barnes & Noble
, 
Apple





Audrey Callahan left behind her life in the Edge, and she's determined to stay on the straight and narrow. But when her brother gets into hot water, the former thief takes on one last heist and finds herself matching wits with a jack of all trades...

Kaldar Mar-a gambler, lawyer, thief, and spy-expects his latest assignment tracking down a stolen item to be a piece of cake, until Audrey shows up. But when the item falls into the hands of a lethal criminal, Kaldar realizes that in order to finish the job, he's going to need Audrey's help...
The world of the Edge is captivating, magical, and full of gritty adventure and romance.  I was excited to come back to it after several years away when I spotted the audio edition.
Fate's Edge is the third in the Edge series and could be treated as a standalone Paranormal Romance, but it was much more satisfying getting it in order since there is a clear connection of characters and overall series story that come with the hero's side of things.
With a few years since reading book two, Kaldar's cousin Cerise's story, I was a bit hazy on some bits in the beginning.  There was enough explained to jog my memory about the world and the previous stories.  I love these stories of the Edge a rough, living place between the non-magical human world and the fully magical Weird.  There is danger and intrigue as well as some memorable characters.  I was particularly taken with first the Draytons in the first book, On the Edge, and the intro to another Edger family, the insane, quirky Mars clan in book two, Bayou Moon.
Audrey Callaghan is the newest character introduction and she comes from another shady Edger family.  She's gone legit after giving up on her family to ever change, but she has a bit of larceny in her.  I loved her complicated personality.  She associates the larceny in herself with the pain her family has brought her and sees Kaldar as just another manipulative user like her dad and brother so she resists the pull of what she's good at and thrills to even while needing to set right a wrong.
Kaldar is exactly what she thinks he is, but also more.  He's a natural, but his dark painful past also shaped him as much as Audrey's did her.  Kaldar's a swashbuckling charmer and sees Audrey's resistance as a challenge at first and doesn't even get that there is more to the pull of attraction between them until his glam smile and smarmy words convince Audrey there is nothing behind all the dazzle and he had his work cut out for him for most of the book.  While I liked this pair as mission partners and individuals, and, I could even see them happily together eventually, I did feel their actual romance needed a bit more time to get there and it felt rushed at the end.
Alongside the mission and romance of Kaldar and Audrey, there are the grisly villains of The Hand led by a beautiful aristocratic woman who likes to skin her victims and has her sights on revenge against any Mar she comes across.  The formidable villains ups the ante on the action and I was excited to see what happened when the inevitable clash came after a laborious series of tasks the heroic band had to complete before they could get where they needed to be.
What grabbed me most was George and Jack.  Originally, I spotted them as crossovers- years later- in another series, The Innkeeper Chronicles, by the authors and I was so curious I wanted to come back and find them in this series.  On the Edge introduced them in their sister's story, but they held the secondary storyline in this one and I could see how they came to be the men they were later and had the career they did as well.  They are a pair of rascals, but their magical lethal talents saved the day more than once.
All in all, it was an exciting, enthralling venture back into the world of The Edge and I won't wait long to snatch up the last book featuring more of the Mar family and another gritty, paranormal romantic adventure.  Solid Paranormal Romance that I can easily recommend.
Narration:
As to Renee Raudman's narration work, it was superb as always.  Her distinct voicing of characters, rhythm and tone kept me deeply engaged.  This was a larger cast and I had no trouble distinguishing individuals, where they were from, and what was going on.
Listen to a clip:  HERE
Rating Breakdown
Writing
Characters
Narration (Audio)
Overall:
Reading this book contributed to these challenges:
Related Posts