The Sunday Post is a weekly meme hosted by Kimberly  @ Caffeinated Reviewer. It's a chance to share news~ A post to recap the past week, and showcase books and things we have received.

Stacking The Shelves is also a weekly meme hosted by Marlene from Reading Reality.  It's all about sharing the books you are adding to your shelves, may it be physical or virtual. This means you can include books you buy in physical store or online, books you borrow from friends or the library, review books, gifts and of course ebooks!
---
Don't forget to look at my giveaways on the right sidebar.
Sunday,  the dirt hauling continued even without hot water.  As it seemed to be cooling off in the later afternoon before rain, I took Lulu for a very short walk. Of course, it started raining while we were out but not too hard. Two new daylily varieties bloomed.  I planted impatiens in the planters on the front porch.  I also took the braided rug out and hung it over the fence to scrub it over the next few days.
Monday, I had calls to make. But it turned out Modern Plumbing didn't open until 8:30 so I was reading and at 8:32 they called me!  By 9 am, they were here and had relit the pilot light and everything was working.  We had looked at those instructions online but there are 2 critical steps left out which we now know.  So we have hot water again!  I called contractors to set up appts for roof estimates.  I got the first bid for replacing the broken window glass.
Tuesday, I got the first roofing bid and a lead on another glass repair guy. It was supposed to rain, but instead it's cloudy and a bit cooler so not a bad day for yard work.  I continue to enjoy the Psy-Changeling series and am going a bit overboard on ARC requests considering my calendar is pretty full.  At least I'm not behind right now. A second glass repair guy came out to do an estimate in the afternoon. I did a lot of chores.  I scrubbed the rug again.  I took photos to post on the Buy Nothing group on Facebook for our area. I found a box with all our tablecloths and cloth napkins so I am unpacking and washing them.  I have a place for them so getting rid of that box is great.
Wednesday we had another roofing contractor do a quote.  The front of the house has definitely had the roof replaced and is not original.  We also found another neighbor boy for the yard project.  Last night rain was forecast, but this morning it is back to 15% chance again.  The cloudy is good and keeps it from being too hot for yard work.  Another daylily bloomed which was supposed to be pink but it's dark red.  I think someone switched tags at the garden center.  Lulu and I walked again and this time made it all the way over to the pool.
Thursday,  the kitchen designer shared all the plans and samples of the counters and cabinets we might like.  I managed to walk Lulu before it rained.  It was another day where it was supposed to rain but it held off until 2pm.  I went out to get Rx from Walgreens and a few things at Aldi. We planned to go out to dinner but my daughter didn't feel well enough.  So I made chicken pot pie and  chocolate cupcakes.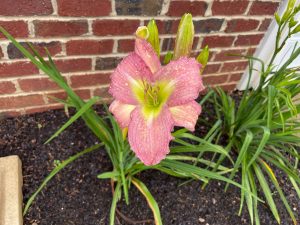 Friday, I woke very early 5:30am.   I had a Walmart pickup at 10am, but I stopped first at Lowes to check out some flooring and cabinets.  I made a trip to Harris Teeter then for a few items out of stock at Walmart. I had two new daylilies bloom.   I made a new batch of food for Lulu.  For dinner, I used more snow peas from the garden in a stir-fry. It rained quite a bit at night.
Saturday was the same pattern where it was supposed to rain but it doesn't.  It's somewhat cloudy and cooler.  As usual, I had so much I want to do.  I'm doing more cooking and walking Lulu every day now.  I'm also handling more projects.  This next week looks to be not as rainy which will be good for projects, and also some cooler days with a north wind.  I hope that forecast is accurate. I'll have to wrangle the contractors who have been here to send me their bids, too.  I need to mow. Wednesday, we get the skids of sod.

Stacking the Shelves is hosted by Reading Reality.  These are the exciting ARCs I received this week (If you click on the cover, it will take you to the Goodreads entry):
Thanks so much to Berkley, Ace,  Berkley, Simon & Schuster Audio,  Brilliance Audio,  Harper Audio and Harlequin Audio.
(If you click on the cover, it will take you to the Goodreads entry)
None.

Now the really scary one. This is all the Kindle and Audible freebies I grabbed this past week. You can see why I need to do Thrifty Thursday to be sure I read a few at least one each month.
I really meant to cut back on freebies BUT  they are free so I guess that won't be happening.

I'm not including things like reviews posted or upcoming as they are always in the right sidebar. And, my challenge status is also there.
Anne
Latest posts by Anne - Books of My Heart
(see all)