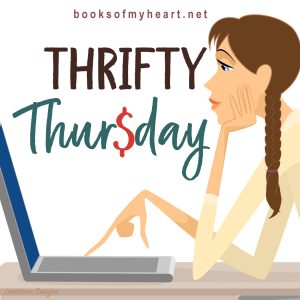 The purpose of Thrifty Thursday is to read a book which was free (at some point).
Kindle freebie on March 22, 2014  (currently free  as of writing this post)
Overall rating 3.70 with 532 ratings and 128 reviews
Fine Lines
by
Bella Roccaforte
Series:
Ink #1
on March 22, 2014
Genres:
Urban Fantasy
Pages:
277
Format:
eBook
Source:
Purchased
Goodreads
Amazon

Shay Baynes is a wanted woman: by the police for a double murder, by two rival suitors, and by the evil specter that haunts her dreams.

It's her twenty-first birthday and she finally feels like she's in charge, out on her own and about to hit it big with a new comic series. The ink's not even dry on her breakout first issue but even Shay's twisted imagination can't predict what will happen when the fine line between reality and nightmare is crossed...

She walked away once from the men who want to control her and now they're back. But can she break away from them and the specter who walks right off the pages of her comic committing gruesome murders.
ICYMI is a post from my early days of blogging at Yummy Men & KickAss Chicks.   You can see the original review here.
Kick Ass Chick – Shay Banes
---
I will be doing posts about once a month of a book I got free on Kindle. I get at least five emails a day with free books as options. I look them over on Goodreads and download ones that sound interesting. I try to only take ones which have a rating above 3.5 stars since there are so many.
Ink: Fine Lines by Bella Roccaforte sounded interesting. It has a woman, Shay, who is a comic book artist. She has two guys, Aiden and Eli, who love her. There is a murder mystery. It's classified as paranormal suspense. It has a Goodreads rating of 4.16.
So.. I hope I find some better books for you. The premise sounded good but I didn't like the book. I didn't like any of the characters or their dialogue. They were boring. I didn't admire them. They didn't seem very real to me, and I didn't understand the paranormal aspect until the last third of the book. The chapters kept shifting to being told from different points of view, which reminds me of fanfiction, so I didn't mind it. At least, I had an idea, of main characters' thoughts.
There wasn't much romance. The love triangle seemed too weird since why would anyone fall in love with Shay? I didn't feel anything special about her. The two guys did not attract me. There were some make out scenes in the book, but no real sex. I didn't find it arousing. I disliked how Shay would be hot for one and then the other. She got mad at Eli because she made a false assumption and wouldn't even speak to him briefly. The book ended and she still didn't know she had the wrong information.
The plots in the book are pretty much all left hanging. The murders aren't really resolved. The love triangle doesn't get to one couple. We don't really know much about Shay's mother or father or twin sister. We don't learn about the paranormal investigator, McNab and what his deal is. His security guy, Carl, disappears and we never find out what happened to him. There is a guy in Shay's nightmares, Gabriel, and we don't learn more about him. It would have been nice if something had been settled.
I understand this is the first in a series so some things will be ongoing. I just couldn't get interested enough in the characters or any story line enough to want to read another book. It was hard to finish this one.
---
These are only Kindle freebies I get, or ones through author newsletters which anyone can sign up and get for free. I don't include things like Kindle Unlimited or Prime Free Reading (I do have it). Both Tantor and Audible have occasional free audios (to anyone) and I do include those.  Since I one-click on 1-2 freebies a day or probably at least 5 a week, I came up with this feature to make sure I start reading them.
So I have thought about doing a Thrifty Thursday Challenge someday. For now,  what I think would be fun is if you have read and reviewed  a freebie, link up to your review (Goodreads, blog, facebook or wherever) to the first post today here.
Latest posts by Anne - Books of My Heart
(see all)
Related Posts