Review copy was received from NetGalley. This does not affect my opinion of the book or the content of my review.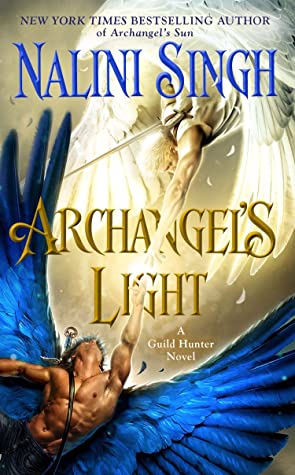 Archangel's Light
by
Nalini Singh
Published by
Berkley
on October 26, 2021
Genres:
Paranormal Romance
,
Urban Fantasy
Pages:
368
Format:
eARC
Source:
NetGalley
Goodreads
Amazon
, 
Audiobook
, 
Barnes & Noble
, 
Apple





Illium and Aodhan. Aodhan and Illium. For centuries they've been inseparable: the best of friends, closer than brothers, companions of the heart. But that was before—before darkness befell Aodhan and shattered him, body, mind, and soul. Now, at long last, Aodhan is healing, but his new-found strength and independence may come at a devastating cost—his relationship with Illium.

As they serve side by side in China, a territory yet marked by the evil of its former archangel, the secret it holds nightmarish beyond imagining, things come to an explosive decision point. Illium and Aodhan must either walk away from the relationship that has defined them—or step forward into a future that promises a bond infinitely precious in the life of an immortal…but that demands a terrifying vulnerability from two badly bruised hearts.
As Raphael's Seven got their stories one by one, readers grew more and more excited.  It was no surprise that the last two remaining sans love interests were Aodhan and Illium.  Readers have seen this deep friendship hold steady through the darkest of times and recently noted sparks that were not the result of our 'Sparkle' catching the sun.  It was never a certainty it would all culminate in this fashion for such a favorite powerhouse pair, but the die was cast and I waited with other fans for the chance to read this angelic friends to lovers tale.
Archangel's Light is the fourteenth of the longstanding tightly connected Guild Hunters series that straddles the line between urban fantasy and paranormal romance.  It's definitely not a standalone and follows a series plot thread that has been woven through the whole series.
In truth, I was nervous about this one.  I have adored this pair of angels as the best friends and bromance that would grace the Top Five if I were ever to make a list for such things.  I felt the tingles of sexual attraction in some of the latter books, but it could still have slid either way and I don't think I'd have been devastated if the author had gone a different route.  Though, all that meandering to say, once I saw the blurb and cover, I bought in wholeheartedly and started really hoping the romance would be epic.  It does no good trying to tamp down expectation to be realistic.
Fortunately, I was not disappointed.  The author drew on a wealth of history between this pair and showed through alternating past and present how they came to meet, befriend, and become something even more over the centuries.  But, in the present, they are not on the same page and are out of sync so that estrangement and distance has formed.  Rafael sends Illium to help support the new archangel of China, Suyin, and Aodhan's efforts to clean up and establish the new archangel.  They are all prickles and awkwardness when Illium gets there.  They both have their idea about why that is and make assumptions.  I was ready to bonk the pair of them to stop assuming and actually talk it out which they start to do in the close contact situation they are in.  I think being friends of the deepest sort for centuries like that confused them into never considering that their all-encompassing love like friends and brothers could be more so they never considered what was at the bottom of their recent irritations.  This was not a quick resolve and took matters right until the very end so that anyone out for some hot male on male angel steaminess and lots of sexual encounters needs to prepare for quite a different sort of romance tale.
All the dark evil residue of Lijuan's legacy is still being cleaned up in China and I give her niece and the others props for taking that on.  I had the heebie jeebies just reading about all that Lijuan had put in place and that it is still going on even without her.  Calling her crazy is understating it by a vast deal.  I think they would do better to clear out the people, animals, and samples of plants then do a scorched earth thing to all that land and start over from primordial ooze.  The more the new regime works to clean up the more past horror they expose.
I enjoyed the journey to the present outcome.  Finally getting the full story of what happened to Aodhan was incredible and I loved seeing the pair as children and Raphael as a new archangel at the time.  It is even interesting seeing how Suyin is getting together her own court in the present.  Just so much to pull in the series long reader and leave a need for more Guild Hunter world and particularly more of Sparkle and Bluebell's story.
Related Posts