Review copy was received from Publisher. This does not affect my opinion of the book or the content of my review.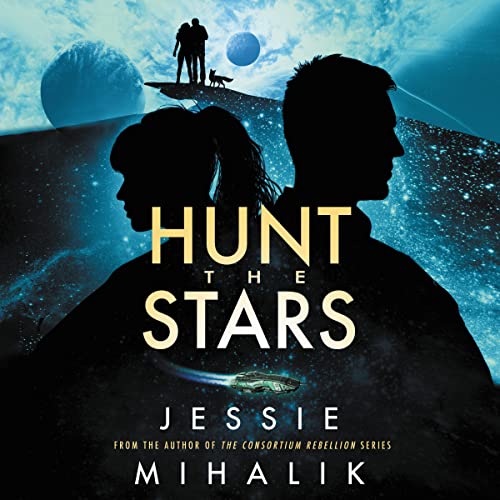 Hunt the Stars
by
Jessie Mihalik
Narrator:
Frankie Corzo
Series:
Starlight's Shadow #1
Published by
Harper Voyager
,
HarperAudio
on February 1, 2022
Genres:
Science Fiction
,
Space Opera
Length:
12 hours, 2 minutes
Format:
Audiobook
,
eARC
Source:
Publisher
Goodreads
Amazon
, 
Audible
, 
Audiobook
, 
Barnes & Noble
, 
Apple





Octavia Zarola would do anything to keep her tiny, close-knit bounty hunting crew together—even if it means accepting a job from Torran Fletcher, a ruthless former general and her sworn enemy. When Torran offers her enough credits to not only keep her crew afloat but also hire someone to fix her ship, Tavi knows that she can't refuse—no matter how much she'd like to.

With so much money on the line, Torran and his crew insist on joining the hunt. Tavi reluctantly agrees because while the handsome, stoic leader pushes all of her buttons—for both anger and desire—she's endured worse, and the massive bonus payment he's promised for a completed job is reason enough to shut up and deal.

But when they uncover a deeper plot that threatens the delicate peace between humans and Valoffs, Tavi suspects that Torran has been using her as the impetus for a new war. With the fate of her crew balanced on a knife's edge, Tavi must decide where her loyalties lie—with the quiet Valoff who's been lying to her, or with the human leaders who left her squad to die on the battlefield. And this time, she's put her heart on the line.
If you enjoy this author's other series, you will enjoy Hunt the Stars.  I was thrilled to start the Starlight's Shadow series.    While the overall story arc might be urban fantasy style, there is a new couple in each book.  It feels like fantasy romance.  The situations are very much military,  space opera with plenty of tech.   The romance lightens the story and I love this author's style. Her female characters are strong leaders.
Our main characters are Tavi,  a human and bounty hunter, who led her team on the human side during the war.  Torran, is a Valoff, and a general on the Valoff side.  So we begin with no trust, a desperate situation for each of them, which moves along into attraction.  It's an intense version of enemies-to-lovers.
Both of their teams are talented and compassionate.  Both have suffered loss and changes from the war.  They are united in this finding mission.  However, the truth is tough to pin down.  Slowly, with trust, some truth is shared.  But it's easy to feel betrayed when details are omitted.  The battle is hard fought to complete their joint mission, which turns out to be more far reaching and consequential than first known.
I loved this exciting story with strategies and battles,  as well as a surprising romance.  I believe in these characters and am looking forward to more.  The ending makes it clear where things will be heading next in Eclipse the Moon releasing in July.
Narration:
I had not listened to this narrator previously.  I enjoyed her very much, feeling comfortable with both her male and female voices.  The consciousness is from Tavi so it's mostly a female point of view.  I was able to listen at my usual 1.5x speed.
Listen to a clip: 

Rating Breakdown
Plot
Writing
Characters
Narration (Audio)
Overall:
Latest posts by Anne - Books of My Heart
(see all)
Related Posts