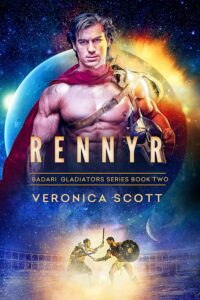 Rennyr
by
Veronica Scott
Series:
Badari Gladiators #2
on February 14, 2022
Genres:
Romance
,
Science Fiction
Pages:
266
Format:
eBook
Source:
Purchased
Goodreads
Amazon
, 
Barnes & Noble
, 
Apple




Rennyr was a genetically engineered senior soldier in his Badari Warrior pack until one day he woke up on a strange planet naked, disoriented and about to be sold into the gladiator arena for the rest of his life. Unscrupulous guards faked his death in the lab where he was created and sold him into slavery in the galaxy's hinterlands. Kill or be killed is the rule in his new life and a Badari never gives up. He'll fight to stay alive until the Badari goddess sees fit to decree his death and release him from the wretched existence.

Jaine Mitchel of the Sectors was on her way to an exciting research internship until pirates seized the spaceship on which she was a passenger and took her to feature in a gladiator 'death match' in the galactic hinterlands. She has no hope of surviving in the arena until a man she only glimpsed in passing breaks out of his cell and saves her life, declaring her to be his fated mate.

Given to Rennyr as his reward for winning the death match, Jaine must share a cell and a bed with the handsome, not human, gladiator and together they have to find a way to survive in this merciless world of violence and death. Their mutual attraction is off the charts. Falling in love is the easy part, finding a way to escape or even to remain together is the challenge. At any time their mutual owner could decide thumbs up or thumbs down on one or both of them, or sell them separately.
After the stellar start of the Badari Gladiators series with Kyden, I was rarin' to go for Rennyr.  Seeing a gladiator setting in a sci-fi might seem odd, but it really works the way Veronica Scott put together this side series to  Badari Warriors.
While Rennyr is the second in series, it is not a continuation of the first book, though there are strong ties especially toward the end, so they do work best in order.
Rennyr's story begins from the point he wakes up sick from cryo sleep and discovers that the scientists from the lab he was in and being experimented on, ahem, tortured really, have sold him across the galaxy into slavery.  He's on a lawless planet on the edge of things and thrust into a fight arena as a slave and meant to be fight fodder to thrill the masses.  He hears that one other of his kind made it big as a gladiator and Rennyr figures this Death Dealer is his only chance out.  The odds are high and then they get higher when he discovers his true mate in the next batch of slaves brought in.  Jaine's a historical researcher and is quite helpless in the ruthless world of the arena though she has a brilliant mind and wants to be a true partner to Rennyr.
I liked that the situation is very different for the characters and their romance, but still in the colorful and exciting gladiator environment began in book one.  Except, for Rennyr, he's at the beginning of it all so he's starting out unlike Kyden's story which was toward the end of his bloody, successful career.  The romance is quick since it's fated mate style, but there is the forced proximity element and their personalities that make it work since Rennyr is a protector and, as smart as Jaine is, she needs him just as her sweet, kind spirit brightens his days as never before and makes the loss of his old pack easier.
Another exciting action-packed story with a spicy romance at the heart.  Badari Gladiators can be read by any sci-fi romance lovers without having read the original series, Badari Warriors or The Sectors series though fans of them both will appreciate the tie-ins mentioned.
Related Posts