Review copy was received from NetGalley. This does not affect my opinion of the book or the content of my review.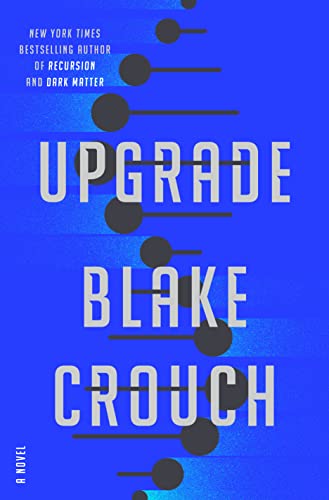 Upgrade
by
Blake Crouch
Published by
Ballantine
on July 12, 2022
Genres:
Dystopia
,
Science Fiction Fantasy
Pages:
352
Format:
eARC
Source:
NetGalley
Goodreads
Amazon
, 
Audible
, 
Audiobook
, 
Barnes & Noble
, 
Apple





"You are the next step in human evolution."

At first, Logan Ramsay isn't sure if anything's different. He just feels a little . . . sharper. Better able to concentrate. Better at multitasking. Reading a bit faster, memorizing better, needing less sleep.

But before long, he can't deny it: Something's happening to his brain. To his body. He's starting to see the world, and those around him—even those he loves most—in whole new ways.

The truth is, Logan's genome has been hacked. And there's a reason he's been targeted for this upgrade. A reason that goes back decades to the darkest part of his past, and a horrific family legacy.

Worse still, what's happening to him is just the first step in a much larger plan, one that will inflict the same changes on humanity at large—at a terrifying cost.

Because of his new abilities, Logan's the one person in the world capable of stopping what's been set in motion. But to have a chance at winning this war, he'll have to become something other than himself. Maybe even something other than human.

And even as he's fighting, he can't help wondering: what if humanity's only hope for a future really does lie in engineering our own evolution?
Blake Crouch writes some interesting thought-provoking and twisting stories with questions about morality, humanity and what lines a man might cross to be with his family.  Upgrade, another really solid stand-alone novel from the author hits on some great questions about humanity and the road some take.  Just because man has the ability to control a certain aspect of nature 'for the greater good' should they?
Logan Ramsey grew up with a brilliant mother who tried to stop a famine by using genetic alteration.  But like so many of man's best attempts to help something unexpected happens and the mutations keep going.  This caused the "Great Starvation" and 3% of the population was wiped out.  But the ramifications are more than they expected, it totally changed how society thought of food and what is considered food.  Logan has lived with that cloud over his head for most of his adult life, even though his part in it was minimal.  Now he works for an agency that monitors and arrests those who are practicing illegal gene modification.  His life is forever changed yet again when he enters a building on a tip only to be hit with an explosion with a gene editing program that Upgrades him into a new king of human.  Stronger bones, resistant to all known viruses, clearer memory of all the events of his life and much much more.  But now he is illegal and on the governments most wanted list.
Logan and his semi-estranged sister have been tasked by his presumed dead mother to Upgrade everyone in the world in an attempt to save it.  But Logan remembers how poorly his mother's first attempts to save the world went and asks the question, "will making people smarter really help with saving the world?"  Logan isn't so sure no matter how much Kara his sister is.  Logan wants to save the world for his family sure, but will upgrading everyone really do that and is he willing to pay the price?
This story was a little different to me than some of Blake Crouch's others.  While there is a lot going on, I was really happy there were some parts I could visually skip through because it was a lot of DNA sequencing stuff and numbers that you got the gist a ton of stuff was changed in Logan but I didn't need a gene specific rundown for myself to make it believable.  It did add to the authenticity of the story though.  The beginning we pretty exciting and the last half of the book definitely had a good flow to it but there are parts during Logan's transformation and subsequent isolation that took a bit more to get into.  There is more fighting in this book I think than I've seen in some of the others written.  It was interesting to see what had become of our world in an alternate not so far from now future in Blake's mind.
While not my favorite out of all of his works, it is still a really solid story of a man doing his best to save his family, even if it is from himself and save the world.  I did like the epilogue as bitter sweet as it was.  Upgrade took some extreme steps genetically to play with ideas but I like the questions it asked.  Just because you are the smartest doesn't mean you are the the best equipped to solve the worlds problems and you just might create more with your hubris.  I really liked my time with Logan though, he was a good man trying to help the world in spite of the damage he was a part of causing to it.  If you are a fan of Crouch's works, I think you will find so many of the elements that make him a popular writer in this novel.
The ability to read out this sequence of our own genome has the makings of a philosophical paradox.  Can an intelligent being comprehend the instructions to make itself. 

– John Sulston
Rating Breakdown
Plot
Writing
Characters
Dialogue
Overall:
Related Posts