Review copy was received from Publisher. This does not affect my opinion of the book or the content of my review.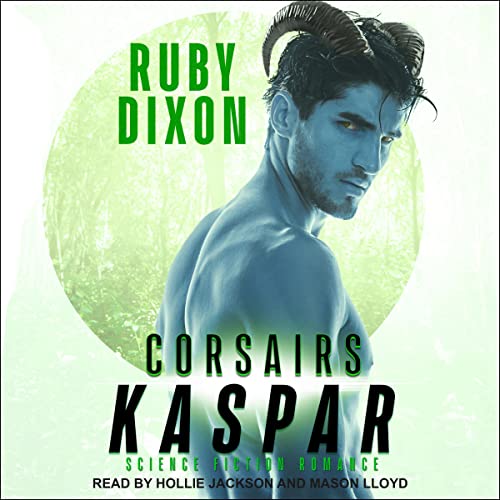 The Corsairs : Kaspar
by
Ruby Dixon
Narrator:
Hollie Jackson
,
Mason Lloyd
Series:
The Corsair Brothers #2
Published by
Tantor Audio
on August 16, 2022
Genres:
Romance
,
Science Fiction
Length:
13 hours, minutes
Format:
Audiobook
Source:
Publisher
Goodreads
Amazon
, 
Audible
, 
Audiobook





I live for danger. For excitement. For adventure.

When I end up in an escape pod with Alice, though, my world changes. She's human. Vulnerable. She does NOT love danger, or excitement. But her mind is clever, her retorts sharp, and her smile brings me to my knees. I want nothing more than to keep her safe…and keep her at my side.

What does one danger-loving corsair do when he's stranded with a beautiful human female on a jungle planet? I'm about to find out…
If you ever wondered if big blue aliens with tails was your special kind of kink anything by Ruby Dixon will answer that question for you.  The answer for me was a resounding YES.  The Corsairs: Kaspar is the second book of the Corsair Brothers series following a band of space pirate brothers and the women they accidentally rescued from a ship.  Alice and Kaspar met when he and his brothers were trying to salvage the ship they were on and then ended up jettisoned into space in a pod to hopefully be rescued later.
Alice and Kaspar are night and day different.  She is a planner and frets anytime there is change or a chance to do something new.  Kasper hasn't met a dangerous situation he didn't want to run head first into.  So of course, they are going to make a great team when they end up deserted on a moon together.  Good thing there is a protective tiger-like thing that has decided to protect Alice and feed her puny human that can't hunt.
They have a great time stranded, getting to know one another and exploring what it is like to find your perfect person in the most unexpected places.  Now if only they can figure out how to make it off the planet and find Kaspar's brothers and Alice's friends.  Good thing they found a route that just might get them there.  It is just a little dangerous, so they will probably be fine.
I have enjoyed all the books I've read by Ruby Dixon.  I like the blue aliens and their love of all things human.  It has been great seeing yet another couple find they are made to be together and figuring out all the sexiness that entails.  There is a good blend of story telling and sexy times happening throughout the story.  I have found the books set in space have been a little longer but I haven't minded because I was really into the characters and the stories being told.  Kaspar's sense of adventure and fun was so infectious and while I really wanted Alice to learn how to take a few risks if was entertaining to watch her growth.
If you like interspecies couplings this could be one of the many Ruby Dixon books to fall in love with.
Narration:
Holly Jackson and Mason Lloyd are really fantastic narrators and do the entire series justice.  They have been great at all of the Ruby Dixon books they've narrated together.  Holly Jackson does great with the human female PoVs, bringing their character to life.  I have enjoyed how Mason Lloyd has performed all of the big blue alien heart throbs in this series along with the others by Ruby Dixon.  I was able to listen at my usual 1.5x speed.
Listen to a clip HERE.
Rating Breakdown
Plot
Writing
Characters
Dialogue
Narration (Audio)
Overall:
Related Posts