The Sunday Post is a weekly meme hosted by Kimberly  @ Caffeinated Reviewer. It's a chance to share news~ A post to recap the past week, and showcase books and things we have received.
---
Don't forget to look at my giveaways on the right sidebar.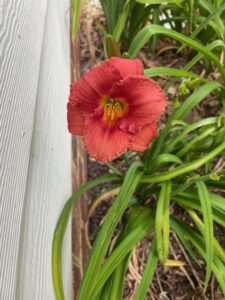 Sunday,   today will be busy with the run around to pick up everything while we have a van rental.   My ex went to Lowes to do a few returns and pick up the rest of the order in the rental van.  I did kitchen cleanup and blog visiting. I enjoyed the facebook room chat for Hammered. Then it was off to a rural town for homemade ice cream and cattle panels.  We stopped at Aldi on the way back and luckily, even though I hadn't brought my list I remembered every item!     I worked through a variety of options with my daughter and we ordered her new computer.
Monday, I was up late so I slept late.  Today is finishing the connections for the faucets in the bathroom so we can shift to outdoor projects for awhile with good weather this week.
Tuesday, I got going better today.  We did the walking in the nice weather with Abby & Lulu. Then my ex and I put together my new outdoor box to hold the cushions for the chairs. I did my blog visiting and caught up with some other computer stuff. Then I went out and put garden soil / fertilizer in two beds. The flowers on this bush smell so good.  They were behind the holly bushes we cut out a couple years ago but now they are open to view.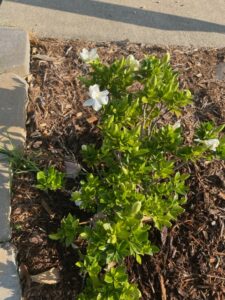 Wednesday, I woke up very early.  Beautiful weather for our walk.  We borrowed a ladder from a neighbor to clean the gutters and check repairs on windows. I made calls and worked on reviews.  I got the menu plan figured out for next week. I went through the Audible sale and picked a couple I wanted. The camellia is just starting to bloom.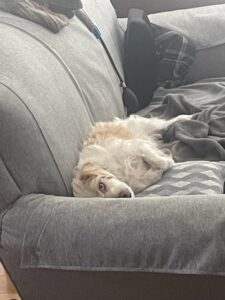 Thursday, there wasn't enough time today.  We did our walk with Abby & Lulu, nice and cool.  I did some of my computer work, then I went to pick up a few items at Aldi and Food Lion plus a quick stop at the UPS store.  I helped with the new raised garden bed, just a little. I also helped my daughter with her new computer setup, just a little.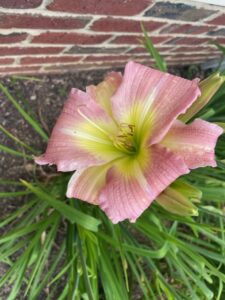 Friday,  we went to the NC Zoo.  I had not seen the Africa part.  We took the wheelchair for my daughter as she has been having more joint pain.   The zoo is hilly so it was a tough push for me.  We saw zebras, giraffes,  chimpanzees, gorillas, lemur, elephants and more. Luckily, the weather was cloudy and cool with a nice breeze. Lulu apparently was pouting while we were gone and raced to the door when we came home.  Otherwise she was on the couch.
Saturday, I was wiped out from the trip yesterday.  But we heard a pitch about getting new windows.  They're expensive but maintenance has to be done.   I made our favorite soup since it was Saturday and rainy. Three new daylily colors bloomed this week. I've got photos of 2 here. The other is a very clear lemon yellow. I'll try to get a photo next week if it stops raining. This week looks hot and rainy.
---
How do I do it?
Does anyone know how to change the audio output from Libby?  I plug my phone into the USB in the car which connects it to Apple Play but with lots of people in the car I want the sound to go to my earbuds.  I know where the buttons are to do that in some apps but can't find it in Libby.
If you have any tips for me, please comment.
---

Stacking the Shelves is hosted by  Reading Reality.  These are the exciting ARCs I received this week (If you click on the cover, it will take you to the Goodreads entry):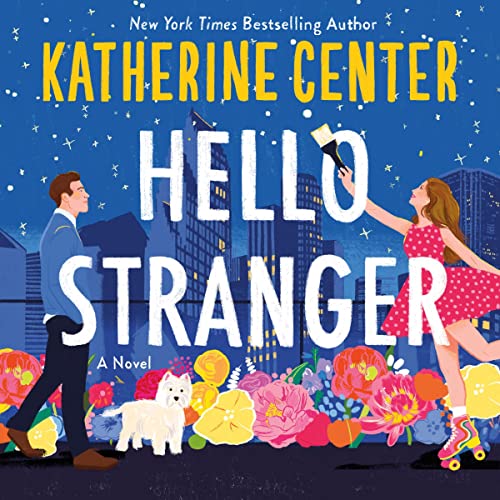 My grateful thanks to Macmillan Audio.                           
(If you click on the cover, it will take you to the Goodreads entry)
I picked my Amazon First Read.   Hidden Scars was a 99¢ deal and later I'll probably get the audio.
I purchased these 2 audiobooks in the Audible 2-1 credit sale.

Now the really scary one. This is all the Kindle and Audible freebies I grabbed this past week. You can see why I need to do Thrifty Thursday to be sure I read a few at least one each month.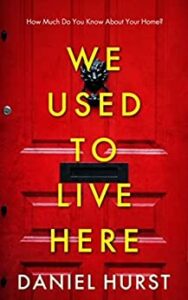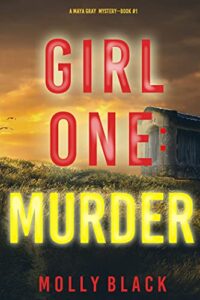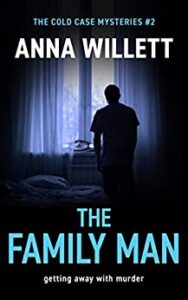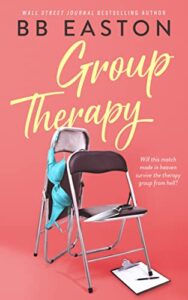 I really meant to cut back on freebies BUT  they are free so I guess that won't be happening.

I'm not including things like reviews posted or upcoming as they are always in the right sidebar. And, my challenge status is also there.
Anne
Latest posts by Anne - Books of My Heart
(see all)