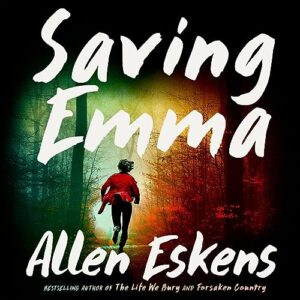 Saving Emma
by
Allen Eskens
Narrator:
Gary Tiedemann
,
Matt Godfrey
,
Saskia Maarleveld
,
Janina Edwards
,
Timothy Pabon
Published by
Mullholland Books
on September 19, 2023
Genres:
Mystery
Length:
9 hours, 1 minutes
Format:
Audiobook
Source:
Purchased
Goodreads
Amazon
, 
Audible
, 
Libro.fm
, 
Barnes & Noble
, 
Apple






When Boady Sanden first receives the case of Elijah Matthews, he's certain there's not much he can do. Elijah, who believes himself to be a prophet, has been locked up in a psychiatric hospital for the past four years, convicted of brutally murdering the pastor of a megachurch. But as a law professor working for the Innocence Project, Boady agrees to look into Elijah's file. When he does, he is alarmed to find threads that lead back to the death of his colleague and friend, Ben Pruitt, a man shot to death four years earlier in Boady's own home.

Ben's daughter, Emma, has lived with Boady and Boady's wife Dee ever since that awful night. Now fourteen years old, Emma has been growing distant, and soon makes a fateful choice that takes her far from the safety of her godparents. Desperate to bring her home, and to free an innocent man, Boady must do all he can to investigate Elijah's case while fighting to save the family he has deeply come to love.
Saving Emma is set in the same world as the Detective Max Rupert series and Joe Talbot series.   One of the main characters Boady Sanden, with events leading to this story, appears in The Heavens May Fall and now we are roughly four years later. Boady is a lawyer and the historical story, Nothing More Dangerous, is from his teen years.
Four years ago, Boady and his wife, became guardians for Emma when his friend, Ben Pruitt died. They were already Emma's godparents.  Boady also took over finishing up and storing his legal records.
Now the issues from that time are coming back up in their lives.  Emma's aunt, Anna, has been fighting for custody from the beginning, and they agreed to visitation although it wasn't required.  As Boady's wife suspected, Anna has been working to turn Emma against them.  By law when she turns 14, Emma has a big say in who her guardian will be.  At a visit for her birthday,  Anna doesn't bring Emma back and starts a new custody suit with Emma's statement she prefers Anna.
A man named Elijah was Ben's last case.  He was convicted by reason of insanity. The sister of Elijah comes to share with Boady an alibi for him, showing he could not have committed the murder. Boady doesn't really want to get involved but he does his duty to check out the alibi. He finds it probable which sends him trying to figure out who did commit the murder. Ben didn't seem to have the alibi or to have considered any alternate defense when the insanity was confirmed. Boady feels obligated to do that work.
The intertwining of the fight to bring Emma home to his family and to save Elijah from a destructive mental treatment pulls Boady in many directions. People in both cases have secrets they want to hide, which Boady needs as evidence.  He is determined to succeed even at the risk of his own life.
I loved this fast paced story. I found it an emotional and suspenseful journey.   This author never disappoints me and I highly recommend Saving Emma.   It could be read as a standalone, but I recommend all his books.
Narration:
The narration added to my enjoyment of the story.  Some of these narrators were in other books voicing these characters and I love that.  There were 5 narrators but it all seemed a seamless tale. The point of view was all Boady, and his character felt very comfortable to me.   I was able to listen at my usual 1.5x speed.
Listen to a clip: HERE
Rating Breakdown
Plot
Writing
Characters
Narration (Audio)
Overall:
Latest posts by Anne - Books of My Heart
(see all)
Related Posts