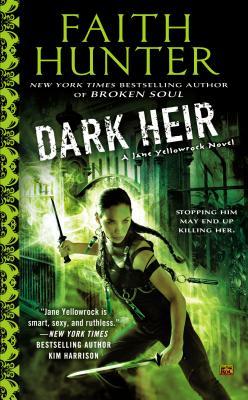 Dark Heir
Series:
Jane Yellowrock #9
on April 7th 2015
Goodreads
Amazon
, 
Audiobook
Shapeshifting skinwalker Jane Yellowrock is the best in the business when it comes to slaying vampires. But her latest fanged foe may be above her pay grade…

For centuries, the extremely powerful and ruthless vampire witches of the European Council have wandered the Earth, controlling governments, fostering war, creating political conflict, and often leaving absolute destruction in their wake. One of the strongest of them is set to create some havoc in the city of New Orleans, and it's definitely personal.

Jane is tasked with tracking him down. With the help of a tech wiz and an ex-Army ranger, her partners in Yellowrock Securities, she'll have to put everything on the line, and hope it's enough. Things are about to get real hard in the Big Easy.
Jessica (Rabid Reads) recommended this series and it was a good choice for me. I started reading devouring a book a day and even reading all the novellas, in order, because I'm OCD like that. I was sucked in and ignored my real life for over a week. The main character's starting point is not unlike Kate Daniels in that she is a solitary fighter with few people in her life.  She develops relationships in the series but it is not easy for her. This is urban fantasy not romance.
Jane Yellowrock is a fascinating character with Beast, that dual voice complexity,  and all the facets of the world where she lives. Beast can be funny. There are vampires, weres, witches and more. I enjoy the bits of history and Cherokee mythology.  I'm a particular fan of magic and witches also. The series is primarily set in New Orleans with Jane working for vampires, although she is a vampire hunter / killer. 
The plots in the mystery and action grabbed my attention and the characters pulled my emotions, which tells me the writing is excellent.   Right now I am really mad on Jane's behalf since everyone uses her and tries to manipulate her and expects her to risk her life and then they aren't really there for her when she is hurt or needs help.  Except for the Younger brothers, they are an awesome new addition to her team.
So my Goodreads automatically posts my ratings to Twitter when I read books and I didn't even realize that until some authors favorite the tweets or tweeted me back.  Faith Hunter tweeted me that I should get the book coming out in April,  so I emailed her people to ask for an interview. Here are the questions I had, some of which might be spoilers.
Hi Anne, Thank you for having me.
So how old is Jane or how will she age?    We have the history when she came out of the woods at twelve and lived in the foster system until 18. She told Aggie One Feather she was at least 170, and even earlier we knew she was at the Trail of Tears.
I will never say exactly how old Jane is, but she was nearly six years old on the Trail of Tears. The Cherokee portion of the forced removal took place mostly in 1831. You can do the math, if you want, and you will be mostly correct. ☺
Did she age sort of normally over those years?
Yes. There are hints throughout the series about how she ages, but in general, Jane ages normally if she stays in one form (human or Beast) long enough. But when she finally changes back, she picks up the last genetic form and age she had attained prior to the aged shift. This is one very important reason for Jane to have the mountain lion tooth. If she refused to shift from human to Beast for ten years, she would age an approximate ten human years. But with the tooth, she can change to that age every time she shifts to puma concolor. Sadly, on the reverse, she can't lose the years she has as Jane. At least not without become u'tlun'ta, the evil face of the Cherokee skinwalker.
Are all the other skinwalkers really dead? Or will Jane ever look into that further?
That is a … maybe. I know that sounds mean, but it is something I am working out right now.
I've noticed a positive trend in television lately, which I LOVE, that I consider the essence of what urban fantasy is.  It used to be on shows like Scarecrow and Mrs. King or Moonlighting or Remington Steele, it was all about the buildup.  Once the couple got together, the show ended, as do some romance novels. Now there are shows like Bones and Castle, where the story continues, after the couple is together.  It seems more mature? realistic? well, definitely more interesting to me to see how they go forward as a couple, solving problems, fighting evil, and working through any relationship issues.
Do you see the Jane Yellowrock series as an urban fantasy like that? Will we see Jane working with her man in future books or will her suitor continue to be a question? I'm not asking for lots of sex – that's not an urban fantasy thing. I'm all about the intimacy, the dialog (both snarky and romantic) and building of the relationship, the certainty of the connection and the comfort of that person as your backstop.  I like the working together of Kate / Curran,  Allie / Zavion,  sometimes Trent / Rachel.  And it's frustrating to me to have too many suitors.
Jane is mature. It isn't so much the "falling in love / have big sex / passion" part of the relationship, but the partnership part of it all that she most adores. It means family. It means mate.
Previous Post: Faith Hunter Talks About not Writing Romance
SPOILER ALERT OK I just have to ask.  Did Leo and/or Bruiser and/or Rick know about/ set up Paka coming to the party?  I can see Leo and/or Bruiser thinking it would be great to get Rick away from Jane.   
It was set up. But not by any of those named. 
I've read you have shelter dogs but your story is more about cats.  What do you like about cats and what do you like about dogs? You don't seem to like werewolves very much; they have the worst situation in your world.  (I have a dog; I'm very allergic to cats.)
Werewolves do seem to get the bad end of the stick. But… Brute got to meet an angel. He is vastly important to the eventual story arc.
As to my personal preference for dogs or cats. Well, I love cats. I love the independence and their ability to communicate utter disgust and ennui. But I have a brother who is deathly allergic to cats, so I don't let them claim me.
And I love dogs. I love their ability to love no matter what. I dropped the remote on my Tuffy's nose today (though I did the "hot-potato dance" trying to catch it on the way down). He yelped and cried and when I picked him up he snuggled in close and loved me. I cried too…
Can you talk a little about your thoughts or plans for the series going forward? 
We are on the cusp of change for the world of the master of the city of NOLA. The European Middle Eastern Mithrans (vampires) are coming to the US. Things are about to get dicey, dangerous, and scary. Jane plays a big part in that. It's all kind of circling in my head right now, and I get glimpses of how to write the final story arcs, but it isn't firm yet. 
Thank you for having me!
Faith Hunter
---
Other Faith Hunter interviews I enjoyed:
Reading Order from Faith Hunter
WeSa and the Lumber King (in the compilation Have Stakes Will Travel)
The Early Years (in the compilation Cat Tales)
Cat Tats (in the compilation Cat Tales)
Kits (in the compilation Cat Tales)
Haints (in the compilation Have Stakes will Travel)
Signatures of the Dead (in the anthology Strange Brew and the compilation Have Stakes Will Travel)
Skinwalker #1
First Sight (published in the Jane Yellowrock Companion)
Blood Cross  #2
Mercy Blade #3
Easy Pickings (crossover, alternate universe novella with C.E. Murphy)
Blood, Fangs and Going Furry (in the compilation Cat Tales)
Dance Master (in the Jane Yellowrock Companion Guide)
Raven Cursed  #4
Cajun With Fangs (in the compilation Have Stakes will Travel)
Golden Delicious (in the anthology An Apple for the Creature)
Death's Rival  #5
Blood Trade  #6
The Devil's Left Boot (in the anthology Kicking It)
Beneath a Bloody Moon, novella (in the Jane Yellowrock Companion Guide)
Black Water  (novella)
Black Arts  #7
Broken Soul  #8
Dark Heir #9    (April 2015)
I did read all the novellas as they fit into the series and I believe they add a lot to the series.  They enhance the knowledge of the world and the history of the characters.  I loved the Beast point of view " Christmas Shopping for Vamps" which Faith did on Rabid Reads a few years ago, too.   The character interviews are fun, also.
The next book in this amazing series, Dark Heir will be available April 5, 2015.  I hope I have convinced you to read this series if you haven't already.   So instead of reading one book a day, the way I did, you have 8 weeks and can read one a week!
Latest posts by Anne - Books of My Heart
(see all)
Related Posts