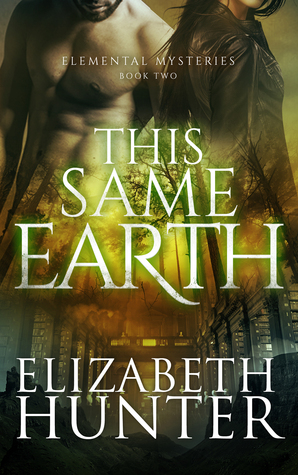 This Same Earth
Series:
Elemental Mysteries #2
on December 1, 2011
Pages:
420
Format:
eBook
Goodreads
Amazon
, 
Audiobook





Beatrice De Novo thought she had left the supernatural world behind…for the most part. But when the past becomes the present, will she leave her quiet life in Los Angeles to follow a mystery she thought had abandoned her? Where has Giovanni Vecchio been, and why has he returned? Giovanni has his own questions, and he's looking to her for answers.

The sequel to A Hidden Fire will reunite Beatrice and Giovanni to continue their search through the past while both wrestle with the future. When the world as you knew it has changed forever, is there any way you can turn back?
I was apprehensive about reading THIS SAME EARTH since it was set five years after the first book.  I waited to read it and that was STUPID.  This author writes amazing, enjoyable books. I know Elizabeth from our fan fiction days.  If you want to know her better, I did an interview with her last year.
I love her characters.  The main characters are strong and smart.  None of the characters are too stereotypical.  They feel real to me as they do have some idiosyncrasies.  There are mysteries, some action and a bit of romance.  It's urban fantasy so the relationship is there but it is only one part of the story.
The world building is also excellent.  We don't get everything all at once; we learn as we go along, much as the main heroine, B does.   This is a world with vampires but they are different from most.  The vampires each connect with an element – fire, earth, wind or water.
THIS SAME EARTH continues with some of the same mysteries and beloved characters as the first book,  A HIDDEN FIRE.  Progress is made, we learn more.  Since this is urban fantasy,  there will be more.
I can't recommend this series highly enough.  I reviewed the first book,  A HIDDEN FIRE as a Thrifty Thursday book at Yummy Men & Kick Ass Chicks.
A HIDDEN FIRE, the first book, is currently free at Amazon and Kobo, and $.99 at Barnes & Noble, in ebook format.    The entire four book Kindle series is available for $9.99, which is what I purchased after reading the first book.
Books in the Elemental Mystery series –
A Hidden Fire
This Same Earth
The Force of Wind
A Fall of Water
*There is also spin off Elemental World series following this one*
Latest posts by Anne - Books of My Heart
(see all)
Related Posts