Review copy was received from Publisher. This does not affect my opinion of the book or the content of my review.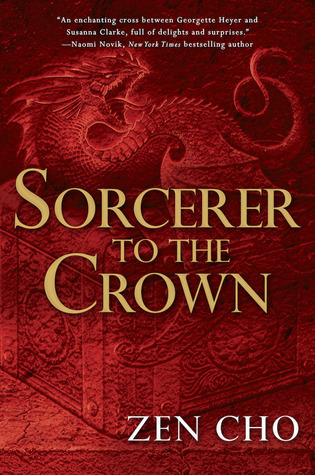 Sorcerer to the Crown
by
Zen Cho
Series:
Sorcerer Royal #1
Published by
Ace
on September 1, 2015
Genres:
Fantasy
,
Historical Fiction
Format:
ARC
Source:
Publisher
Goodreads
Amazon





Magic and mayhem collide with the British elite in this whimsical and sparkling debut.

At his wit's end, Zacharias Wythe, freed slave, eminently proficient magician, and Sorcerer Royal of the Unnatural Philosophers—one of the most respected organizations throughout all of Britain—ventures to the border of Fairyland to discover why England's magical stocks are drying up.

But when his adventure brings him in contact with a most unusual comrade, a woman with immense power and an unfathomable gift, he sets on a path which will alter the nature of sorcery in all of Britain—and the world at large…
As an Ace Roc star, I am being sent some books I would not have read on my own path. Yet I am really enjoying them. I thank them wholeheartedly for opening my eyes to what I have been missing. This one seems an improbable choice for me since I dislike historical fiction for the most part.  But it is set in England and it does have magic, which I love, so I read it.
There are many interesting facets to this world and I'm not the spoilery type of reviewer.  There is the historical fashion of underestimating and controlling women, of course.  Our hero, Zacharias is thankfully very open-minded, having his own minority issues.
Zacharias is the newish Sorcerer Royal.  He has many difficulties. Prunella is a woman, orphaned and left to serve in a girls' school, founded by her father's landlady.  She has magic, which women aren't supposed to have or use. Neither has all the knowledge or skills to vanquish their detractors.
Together (not their plan exactly), they end up confronting the bad guys.  It is a tale of the ever inspiring good versus evil.  Or at least, those who care for others more than themselves fighting greed and those who would wield power without conscience or compassion.
So unlikely I would pick this story and so happy I have it.  I am thrilled Sorcerer to the Crown is the first in the series. No doubt, there are plenty of corrupt villains to be dispensed. There certainly is more to learn about this world, their magic, with a touch of romance and humor.
Latest posts by Anne - Books of My Heart
(see all)
Related Posts