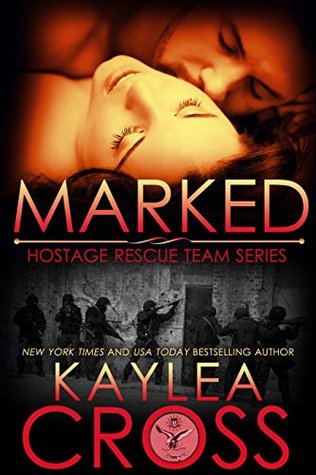 Marked
by
Kaylea Cross
Series:
Hostage Rescue Team #1
Published by
Kaylea Cross
on June 26th 2014
Goodreads
Amazon
, 
Audiobook
, 
Barnes & Noble



When danger lurks behind a familiar face…

Successful architect Rachel Granger loves her job and her life, but when a terrorist on the FBI's most wanted list targets her, there's only one man she can trust. She hasn't seen Jake in years but her former college friend told her he'd always be there for her and she definitely needs him now. Even though her feelings for him go far deeper than friendship and just being around him risks her heart, she would do anything to keep those she loves safe from a madman bent on unleashing hell.

Only one man from her past can help

FBI Special Agent Jake Evers made the biggest mistake of his life when he let Rachel slip through his fingers over two years ago. It doesn't matter that he hasn't seen her since then—if she needs him, he'll be there. When he learns that she's the target of a domestic terror cell, he'll do everything in his power to keep her safe. He's never gotten over her and won't risk losing her again now that she's reappeared in his life. But the threat is more widespread than they realized and now it's a race against time to keep her and scores of innocent civilians alive.

Currently, it is free on Amazon, Nook, and Kobo.
The purpose of Thrifty Thursday is to pick a book which was free (at some point).  
I read Marked while traveling and I'd been looking forward to it. I reviewed the author's first book in the Titanium Security series, Ignited  which I really enjoyed and I'm surprised I haven't managed to continue on with the series. The Hostage Rescue Team, featured in this series, was introduced to us in that book. So I was happy to see some of the team members again here.
The couple in this story has known each other for a while.  They liked each other but their timing was always bad.  Now they are working together at a time they are both available for a relationship. Because they already know each other, things moved pretty quickly. In romantic suspense, emotions tend to run high as well.
Sadly, because they knew each other previously,  we didn't get as much learning about them. So I didn't feel as invested in them and their relationship. This made the book less memorable for me.
The mystery and action were fairly intense. The team worked well together, even though the regular FBI was handling most aspects of the case. Rachel worked with them and needed their protection.
Overall the characters were pretty good. I like the comradery of the military guys  and their teamwork. The romance is nice, but as usual,  quite fast in romantic suspense. This Hostage Rescue Team series is one I also want to read more of the books.
Rating Breakdown
Narration (Audio)
Overall:
Latest posts by Anne - Books of My Heart
(see all)
Related Posts