Review copy was received from Edelweiss, Publisher. This does not affect my opinion of the book or the content of my review.
Wildfire
by
Ilona Andrews
Series:
Hidden Legacy #3
Published by
Avon
on July 25, 2017
Genres:
Urban Fantasy
Pages:
384
Format:
eARC
Goodreads
Amazon
, 
Audiobook






Just when Nevada Baylor has finally come to accept the depths of her magical powers, she also realizes she's fallen in love. Connor "Mad" Rogan is in many ways her equal when it comes to magic, but she's completely out of her elements when it comes to her feelings for him. To make matters more complicated, an old flame comes back into Rogan's life…

Rogan knows there's nothing between him and his ex-fiance, Rynda Sherwood. But as Nevada begins to learn more about her past, her power, and her potential future, he knows she will be faced with choices she never dreamed of and the promise of a life spent without him.

As Nevada and Rogan race to discover the whereabouts of Rynda's kidnapped husband and are forced to confront Nevada's grandmother, who may or may not have evil motives, these two people must decide if they can trust in each other or allow everything to go up in smoke.
All the stars! I have been wondering how I could even write a review. I realized it is simple.
It's everything.
I was reading within minutes of receiving the eARC and I keep rereading it! This morning I wanted to wail and cry like Catalina's hardened, badass mercenaries when I had to leave for work.
Nevada is so strong, smart, and compassionate. She puts her whole self into her work and family.  I am so impressed with her. Will she learn even more about her skills and get more training as others do from childhood?  The characters have me intensely invested. of course, Nevada and Rogan, but so MANY others. The supporting cast is so detailed and interesting. I care about Catalina and Arabella and Leon and Grandma Frida and Bug. What about Rogan's mother? I want to know her. Cornelius and Matilda have me wondering how they will go forward. Who is Cesear?
The world building is stellar. I love learning about the Primes and the different magics, its types and uses. I want to know so much more in this world, even if other characters than Nevada and Rogan are in the primary role. I honestly hope for more in this Hidden Legacy series. After reading all three, I asked the authors on Twitter (horrible, rude thing to do – I mean only 1 of the 3 books was published *head desk*) but they actually answered and said maybe. Please understand it wasn't meant to be rude or demanding, only expressing my love and interest in purchasing more books in this world.
Wildfire is a masterpiece with an epilogue which is a jeweled crown on its king.  I am lucky enough to have access to a great many wonderful books of high quality and enormous enjoyment, but it's not just my favorite book this month or year.  Wildfire owns my heart, mind and soul. It's a favorite of a lifetime.
Giggle-worthy quote:
(There's another one I wanted, but it's too spoilery. But there are many humorous parts.)
"They will do what I say," Mom ground out. "I'm their mother."

Grandma Frida squinted at her. "Aha. And how did that work out for me?"

Mom opened her mouth and clicked it shut.
Book 1 :  Burn for Me            Book 2:  White Hot
---
Jennifer's Audio Review
Review copy was received from Publisher. This does not affect my opinion of the book or the content of my review.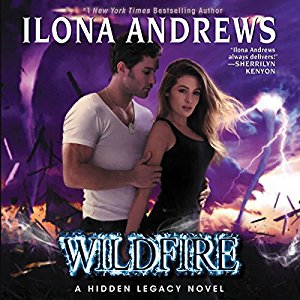 Wildfire
by
Ilona Andrews
Narrator:
Renée Raudman
Series:
Hidden Legacy #3
Published by
HarperAudio
on 07-25-17
Length:
12 hrs and 44 mins
Format:
Audiobook
Source:
Publisher
Goodreads
Audible






As Anne said, Wildfire is EVERYTHING. I know when I listen to a story written by the author duo of Ilona Andrews I will be highly entertained. They manage to transport me to a world of magic and family. All their books have strong characters with a family at the center. The plot lines are complex yet still easy to follow.
I went into Wildfire with the belief it was the last book in the Hidden Legacy series but by the end it's clear there could be more and I'm hoping we get more. Possibly from the younger characters with Nevada and Rogan as supporting characters. I would love more from this world however the authors want to present it.
Wildfire is classic Andrews. It has action, romance and tons of laughs with a touch of darkness. Renee Raudman is a master has bring all these emotions to life in her narration.
Latest posts by Anne - Books of My Heart
(see all)
Reading this book contributed to these challenges:
Anne: 2017 New Release Challenge
Related Posts