Review copy was received from NetGalley. This does not affect my opinion of the book or the content of my review.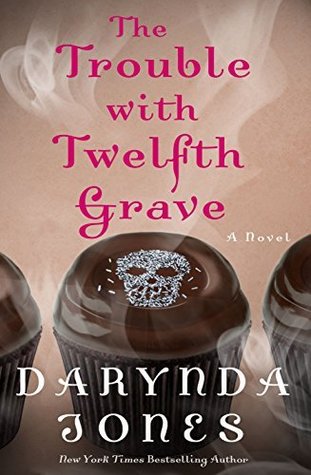 The Trouble with the Twelfth Grave
by
Darynda Jones
Series:
Charley Davidson #12
Published by
St. Martin's Press
on October 31, 2017
Genres:
Urban Fantasy
Pages:
352
Format:
eARC
Source:
NetGalley
Goodreads
Amazon
, 
Libro.fm





Ever since Reyes escaped from a hell dimension in which Charley accidently trapped him, the son of Satan has been brimstone-bent on destroying the world his heavenly Brother created. His volatile tendencies have put Charley in a bit of a pickle. But that's not the only briny vegetable on her plate. While trying to domesticate the feral being that used to be her husband, she also has to deal with her everyday life of annoying all manner of beings—some corporeal, some not so much—as she struggles to right the wrongs of society. Only this time she's not uncovering a murder. This time she's covering one up.

Add to that her new occupation of keeping a startup PI venture—the indomitable mystery-solving team of Amber Kowalski and Quentin Rutherford—out of trouble and dealing with the Vatican's inquiries into her beloved daughter, and Charley is on the brink of throwing in the towel and becoming a professional shopper. Or possibly a live mannequin. But when someone starts attacking humans who are sensitive to the supernatural world, Charley knows it's time to let loose her razor sharp claws. Then again, her number one suspect is the dark entity she's loved for centuries. So the question becomes, can she tame the unruly beast before it destroys everything she's worked so hard to protect?
I love these books and I've come to realize some things. This is an odd, but non-spoiler type review. With this being the twelfth book, you can guess I like them. The world and characters are fairly well-developed. Each book may have a bit more focus on certain characters, in addition to Charley, who is our viewpoint to the world.
First, these are amazing on audio. I read this one, and I own some in paperback and some in Kindle format. But I need to start collecting the audios. Lorelei King is perfect for the sassy and humorous flavor of Charley.
Second, the last few books, including this one, end on a big thing, which sets up the next book, but makes me nervous. I should be excited and anticipating the next book, which I am, but I'm more worried, maybe that I won't like it. But so far, I always like it.
Third, Reyes is just a mystery. After twelve books, you would think we would know him. I know Charley's view of him, and feelings, but I don't feel like I know him very well. In this book, he was very distant emotionally. I didn't like what he did.
Fourth, I love the cases Charley solves along with her life's problems. It's great to have another sort of plot layer. Sometimes they connect to her personal issues, or they involve her friends or family.
The Charley Davidson series is just one of the best!  I know I will always enjoy reading it, and I will read the next one. And the next one is number 13, the final book in the series being released on Halloween 2018.
Latest posts by Anne - Books of My Heart
(see all)
Reading this book contributed to these challenges:
Anne: 2017 New Release Challenge
Related Posts