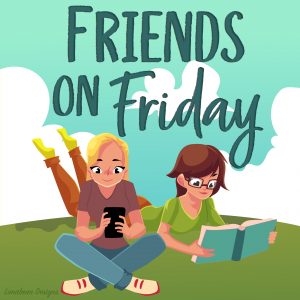 Today's friend is the wonderful Jen from That's What I'm Talking About.  I knew of Jen back in the Twilight vampire days because of a mutual friend in Michigan but she may not know that connection. I got to know her better on Twitter and through the Fitreaders group.  I enjoy her daily tweets about various things in life; and I read her blog.
Review copy was received from Author. This does not affect my opinion of the book or the content of my review.
A Trace of Copper
by
Anne Renwick
Published by
Self-Published
Genres:
Steampunk
Pages:
200
Format:
eARC
Source:
Author
Goodreads
Amazon
New recruit to the Queen's agents, Dr. Piyali Mukherji is given a simple first assignment. Travel to the small Welsh village of Aberwyn and solve the mystery of a young woman's blue skin lesion. A challenging task, for the alarming infection is unlike anything she's seen before—and it's spreading.

Evan Tredegar, the town's pharmacist and the only man to ever capture her heart, knows more than he's telling. Despite his efforts to push her away, her touch reawakens old desires. As more villagers fall victim to the strange disease, he'll have no choice but to reveal his secrets, even if it means sacrificing his freedom.

Together they must move past broken promises, capture a rogue frog, and stop the infection before it spreads out of control.
Dr. Piyali Mukherji, an agent of the Queen, is on her first assignment: she is sent to a small village to determine the cause of a mysterious infection. Although she's excited to solve the challenging case, she's on edge because her once-fiancé is the town's pharmacist.
Evan Tredegar never stopped loving Piyali, however the day he returned from his travels abroad, a tragic event prevented him from contacting her. When she shows up in his small town, he realizes time cannot erase his love or passion.
A Trace of Copper is a wonderful novella set in the Elemental Web steampunk world. It's a standalone mystery/romance, and knowledge of the series/world is not needed. The main characters are smart and witty. Ms. Renwick's storytelling is both intellectually stimulating as well as emotionally satisfying.
Piyali and Evan remained loyal to one another for the years he was abroad and she was in medical school, and through the mystery of the blue frog, have a means to reconnect and rekindle their love story. The romance is always present in glances and small touches, but the pair would have to push aside feelings to work on the case. But passion can only be bottled for so long when working next to the person you love. Their love story is innocent and sweet, while the separation added a flame of heat to their romance.
Solving the medical case, as well as watching all of the other pieces of the story fall into place was exciting. I so enjoy the Elemental Web world and Ms. Renwick's writing style! I cannot wait to read (or listen to) more!
My Rating:  A-   Enjoyed A Lot
Reviews from the Series:
The Golden Spider by Anne Renwick (Elemental Web Chronicles #1) – Audiobook Review
The Silver Skull by Anne Renwick (Elemental Web Chronicles #2) – Audiobook Review
Latest posts by Anne - Books of My Heart
(see all)
Related Posts