Today, I continue my review of the Starship's Mage series.  Yesterday, I reviewed the audio of the Hand of Mars.  Now I will review Voice of Mars and Alien Arcana.  Next week will be another review of the audio of Judgment of Mars.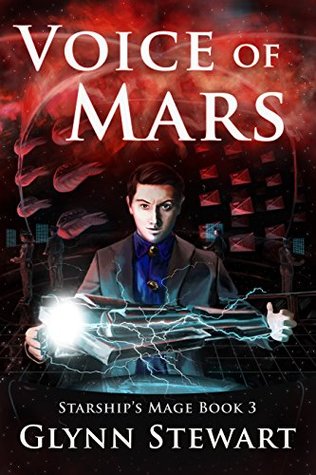 Voice of Mars
by
Glynn Stewart
Series:
Starship's Mage #3
Published by
Faolan's Pen Publishing
on March 4, 2016
Genres:
Science Fiction
,
Space Opera
Pages:
310
Format:
eBook
Source:
Purchased
Goodreads
Amazon
, 
Audible
, 
Audiobook





When accusations of piracy and mass murder are laid against his homeworld, Damien Montgomery is sent to resolve the crisis.

As counter-accusations fly and an old flame re-enters his life, the newest Hand of the Mage-King of Mars finds himself in the midst of a bloody interstellar shadow war. With the death toll mounting, Damien must decide whether he should trust the world he came from – or the world that asked for his help.

The wrong choice will trigger a civil war that could shatter human civilization.

No pressure.!
I continue to be pleasantly surprised by this series.  In Voice of Mars, Damien takes on a task as a Hand on his original home world.  Two planets share a resource and are unhappy and one has sent a complaint about the other. The complaint is against his home world. It will be a tricky assignment; Damien must be fair and unbiased.  The actual situation is not what anyone expected and only Damien's relentless search for the evidence uncovers the truth.
I love the focus on Damien, where the Hand of Mars felt like it had a few main characters. I appreciate the connection to Damien's history and his growth in his role.  I enjoyed this very much. There are also some characters on his team which continue to be developed which is also good.
The suspense and mystery and action were great. For the quotes, you will see I found some humor as well. I couldn't wait to continue with Alien Arcana.
"And if I refuse to be dictated to?"

"Then I will relieve you," Damien said flatly. "And if your Vice-Governor is determined to start a war as well, I will relieve him. I believe Sherwood's line of succession is what, forty-five people long? I'm sure one of them is, if nothing else, completely lacking in spine."

For a long moment, the Hand met the Governor's gaze and he could feel the tension cracking in the room. Then Grace laughed, and the tension snapped like a broken wire. "I don't think you would need to go far down that list, my lord Hand," she told the two men. "Governor – Grandfather – let's at least hear what Damien has to say."
"I'm Commander Ishbel McTaggart off the Maid Marian. For my sin of being Sergeant Gibbons' high school girlfriend, I ended up being the senior officer he trusted and in charge of this clusterfuck."
---
Alien Arcana
by
Glynn Stewart
Series:
Starship's Mage #4
Published by
Faolan's Pen Publishing
on September 14, 2016
Genres:
Science Fiction
,
Space Opera
Pages:
296
Format:
eBook
Source:
Kindle Unlimited
Goodreads
Amazon
, 
Audible
, 
Audiobook





An alien ruin
A murdered archeologist
An ancient secret—and a conspiracy that will kill to keep it!

When a scientist is murdered after finding signs of alien magic in an archeological dig, Mage Damien Montgomery, Hand of the Mage-King of Mars, is sent to investigate both the murder and the alien runes.

His investigation is interrupted when a mysterious ship attacks the ruins with weapons only available to the Martian Navy. Despite saving the dig site, Montgomery is left with more questions than answers.

His investigations reveal questions about the origin of his magic and his nation—and lead him back to the one place that should be safe: the court of the Mage-King of Mars.
The trip is supposed to be an easy investigation for Damien of a murdered scientist while he was on vacation. It would be interesting to look at alien ruins, too.  The whole thing blows up into a huge threat to the Hand and his King.
The action continues to be exciting. There is a tension underlying everything which was the not knowing enough and the real dangers of the situation.
There were some side plots which bordered on romance. I love romance but I didn't like these. Damien's connection had an obvious purpose I saw from the start.  Julia Amiri's relationship with the guy on Ardennes she met in Hand of Mars, which has only been about 3 months ago, seemed unrealistic. The time frame was too short. We also got little to no page time with Julia and Mikhail.
Alien Arcana brings forth an enemy of the Protectorate of Mars and ends with the Hand in a rough spot, leaving his King with some very tough decisions. Damien supports acting with total honesty and integrity, despite the difficulties it has for him. The stage has been set for Judgement of Mars.
Latest posts by Anne - Books of My Heart
(see all)
Related Posts