Review copy was received from NetGalley. This does not affect my opinion of the book or the content of my review.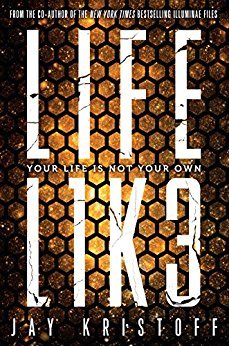 LIFEL1K3
by
Jay Kristoff
Series:
Lifelike #1
Published by
Knopf Books for Young Readers
on May 29, 2018
Genres:
Science Fiction
,
Young Adult
Pages:
416
Format:
eARC
Source:
NetGalley
Goodreads
Amazon
, 
Audible
, 
Libro.fm
, 
Barnes & Noble






On an island junkyard beneath a sky that glows with radiation, a deadly secret lies buried in the scrap. Seventeen-year-old Eve isn't looking for trouble--she's too busy looking over her shoulder. The robot gladiator she spent months building has been reduced to a smoking wreck, she's on the local gangster's wanted list, and the only thing keeping her grandpa alive is the money she just lost to the bookies. Worst of all, she's discovered she can somehow destroy machines with the power of her mind, and a bunch of puritanical fanatics are building a coffin her size because of it. If she's ever had a worse day, Eve can't remember it.

The problem is, Eve has had a worse day--one that lingers in her nightmares and the cybernetic implant where her memories used to be. Her discovery of a handsome android named Ezekiel--called a "Lifelike" because they resemble humans--will bring her world crashing down and make her question whether her entire life is a lie. With her best friend Lemon Fresh and her robotic sidekick Cricket in tow, Eve will trek across deserts of glass, battle unkillable bots, and infiltrate towering megacities to save the ones she loves...and learn the truth about the bloody secrets of her past.
I'm at a loss for words on how to describe LIFEL1K3.  It is a little like The Wizard of Oz meets Pinocchio and runs away to iRobot, just to make it all the more different.  Now Pinocchio is one of my least favorite stories but you add in Eve who battles huge magabot things in a gladiator pit, her bestest, a freckled up chick named Lemon Fresh, a little bot, Cricket, who tells her when something is a bad idea and a cyborg dog that could blow up and really, why wouldn't I love this story.
Jay Kristoff became an auto-buy for me over the last year.   The best thing is his imagination. I never know what new cool/horrible/fascinating thing he is going to come up with next.  Plus the guy doesn't do Mary Sue or Gary Stew. All of his characters are on the complex side of the spectrum and they do good things and bad things.  Not one of them is the golden hero and every single character is going to make a mistake or two along the way and might not make it out of the story alive because of it.
Eve is easy to like immediately.  She is a girl who has lost her entire family and so she's gathered around her people and bots to make a new one.  She is also fighting in the Wardome to buy meds for her grandpa…how can you not like a girl like that.
But when a Lifel1k3 boy bot literally falls out of the sky, Eve's life won't be the same because he thinks she is Ana, the girl he's been searching for over the last two years, and if he can find her, that means the others like him are coming too.
Lifel1k3 has a great dystopian world with fun language changes and a feel all its own.  I've never been to this world before. The character interactions and dialogue of the main group are fantastic and I adore that Eve and Lemon Fresh are there for each other through thick and thin….stronger together.  I appreciated all the little details thrown into the story which added to all of the crazy world-building and how I could picture this world and all the wonderful and ugly in it.
Action – check
Cool Sidekicks – check
Mysterious past – check, check
Adorable Romance – check checkity check
Danger around every corner – um…Yeah
Crazy Plot Twist –  OMG I can't even.
Once this got rolling, it was action packed and threw me for a loop.  I never saw the end to this coming. I thought I had the big secret all figured out, but I wasn't even close and my hat's off to Mr. Kristoff for taking some chances and not going the easy route on this.
I will definitely be first in line to pick up the sequel to LifeL1k3.
"Will you shut up?" Ezekiel bellowed.

"Right after you pucker up and kiss my shiny metal man parts!"

"You got no man parts, Crick!" Ana yelled. "Shiny or otherwise!"
"Look outside that door, and you will see a world built on metal backs. Held together by metal hands. And one day, those hands will close, Ana. And they will become fists."
"Lawbreaker," Lemon smirked. "Always had a thing for the badboys."

"Put it back in your pants, Miss Fresh," Cricket growled.

"What good will it do me in there?"
Related Posts