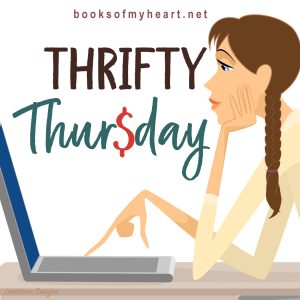 The purpose of Thrifty Thursday is to read a book which was free (at some point).
Kindle freebie on 13 June 2017  (currently $0.99 at Amazon and Barnes & Noble as of writing this post. It is available in Kindle Unlimited)
Overall rating 3.9 with 20,134 ratings and 2,250 reviews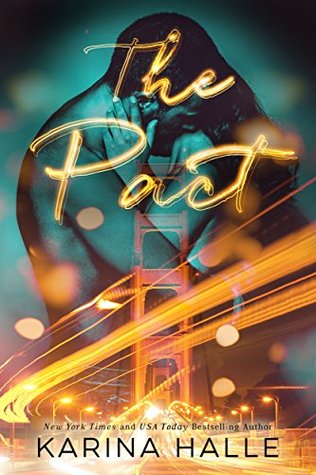 The Pact
by
Karina Halle
Series:
The McGregor Brothers #1
on December 27, 2014
Genres:
Contemporary Romance
Pages:
384
Format:
eBook
Source:
Purchased
Goodreads
Amazon
, 
Audible
, 
Audiobook





It all started with a pinky swear…

Linden McGregor is tall, rugged, and gunslinger handsome; a helicopter pilot with a Scottish brogue and charm to spare. He's also one of Stephanie Robson's best friends and has fit into that box for as long as she's known him.

Beautiful, funny and an ambitious businesswoman (with one hell of an ass), Stephanie Robson is one of Linden McGregor's best friends and has fit into that box for as long as he's known her.

But some relationships can't be boxed, can't be classified, can't be tamed.

Back in their mid-twenties and tired of the competitive hit-or-miss dating scene of San Francisco, Steph and Linden made a pact to marry each other if neither one of them were in a serious relationship by the time they hit thirty.

It sounded like fun and games at the time but as the years to thirty tick past and lovers come and go out of their lives, the pact becomes larger than life.

Sex is inevitable. Friendships are tested. Hearts are on the line.

The pact is about to change everything.
I chose this since it was written by an author who was going to be at Apollycon. I made a limited effort to read some of the authors I hadn't read much or any of their work. This was in my Kindle freebies shelf, so it would work for this feature also.
The Pact is a story of three new adults which starts about five years after they met working at a bar. They are now in their mid-twenties. James and Stephanie dated for about a year around the time they met. The three have remained close friends as they developed their careers and had various personal relationships.
The pact made is between Linden and Stephanie. They've lusted but never acted on a relationship beyond best friends. On Stephanie's 25th birthday, they agree to marry at 30 if neither is in a serious relationship. The story spans the next 6 years.
It seems rather realistic. Certainly, the various relationship and family issues are often found. And it is authentic how long it takes them all to be honest with themselves and find their way in life, both personally and professionally.  In fact, they may be a little too successful in their careers compared to real life.  The characters and those around them are well developed.  The world and setting in San Francisco is interesting.
I didn't know this was the start of The McGregor Brothers series until I was writing the review.  Linden's family and brothers are not deeply involved here.  I liked this and will probably continue with the series.
---
These are only Kindle freebies I get, or ones through author newsletters which anyone can sign up and get for free. I don't include things like Kindle Unlimited (I have a trial) or Prime Free Reading (I do have it). Both Tantor and Audible have occasional free audios (to anyone) and I do include those.  Since I one-click on 1-2 freebies a day or probably at least 5 a week, I came up with this feature to make sure I start reading them.
So I have thought about doing a Thrifty Thursday Challenge someday. For now,  what I think would be fun is if you have read and reviewed (anywhere) a freebie,  send me your link to your review (Goodreads, blog, facebook or wherever)  and I'll post them on the next Thrifty Thursday review.  (I'm trying to do 1-3 a month which means I only add about 15 or so to my TBR every month. lol)
Latest posts by Anne - Books of My Heart
(see all)
Related Posts