Review copy was received from Publisher. This does not affect my opinion of the book or the content of my review.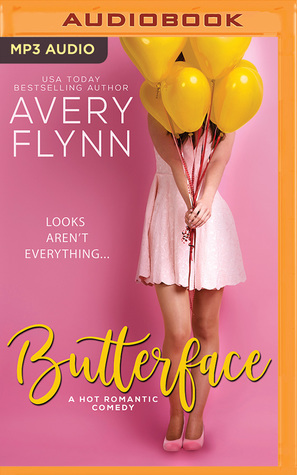 Butterface
by
Avery Flynn
Narrator:
Brian Pallino
,
Savannah Peachwood
Series:
Hartigans #1
Published by
Brilliance Audio
on October 2, 2018
Genres:
Contemporary Romance
Length:
7 hours, 45 minutes
Format:
Audiobook
Source:
Publisher
Goodreads
Amazon
, 
Audible
, 
Libro.fm
, 
Barnes & Noble





It's true. I'm not what most people would call "pretty" and, well, high school was rough. Fast forward ten years and life is good…

Until a bunch of jerks think it's hilarious to put the "butterface" (AKA me) on a wedding Kiss Cam with the hottest guy ever—and that old humiliation hits hard.

I recognize him immediately. The hottest cop in Waterbury and totally out of my league.

But then he kisses me.

And we totally forget the room, the crowd, everything.

Then he tells everyone we've been dating for months.

Soon everything starts to feel too real, from adorable fights over "necessary" tools to fix my broken porch to surviving a free-for-all dinner with his six siblings to picking up where our last kiss left off.

But there's something he's not telling me about why he's really hanging around, and I'm pretty sure it has to do with my mob-connected brothers.

Because this is not a make-over story, and Cinderella is only a fairy tale…
Totally Cute!
What I genuinely like about this is,  Gina 'the Butterface' heroine in question isn't the ponytail and glasses girl that goes from not to hot in two scenes.  She is a smart, independent woman with a sweet and fun personality and a very nice body. But she has super frizzy hair, teeth and eyes that are a bit too big and a honker of a nose she inherited from her mobbed-up grandpa.  
Still Gina knows she isn't the cosmo version of pretty and most people have made fun of her over the years for the way she looks.  She is trying to own it with her other Single and Slaying it girls. However, truth be told she feels like she is Miss Right Now and not Miss Right when it comes to men and the dating scene.
Ford Hartigan is the straight laced by all the rules cop who is a man with a plan to be the youngest Chief in district history.  Being the only boy of the family not to go into the Firefighting business, he seems to think he has a lot to prove since he is the black sheep of the family.  Ford meets Gina at a wedding she is the planner for and when the impromptu kiss cam swings their way he is surprised that the awkward kiss with a stranger he was expecting, turned out to curl his toes and kindle something deep inside him.
It was all supposed to be a joke on Ford set up by some fellow police officers to make the uber handsome boy scout Ford kiss the Butterface girl.  But, he isn't complaining since there is just something about Gina that has peaked his interest. Too bad her brothers are hanging with a known crime family and the Chief wants Ford to try and get an in with Gina to get more intel.  When the opportunity presents itself, Ford decides to play Gina's boyfriend in hopes of finding something on a crime family and keep her out of anything criminal all at the same time.
I definitely liked the cute of this.  Ford and Gina hanging out is kinda adorable at first and later it is sexy.  She is totally in on Ford being boyfriend in name only and it suites her needs.  She needs her family off her back and she needs a handyman to help her with the Victorian house she is trying to remodel.  
The only thing I didn't love about this book is how often Gina is down on herself.  She doesn't like people to see her face. She likes to turn all the lights off for sex so the man can't see her and she puts up with a lot of cruel comments from others.  We are reminded constantly that this bubbly and fun girl is deficient and it isn't just from the outside, most of the time it is from Gina herself.
That said, I love that Gina stays true to herself and she doesn't get some huge makeover to get the guy.  She is who she is, huge honker and all and she will totally own it and shine.
"She wasn't waiting for Prince Charming, and no fairy godmother was going to give her a makeover. She was who she was, and that was Miss Right Now and Not Miss Forever. She'd better remember that, or there was nothing but trouble ahead for her."
"He kissed her like a man who believed that if he did it right, she'd forget that anyone had ever called her awful names or made her feel like she wasn't everything a man could want."
Narration:
I was able to listen to this at my normal 1.5x speed.  There is both a male and female narrator for the various PoV changes. I preferred Brian Pallino to Savannah Peachwood but that was only because of the way he performed Ford's voice.  Both narrators represented all of the characters well.
Listen to a clip:  HERE
Related Posts