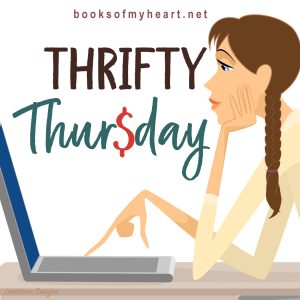 The purpose of Thrifty Thursday is to read a book which was free (at some point).
Kindle freebie on 9 September 2017  (currently still free at Amazon and Barnes & Noble as of writing this post)
Overall rating 4.34 with 622 ratings and 36 reviews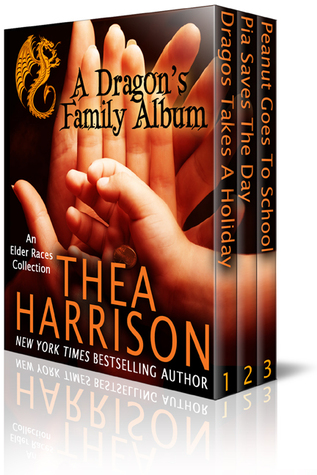 A Dragon's Family Album
by
Thea Harrison
Genres:
Urban Fantasy
Pages:
240
Format:
eBook
Source:
Purchased
Goodreads
Amazon
, 
Audible
, 
Audiobook
, 
Barnes & Noble






This collection contains Dragos Takes a Holiday, Pia Saves the Day, and Peanut Goes to School (two novellas and a short story in the Elder Races series, previously published separately). All three stories focus on the Cuelebres, the First Family of the Wyr.

Dragos Takes a Holiday: When the Cuelebre family heads to Bermuda for some much needed R&R, it's no ordinary weekend in the sun. Between Pirates, treasure hunting, and a baby dragon… what could possibly go wrong?

Pia Saves the Day: The Cuelebres have moved to upstate New York where they finally have the space to indulge their Wyr side, and Liam can grow in safety. Their idyllic situation is shattered when Dragos is injured and stripped of his memory. Without Pia's taming influence, there's nothing holding back Dragos's darkest side.

Peanut Goes to School: Dragos Cuelebre is no longer the only dragon. At just six months of age, Liam has already grown to the size of a large five-year-old boy. In an effort to give him a taste of normality, his parents enroll him in first grade. But school has a surprising number of pitfalls, and Liam is fast becoming one of the most dangerous creatures in all of the Elder Races.
I was so excited to see this set of three novellas be combined and then offered for free! I've loved the Elder Races series since the beginning with Dragon Bound.  It was a real pleasure to come back to the lives of Dragos and Pia in Lord's Fall (book 5). Now I am thrilled to go on with the changes in their daily life in A Dragon's Family Album which gives us more insight to parenting and their new son, Liam.
Dragos Takes a Holiday: I loved this view into their daily lives and especially to know more about Liam. I don't know how anyone could not adore this baby. They had a fun, terrifying, exciting, eventful holiday!
Pia Saves the Day:  We see the true nature of a dragon's personalities and the steadfast strength of Pia's love for her mate. This had plenty of dangerous and frightening twists. I found it unsettling and fascinating.
Peanut Goes to School: Liam is so young, only 6 months old, but he needs to get into the world and socialize with others. In his first day of school he deals with bullies, a mean teacher and gets a girlfriend! It's too cute.
I totally loved these novellas and getting to know Liam better. Dragos and Pia have their hands full with him growing and learning so quickly.  Their family dynamic is awesome. If you read the series, you must get this – especially as it is free!
"While she talked, he made a mental note to write a large check for the public library system. If Pia and Liam enjoyed going, he would make sure the library could provide them with anything they wanted."
---
These are only Kindle freebies I get, or ones through author newsletters which anyone can sign up and get for free. I don't include things like Kindle Unlimited (I don't have it) or Prime Free Reading (I do have it). Both Tantor and Audible have occasional free audios (to anyone) and I do include those.  Since I one-click on 1-2 freebies a day or probably at least 5 a week, I came up with this feature to make sure I start reading them.
So I have thought about doing a Thrifty Thursday Challenge someday. For now,  what I think would be fun is if you have read and reviewed (anywhere) a freebie,  send me your link to your review (Goodreads, blog, facebook or wherever)  and I'll post them on the next Thrifty Thursday review.  (I'm trying to do 1-3 a month which means I only add about 15 or so to my TBR every month. lol)
Latest posts by Anne - Books of My Heart
(see all)
Related Posts