Review copy was received from Publisher. This does not affect my opinion of the book or the content of my review.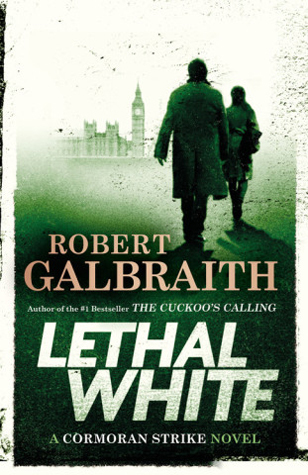 Lethal White
by
Robert Galbraith
Series:
Cormoran Strike #4
Published by
Mullholland Books
on September 18, 2018
Genres:
Mystery
Pages:
649
Format:
Hardcover
Source:
Publisher
Goodreads
Amazon
, 
Audible
, 
Libro.fm
, 
Barnes & Noble






When Billy, a troubled young man, comes to private eye Cormoran Strike's office to ask for his help investigating a crime he thinks he witnessed as a child, Strike is left deeply unsettled. While Billy is obviously mentally distressed, and cannot remember many concrete details, there is something sincere about him and his story. But before Strike can question him further, Billy bolts from his office in a panic.

Trying to get to the bottom of Billy's story, Strike and Robin Ellacott-once his assistant, now a partner in the agency-set off on a twisting trail that leads them through the backstreets of London, into a secretive inner sanctum within Parliament, and to a beautiful but sinister manor house deep in the countryside.

And during this labyrinthine investigation, Strike's own life is far from straightforward: his newfound fame as a private eye means he can no longer operate behind the scenes as he once did. Plus, his relationship with his former assistant is more fraught than it ever has been-Robin is now invaluable to Strike in the business, but their personal relationship is much, much trickier than that.
I'm incredibly happy with most of the developments in this book.  Not only was the mystery a good head scratcher but there were some pretty big shifts on the relationship fronts.  I want to be clear that while I like the mysteries in this series, I'm really here for the overall relationship arcs.
We've been following Strike and Robin for years now and I've loved their dynamic and have always felt like it is inevitable that eventually they will end up together. Even though Robin just married the wrong man and Strike is still recovering from a sixteen year off and on toxic relationship followed by some pretty meaningless ones, I always hold out hope that in the long term they are going to figure it out.  
The mystery lives up to the book jacket's labyrinthine description.  Anytime you add politicians into the mix it is bound to get a bit convoluted and complicated.  One story from a very mentally delusional person about a girl killed in the past seems to tie into a member of Parliament which opens up another can of worms so to speak and we see once again it is a small world and everyone seems to be tied into everyone else.  
I enjoyed the mystery and while I had my suspicions on the who dun it part, I was only a little right and didn't have half the clues matched up.  It was fun trying to figure it out and how it tied into the past of one mentally unwell person who might have witnessed a murder years ago.
BUT…I adore the interpersonal dynamics of the people in the story.  Robin for sure is a favorite of mine.  I've enjoyed reading her character over multiple books to see her come from the temporary secretary to partner in Strike's private investigator business.  Her character growth every step of the way has been gradual, believable and I always root for her. Robin has some big challenges in this book. She has PTSD after the attack of the prior book when she almost died.  I appreciate how this was handled, most of the time after a character, in a running series, goes through something traumatic it is all about the body healing. Rarely do I feel authors do justice to some of the mental consequences of such things.
Cormoran Strike is a semi broken character.  He has seen a lot in his years to make him that way.  He has had an on again off again love affair with a woman who created drama in everything she did before it blew up, hopefully for good after sixteen years.  He lost part of a leg in the war in Afghanistan and left the army to start his own business. Now he has had some success in that business, but when you are a private eye the last thing you want is to be recognizable, so that has caused its own issues.
I've felt that Robin and Strike have been getting closer to each other over the books from colleagues to friends to…well I'm not sure what but it seems there is more than just friendly emotions behind whatever they are.  It didn't help that Robin has just married Matthew, her longtime boyfriend, and let's be honest the absolute last man she belongs with. Still my hopes were pretty high after the prologue starting with the wedding reception but alas bacteria ruin everything sometimes, at least for a while.  Still on the interpersonal front, I'm extremely happy with where the book ended this time.
Robin and Strike are great partners and really build well off one another.  I enjoy the gumshoe investigations but I get caught up in the interpersonal relationships between all the characters even more.  I'm very much looking forward to seeing where these two end up going next now that they have solved one more high profile case AND seemed to clear some of the rubbish out of the way. 
"How often were you aware, while it happened, that you were living an hour that would change the course of your life forever?"
"Pretending you're OK when you aren't isn't strength."
"Well, that's where you're wrong," Robin contradicted him. The champagne had fizzed on her tongue and seemed to give her courage even before it hit her brain. "Sometimes, acting as though you're all right, makes you all right. Sometimes you've got to slap on a brave face and walk out into the world, and after a while it isn't an act anymore, it's who you are. If I'd waited to feel ready to leave my room after—you know," she said, "I'd still be in there. I had to leave before I was ready."
"Life had taught him that a great and powerful love could be felt for the most apparently unworthy people, a circumstance that ought, after all, to give everybody consolation."
Narration
:  
While I didn't listen to this specific book, I have listened to the first three in the series and enjoyed Robert Glenister's performance.  He does a fantastic interpretation of Strike specifically but also does a good job with Robin and a pretty large cast of characters. I was able to listen at my normal 1.5x speed for all of those.
Related Posts