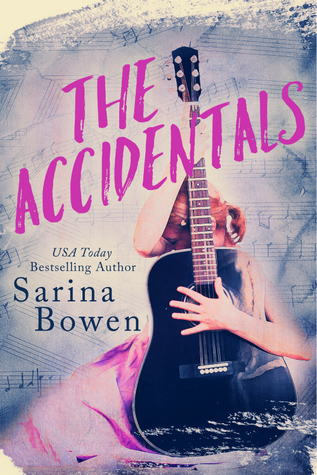 The Accidentals
by
Sarina Bowen
Published by
Indie
on July 10, 2018
Genres:
Young Adult
Pages:
320
Format:
eBook
Source:
Library
Goodreads
Amazon
, 
Audible
, 
Libro.fm
, 
Barnes & Noble





I've been listening to my father sing for my whole life. I carry him in my pocket on my mp3 player. It's just that we've never met face to face.

My mother would never tell me how I came to be, or why my rock star father and I have never met. I thought it was her only secret. I was wrong.

When she dies, he finally appears. Suddenly I have a first class ticket into my father's exclusive world. A world I don't want any part of – not at this cost.

Only three things keep me going: my a cappella singing group, a swoony blue-eyed boy named Jake, and the burning questions in my soul.


There's a secret shame that comes from being an unwanted child. It drags me down, and puts distance between me and the boy I love.

My father is the only one alive who knows my history. I need the truth, even if it scares me.
Read It, Rate It and Record   
A short review to update challenges
The Accidentals is not in my usual genre to read. I avoid Young Adult since I find high school students are often immature and there's too much drama. However, Carole's Random Life in Books loved it and her review convinced me to try it.
I foolishly started reading at 11:30pm after a long and active day. I finished just after 4 am.  Sometimes I just need to read to have time to myself and an escape, no matter the consequences. I did enjoy the book.
The characters were an interesting collection. The main character, Rachel, went through a lot and handled herself maturely. She controlled her reactions to her emotions very well for someone so young and was very fair and kind to others regardless of how they treated her.  I loved her. Also, she was funny.
Her father was sort of a mess and often an asshole but he was trying to do better even if he didn't always succeed. Haze made me nervous and angry.  Jake and Aurora were funny and awesome.
Rachel's journey over her senior year of high school from her mother dying, to meeting her father the first time, and applying to colleges is compelling. To be sure, it is an emotional journey, with a strong view of human nature – the good, the bad and the ugly. Humans are flawed but their potential is great.
Latest posts by Anne - Books of My Heart
(see all)
Reading this book contributed to these challenges:
2018 Library-Love Challenge
2018 New Release Challenge
Related Posts