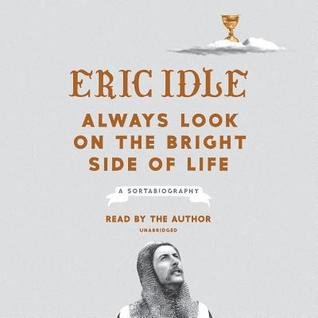 Always Look on the Bright Side of Life- A Sortabiography
by
Eric Idle
Narrator:
Eric Idle
Published by
Random House Audio
on October 2, 2018
Length:
8 hours and 12 minutes
Format:
Audiobook
Source:
Purchased
Goodreads
Amazon
, 
Audible
, 
Audiobook
, 
Barnes & Noble
, 
Apple





From the brilliant comedian, founding member of Monty Python, and creator of Spamalot, comes an absurdly funny memoir of unparalleled wit and heartfelt candor

We know him best for his unforgettable roles on Monty Python--from the Flying Circus to The Meaning of Life. Now, Eric Idle reflects on the meaning of his own life in this entertaining memoir that takes us on an unforgettable journey from his childhood in an austere boarding school through his successful career in comedy, television, theater, and film. Coming of age as a writer and comedian during the Sixties and Seventies, Eric stumbled into the crossroads of the cultural revolution and found himself rubbing shoulders with the likes of George Harrison, David Bowie, and Robin Williams, all of whom became dear lifelong friends. With anecdotes sprinkled throughout involving other close friends and luminaries such as Mike Nichols, Mick Jagger, Steve Martin, Paul Simon, Lorne Michaels, and many more, as well as the Pythons themselves, Eric captures a time of tremendous creative output with equal parts hilarity and heart. In Always Look on the Bright Side of Life, named for the song he wrote for Life of Brian (the film which he originally gave the irreverent title Jesus Christ: Lust for Glory) and that has since become the number one song played at funerals in the UK, he shares the highlights of his life and career with the kind of offbeat humor that has delighted audiences for five decades. The year 2019 marks the fiftieth anniversary of The Pythons, and Eric is marking the occasion with this hilarious memoir chock full of behind-the-scenes stories from a high-flying life featuring everyone from Princess Leia to Queen Elizabeth.

I was in a weird mood last week and didn't want to listen to any of the books I had on my iPod. I started looking through my Audible wishlist and found this book by Eric Idle. I've been a fan of Monty Python movies for a long time now. My love started out with Monty Python and the Holy Grail (which has some of the best one-liners in any movie). Then I watched The Life of Brian (which to this day is still my favorite of all the Python movies).
This book starts off with Idle growing up as a poor boy in Britain during World War II. Then quickly moves on to his becoming a comedian and how he met the other Pythons. I really liked hearing about how Python came to exist.
I learned so much about Monty Python and about the many other celebrities they met and hung out with. Come to find out, Elvis was a huge Python fan and used to stay up nights reciting skits in bed. He also talks about how he made Queen Elizabeth and Prince Charles laugh historically. How he became friends with all of the Rolling Stones, David Bowie, Robin Williams and George Harrison (who funded the entirety of The Life of Brian because he wanted to see the movie).
There were some really great parts about the making of Spamalot (I'm still mad at my husband for not taking me to see it when it was here last month). He also talked about winning the Tony for best musical.
There's also a very touching tribute to George Harrison. He talks about a vicious attack on Harrison and his wife that almost killed the two of them and that Idle thinks it made Harrison die faster. There's also a very touching tribute to Robin Williams.
He ends the book talking about what his last words would be and what his obituary would be. He even believes he will be forced to sing "Always Look on the Bright Side of Life" (which is the most requested song at British funerals, also became a war song and at several different sports venues) at his own funeral.
This is a must listen to any fan of Monty Python.
Narration
This book is narrated by Eric Idle himself. I love listening to memoirs narrated by the author. You really feel like they are telling you their life story as if you're sitting in a living room. No one else could've narrated this because Idle voice several of the characters that he played in movies and in Flying Circus.
Rating Breakdown
Writing
Narration (Audio)
Overall:
Related Posts