Review copy was received from Publisher. This does not affect my opinion of the book or the content of my review.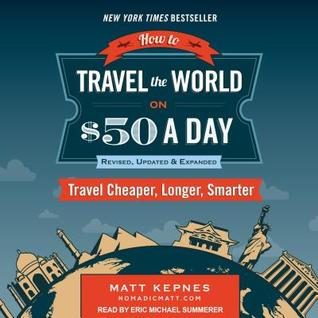 How To Travel the World on $50 A Day
by
Matt Kepnes
Published by
Tantor Audio
on May 16, 2017
Genres:
Non Fiction
Length:
8 hours, 24 minutes
Format:
Audiobook
Source:
Publisher
Goodreads
Amazon
, 
Audible
, 
Libro.fm




No money? No problem. You can start packing your bags for that trip you've been dreaming a lifetime about. For more than half a decade, Matt Kepnes (aka Nomadic Matt) has been showing readers of his enormously popular travel blog that traveling isn't expensive and that it's affordable to all. He proves that as long as you think out of the box and travel like locals, your trip doesn't have to break your bank, nor do you need to give up luxury. Offering a blend of advice ranging from travel hacking to smart banking, you'll learn how to avoid paying bank fees anywhere in the world, earn thousands of free frequent flyer points, find discount travel cards that can save on hostels, tours, and transportation, and get cheap (or free) plane tickets. Whether it's a two-week, two-month, or two-year trip, Nomadic Matt shows you how to stretch your money further so you can travel cheaper, smarter, and longer.
I love to travel and this audio is non-fiction on how to do so at lower costs. It also seems timed right since summer is a big travel season.  It includes an introduction and three parts. Part One deals with planning your trip. Part Two is on the road expenses such as accommodations, food, transportation and activities. Part Three is regional information ( on the same things as Part Two)  including: Europe, Australia, New Zealand, Southeast Asia, Central America, South America, China, India and Japan.
The introduction is short and basically contains a list of questions which are answered later and a pep talk for those who are too afraid or think they don't have the money to travel. I found this boring since it didn't answer any questions and I don't need encouragement. I have traveled and will continue to travel.
In the planning section, there are some good tips. Depending on your background, they may be helpful. I had two parents who grew up during the depression. I know almost all of the thrifty tips Matt shared. I know about the different banking options, travel reward credit cards, airline frequent flyer programs, hostels, hotel discount programs, etc.  The information on travel insurance was new to me and would be imperative for the longer trips.
Some of the tips were stated repetitively. I recognize repetition as a key factor in learning, but I got it the first time. If I didn't, I can listen again. The information on purchasing a backpack was interesting. One would either need to take good notes or get this on Kindle so key details could be highlighted or bookmarked. The same is true for the lists of websites for researching things from airfares, to places to stay and sights to see. I don't know how to notate audio.
After the planning and costs in general, How to Travel the World for $50 a Day goes into regions and covers places to stay, transportation, meals and sightseeing in somewhat more detail for the area. Again, the main tips are repeated from the general ones.
The narrator does a very good job. His voice is very clear and easy to understand. He does say the websites and other information slowly enough one could write it down.
The author is a youngish guy, now 36 who started longer-term traveling at 23. Many of the discounts are only available to students, which end somewhere in the 20s. Also, leaving your things at your parents' home and having them get your mail or pay your bills, is not going to work as well for someone in their 50s or 60s whose parents have died or are in assisted living. Travel lasting more than a few months is also harder for those with children, aging parents or pets.
Overall, it is helpful but quite repetitive. I don't see how to go to a specific area of the audio, so an ebook would be more useful to me so I could highlight, take notes and search. The main way to travel cheap is hostels, couch-surfing, eat street food or cook at the hostel. For transportation use rewards points or find discount sale prices. There are some websites mentioned for budget hotels and transportation overseas which are not typically known to American travelers and would be helpful.
Rating Breakdown
Writing
Narration (Audio)
Overall:
Latest posts by Anne - Books of My Heart
(see all)
Reading this book contributed to these challenges:
Anne: 2017 New Release Challenge
Related Posts