Review copy was received from Author. This does not affect my opinion of the book or the content of my review.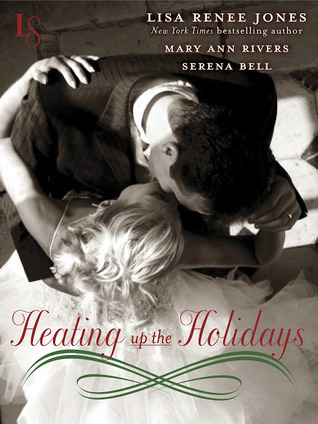 Heating Up the Holidays
by
Lisa Renee Jones
,
Mary Ann Rivers
,
Serena Bell
Published by
Loveswept
on October 28,2013
Genres:
Contemporary Romance
Pages:
378
Format:
eBook
Source:
Author
Goodreads






Dr. Sam Burnside is convinced that volunteering at an urban green-space farm in Lakefield, Ohio, is a waste of time—especially with his new health clinic about to open. He only goes to mollify his partner, suspecting she wants him to lighten up. Then Sam catches sight of Nina Paz, a woman who gives off more heat than a scorcher in July. Her easy smile and flirty, sizzling wit has him forgetting his infamous need for control.

Widowed when her husband was killed in Afghanistan, Nina has learned that life exists to take chances. As the daughter of migrant workers turned organic farmers, she's built an exciting and successful business by valuing new opportunities and working hard to take care of her own. But when Sam pushes for a relationship that goes beyond their hotter-than-fire escapades, Nina ignores her own hard-won wisdom. She isn't ready for a man who needs saving—even if her heart compels her to take the greatest risk of all: love.
ICYMI is a post from my early days of blogging at Yummy Men & KickAss Chicks.  You can see the original review here.   These stories are no longer sold in the anthology but are all available separately now.
---
This is a collection of three holiday romances.   The only author I have read previously is Mary Ann Rivers.  I read The Story Guy and it is 5+ stars, so I was very excited to win this and read it.
I just reviewed another book which was a collection of five Christmas stories so I may be repeating my prejudices here.  I believe it can be difficult to develop characters sufficiently to care about them in shorter stories.  It is also challenging to have the story develop quickly enough for them to have sex and have it seem like a realistic thing to happen if they didn't know each other when the story began.    I will talk a bit about each story next, but this book is a real winner for me.
PLAY WITH ME by Lisa Renee Jones
From Goodreads:
Kali Miller has spent three years reporting fluff stories, waiting for the article that will launch her career to new heights. When she suddenly finds herself forced to take a job as an executive secretary at a Vegas casino, Kali meets the subject of what will surely be a shocking exposé: her boss, Damion Ward, the arrogant and undeniably sexy CEO. But after Damion invites her to help him plan a Thanksgiving charity event, Kali begins to see another side of the man. And when she surrenders to the exhilarating tension simmering between them, Kali hopes her story will have a happy ending.
———-
I really enjoyed this story. This is set around Thanksgiving but the holiday is not entwined into the story.   It was interesting and confusing and a little crazy.   I cared about Kali.  I never really got a real feeling about Damion.  It felt more like a mystery to my brain since some weird things happened with no context to understand them, until later.  Some of the characters seemed a little cliché to me and the ending was too fast.
4 stars
SNOWFALL by Mary Ann Rivers
From Goodreads:
Jenny Wright can't get enough of her erotic conversations with someone she knows only as "C." Flirting online helps Jenny temporarily escape confronting the changes to her life as she slowly loses her vision. Jenny's occupational therapist, Evan Carlisle-Ford, is helping her prepare for the challenges ahead, but the forthright, trustworthy man can no longer ignore his growing attraction to his fiercely intelligent client. Now Jenny must choose between the safe, anonymous "C"—or the flesh-and-blood Evan, whose heated kisses can melt snow faster than it can fall.
———-
This author continues to amaze me. WOW.  I love how different and wonderful her writing is. She writes with such detail but I hardly notice while reading because she makes my emotions explode. Her characters are like real people to me.  I can't recommend her highly enough.  I would read anything by Mary Ann Rivers and am looking forward to her book, Live, coming out January 21 2014.  I know because I went right to Goodreads to find out what else I could read which she has written.
This is a story about intelligent people – my favorite kind – who meet in very odd ways.  Jenny is dealing with this major change to her life and is focused on her anger and frustrations rather than actually dealing with it or her life.  I'm nerdy so I enjoy the fact she is a microbiologist.  Themes of macro vs. micro are woven in the story.  The erotic aspects fit well and don't seem too fast.  So smart, so fascinating, so different, so WOW.
5+ stars
AFTER MIDNIGHT by Serena Bell
From Goodreads:
The clock is ticking down to midnight on New Year's Eve, and all Nora Hart and Miles Shephard can think about is kissing each other—even though they met just minutes before. Then, as fast as Miles enters Nora's life, he's gone . . . and she never even gets the name of the man she thinks might just be "the one." One year later, Nora and Miles are reunited. The chemistry between them is just as strong as they remember. But Miles broke her heart once before—and this time around, Nora's not sure whether she can give love a second chance.
———-
This story had many thought-provoking aspects.  The couple's first meeting and the way each dealt with being betrayed by a loved one was interesting.  I liked getting to hear a bit of each of their point of view and following along with their thoughts and emotions as they progressed.  I was captured from the beginning and even with the unusual characteristics, this was fun, easy and hot to read.
4.5 stars
This book of three holiday stories is excellent.   I really connected to the stories and felt them deeply.  I try to not write spoilers in my reviews, although the blurbs give spoilers sometimes, but yet tell you why I would or wouldn't read the book. It makes me seem vague without some of the details.
These stories have hidden depths. They can be read as fun, sexy and easy but the feelings they inspire and the emotional changes and growth of their characters can give so much more.   This book is an easy gift to mind and spirit with stories short enough to read during this busy holiday season and enough reality to touch the heart.
Latest posts by Anne - Books of My Heart
(see all)
Related Posts