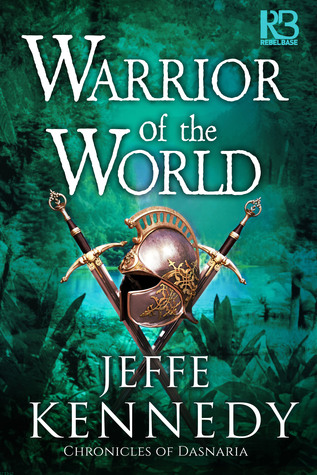 Warrior of the World
by
Jeffe Kennedy
Series:
The Chronicles of Dasnaria #3
Published by
Indie
on October 9, 2018
Genres:
Fantasy
Pages:
215
Format:
eARC
Source:
Author
Goodreads
Amazon
, 
Barnes & Noble
, 
Apple





Just beyond the reach of the Twelve Kingdoms, avarice, violence, strategy, and revenge clash around a survivor who could upset the balance of power all across the map . . .

Once Ivariel thought elephants were fairy tales to amuse children. But her ice-encased childhood in Dasnaria's imperial seraglio was lacking in freedom and justice.. With a new name and an assumed identity as a warrior priestess of Danu, the woman once called Princess Jenna is now a fraud and a fugitive. But as she learns the ways of the beasts and hones new uses for her dancer's strength, she moves one day further from the memory of her brutal husband. Safe in hot, healing Nyambura, Ivariel holds a good man at arm's length and trains for the day she'll be hunted again.

She knows it's coming. She's not truly safe, not when her mind clouds with killing rage at unpredictable moments. Not when patient Ochieng's dreams of a family frighten her to her bones. But it still comes as a shock to Ivariel when long-peaceful Nyambura comes under attack. Until her new people look to their warrior priestess and her elephants to lead them . . .

Excerpt
Prologue
I was an Imperial Princess of Dasnaria and I grew up in paradise.
Tropically warm, lushly beautiful, replete with luxury, my childhood world was without flaw. My least whim was met with immediate indulgence, served instantly and with smiles of delight. My siblings and I spent our days in play, nothing ever asked or expected of us.
Until the day everything was demanded—and taken—from me.
Only then did I finally see our paradise for what it was, how deliberately designed to mold and shape us. A breeding ground for luxurious accessories. To create a work of art, you grow her in an environment of elegance and beauty. To make her soft and lusciously accommodating, you surround her with delicacies and everything delightful. And you don't educate her in anything but being pleasing.
Education leads to critical thinking, not a desirable trait in a princess of Dasnaria, thus I was protected from anything that might taint the virginity of my mind as well as my body.
Because I'd understood so little of the world outside, when my time came to be plucked from the garden, when the snip of the shears severed me from all I'd known, the injury came as a shock so devastating that I had no ability to even understand what it meant, much less summon the will to resist and overcome. Which, I've also come to realize over time, was also a part of the deliberate design.
I wish I could take credit for extracting myself from the brutal horror of the marriage they forced me into, but I can't. If not for my baby brother Harlan, I would've continued through the harsh winter of my wedding journey, my physical and emotional injuries muted by the numbing teas and smoke they supplied me with, and inevitably to worse torture and eventual death.
But Harlan broke me out and we escaped. Miraculously, I even made it onto a sailing ship, bound for a greater world I knew nothing about, while Harlan remained behind, a captive
of our ruthless family.
Even then, I likely couldn't have survived on my own. Full of fear and ignorance, I barely left my cabin, having no idea what I might do with myself. Until Kaja, Warrior Priestess of Danu, coaxed and then forced me to face my future. She taught me to defend myself. She gave me a disguise and vows of chastity and silence to protect me from discovery.
She gave me my self back again.
And Ochieng… He gave me stories, a home, and my heart's desire.
Without these people, I couldn't have survived. But I can't be the helpless kept princess all my life. At some point I need to find the warrior in myself.
If only I knew how.
Review
I continue to love this series by Jeffe Kennedy. She has created a really great character in Ivariel/Jenna, who has had both a luxurious life and an abused life. She finally gets her happy ending in this story, but I don't see this as the last of her story. I don't know how she will have more to her story, but I feel like this is not the last we will see with her.
So, Warrior of the World picks up where Exile of the Seas leaves off. Ivariel is recovering from the events at the end of the previous book. The D'tiembo family continues to embrace Ivariel, even after learning her secrets. Ochieng declares his love for Ivariel, again, he doesn't see her past a flaw, which I love seeing in him. I do feel he should've been more up front with Ivariel about his family's customs. He introduced her as basically a fiancee without explaining that to her.
I really love the D'tiembo family. We get to spend more time with them, especially Zalaika, Ochieng's mother and head of the family. She is a tough woman and really does everything to protect her family, not just making sure they are safe, but also happy. Yes, she is a little over eager in trying to push Ochieng and Ivariel together, but that is what a lot of mothers do, so it fit.
"I apologize that I didn't tell you right away," I said.
Zalaika waved a hand, dripping with water droplets. "It's important news, but hardly that urgent. We are not canceling the festival of kuachamvua, I can tell you that."
"But Ochieng and Desta said—"
Zalaika raised her brows, silencing me. For all the ways, obvious and subtle, that she was unlike my mother, she shared the ability to assert herself with the smallest gesture. "Are my sons the head of the D'tiembo family? Are my daughters, for that matter?" She glared owlishly at her daughters, who had the temerity to giggle like girls. Another vast difference: I never, ever would have dared laugh at my mother. "No," Zalaika told them. "Not yet. And while I yet breathe, we live our lives to enjoy and celebrate what we have—not to fear what we might lose. That is the D'tiembo way."
I continue to love the elephants in this series. I really feel the different personalities of the different elephants. I love seeing Efe come into her own. She is a young elephant the family rescued. She has scars around her ankles where the previous person chained her. The D'tiembo family doesn't chain any of their elephants. There is nothing to stop them from walking away and not working for them. There is also Violet, who is the matriarch of the herd. She was the rock of the herd, especially Efe.
I really enjoyed watching Ivariel grow. She has some times where she regresses and is too hard on herself, but that is to be expected from a young girl who has been what she's been through (I think she's still only eighteen, which is the age she is when she is married off in book one, Prisoner of the Crown.). I don't know what is next in this world Kennedy has created, but I don't think this is the last we will see of Ivarial.
Rating Breakdown
Plot
Writing
Characters
Dialogue
Overall:
Related Posts