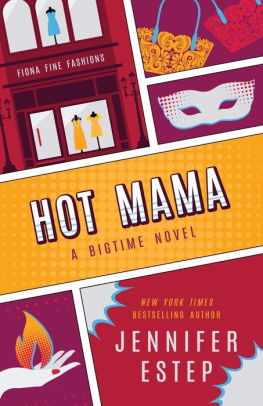 Hot Mama
by
Jennifer Estep
Series:
Bigtime #2
Published by
Berkley
on November 6, 2007
Genres:
Fantasy
Pages:
356
Format:
eBook
Source:
Purchased
Goodreads
Amazon
, 
Barnes & Noble
, 
Apple




By day, Fiona Fine is a successful couture designer, catering to the high society players of Bigtime, New York. By night, she's Fiera, a member of the heroic Fearless Five who can create and manipulate fire with her bare hands.

Fiona's personal life, though, isn't so hot. She still misses her fiancŽ, who was killed by ubervillains a year ago. Still, men admire Fiona's smoking assets, and she decides to get back in the dating game- especially after she meets Johnny Bulluci. But this notorious playboy has plenty of secrets to go along with his sexy smile. And, with two new ubervillains in town who are intent on raising hell, Fiona's love life might just crash and burn.


Hot Mama is the second book in Jennifer Estep's Bigtime series. This series follows superheroes in a fictional town of Bigtime. In this book, we follow Fiona Fine, aka Fiera. She's a fashion designer by day and superhero with fire powers by night. She's also a member of the Fearless Five, led by her father.
In this story, two of the Fearless Five, Karma Girl and Striker (from the Karma Girl, the first book) are on a honeymoon. Normally, being down the two wouldn't be all that bad. Siren and Intelligal, two ubervillians, have other plans. The other issue is another superhero, Johnny Angel, is also after the ubervillians. They killed his mentor and he doesn't just want justice. He wants their lives. That makes things more difficult for the Fearless Five.
This is a fun, if a bit silly series. I wasn't as big of a fan of this book as I was book one. I think part of it was my mood. The other part is I'm not a big fashion person, so I didn't care much for that aspect. One thing I did love, Fiera's fire power burns through calories, so she would sit down and eat two pizzas, pie and two liters of a sugary soda. That is the super power I want. I don't care about the fire power, I just want the calorie burning one. Though, it did seem a bit of a nuisance to constantly look for food and hide how much you were eating from people who didn't know who you were.
I really enjoy the characters in this series and want to start the third book soon (tried to not buy more books when I have so many on my kindle that I've already purchased). The romance that starts with Fiona and John, not to mention Fiera and Johnny (before they figure out who each other are) was fun. The final fight scene was great too. There is also Lulu and Henry/Hermit, though I get as frustrated with Lulu and her hot/fire puns as Fiona does.
I should also mention that Lulu and Intelligal are both in wheelchairs. It is nice to see two people with disabilities, but still being fully functional characters in a story. I'm trying to think if I've read any other books with wheelchair characters, but I can't think of any off the top of my head.
Rating Breakdown
Plot
Writing
Characters
Dialogue
Overall:
Related Posts