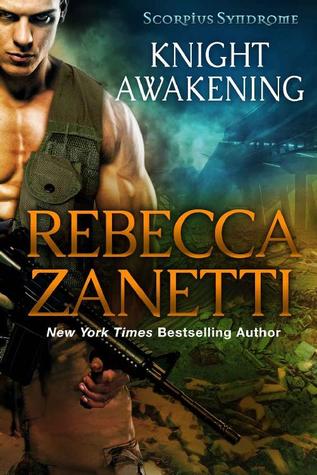 Knight Awakening
by
Rebecca Zanetti
Series:
Scorpius Syndrome #6
Published by
Indie
on February 25, 2020
Genres:
Dystopia
Pages:
372
Format:
eBook
Source:
Purchased
Goodreads
Amazon
, 
Barnes & Noble
, 
Apple





The Line Between Obsession and Love has Disappeared

The world has changed. Any rules that might've been in place before the Scorpius bacterium ripped through civilization and decreased its population are no longer in place. Obsession and survival are the new reality. So, Marcus Knight, after a hellish time in captivity that stole most of his memory and all of his soul, has one focus, and that's keeping Dr. Penelope Kim safe in the aftermath. She'd risked her life to save him once, and she's all that matters. For months, he's kept his distance, protecting her from afar, because he knows that one touch—one sigh—one kiss—from her will never be enough.

Passion is a Dangerous and Deadly Temptation

Penny Kim is one of the few doctors still living, and she alone holds the key to ensuring the human race continues. Several of her friends are pregnant, and the clock is ticking down on their survival. Her days are filled with experiments and hope, while her nights are consumed with visions and dreams of the hard-bodied and powerful soldier who's made her safety his one and only mission. She should be wary of him; she should be terrified of him. Yet all she feels is an unreal craving for his touch that gets stronger every day. Life is short, and she's unwilling to wait, unaware of the danger already hunting them both. Some risks are worth it, even in this new and dangerous world.

This is the final book in the Scorpius Syndrome series (though there will be a spinoff series following a different group of people through the same bacterium outbreak). Each book in the series, we have a new couple come together. This couple are fairly new to the Vanguard group, but Marcus is the little brother of leader Jax. Jax has been looking for his brother since the outbreak started.
Marcus was kept as a prisoner by the psychopathic president and his scientists. They did all kinds of horrible experiments on him. His only light was Dr. Penelope, who was also a prisoner, but would come in to tend him after torture or experiments. They both escaped in an earlier book, but Marcus is struggling to life outside of a prison cell. He has no feelings, just wants to protect Doc Penny.
This was a good ending to the series. Not only do we have the romance of Marcus and Penny coming together, we have someone sabotaging the B vitamin viles (which helps in treatment of Scorpius bacterium). There is also the president to deal with because he has an obsession with Lynn Harmony (the fiancee of Jax).
The Vanguard group also runs into The Brigade, another group of people trying to help restore some normality to the world. Some of the people from The Brigade were friends with Lynn prior to the outbreak. It is good to meet up with them again. They are also the focus of the spinoff series.
Overall, great ending to a dystopian romantic suspense series. I really look forward to starting the spinoff series. I do highly recommend you read this series in order, as each book builds on the previous book.
Rating Breakdown
Plot
Writing
Characters
Dialogue
Overall:
Related Posts