Review copy was received from NetGalley. This does not affect my opinion of the book or the content of my review.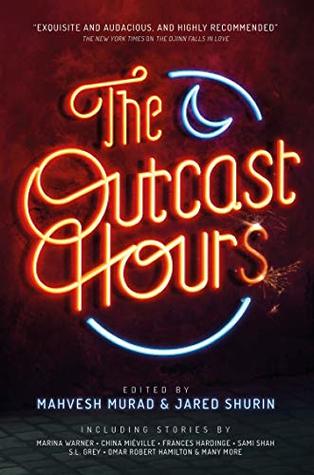 The Outcast Hours
by
Mahvesh Murad
,
Jared Shurin
on February 19, 2019
Pages:
347
Format:
eARC
Source:
NetGalley
Goodreads
Amazon
, 
Barnes & Noble



"These are the stories of people who live at night: under neon and starlight, and never the light of the sun.

These are the stories of poets and police, tourists and traders; the hidden and the forbidden; the lonely and the lovers.

This is their time.

The Outcast Hours gathers over two dozen brand-new stories from award-winning writers across genres and continents, including bold new fiction from Marina Warner, Frances Hardinge, China Miéville, Sami Shah, Omar Robert Hamilton, Kuzhali Manickavel, Will Hill, Indrapramit Das, Silvia Moreno Garcia, Jeffrey Alan Love, Maha Khan Phillips, and many, many more."
The Outcast Hours is not my typical read.  First, it falls on the darker side of things and then, it is an anthology.  I generally don't read a lot of those since usually they have a short story by one or two authors I know and the rest aren't as important to me.  But I thought I'd give this a try, based of the darker side of life premise.
There are twenty-five different stories in this, which just seems like a lot.  What happened for me is the stories I'm interested in were too short and the ones I was not interested in were too long.  Plus jumping from short story to short story was all a little disjointed. They all have a similar theme but some funny dark, others ewe dark and a few had a Tales from the Crypt vibe.  I think you get what I'm saying.
The good thing about this anthology is every story is a single complete tale.  There are some gems in here a few of my favorites were:
The Book Will Find You –  Sam Beckbessinger, Lauren Beukes & Dale Halvorsen
It was a seriously creepy tale of a same sex relationship gone so many shades of wrong and the extremes one partner was willing to go to in order to bring back the person they lost.  It was creepy, sad and utterly disturbing.
Blind Eye – Frances Hardinge
Think about a babysitter for criminals and this is her tale of one very special job she takes with a child that the caretakers warn her to never let fall asleep.  It was a quick story steeped in the supernatural and I really liked it.
MiDNIghT MaRAuDERS – M. Suddain
Set in a different culture and time it is the story of a smaller town that has a new drug store pop up.  It appears that the town is just not big enough for the two of them and they go to war with one another. It is a well-paced funny story with some great shenanigans in it.  This is what happens when armatures try to break into places.
A Partial Beginner's Guide to the Lucy Temerlin Home for Broken Shapeshifters – Kuzhail Manickavel
This is a funny list of things to do and not to do upon arrival to the Home.  It is really short but just made me want to know more about this world. I would totally read a full-length book about someone just getting to this home and all of the challenges they would face in it.  I was so sad that it was over just as it was beginning.
All the other stories for me were okay, some more memorable than others but each definitely dark.  There aren't many happy endings and there were some that you really wanted the main person to just die for being so awful a person.  A few tried to have some sort of significance to the world today like using Tinder or the MeToo movement. But most kept it to move of a UF/fantasy realm.
The real question, is this for you?  Well if you just want a few quick stories to read before bed and set aside perhaps to come back to every now and again, then probably yes.  If you like ambiguous endings or ones that are not happy in nature, then again probably yes. But if what you are looking for is a real connection to characters and feeling 'in' the story then probably not.  Like I said, these are short and there are so many it was really hard to feel attached. Only a few stories even stick in my mind a week after reading it.