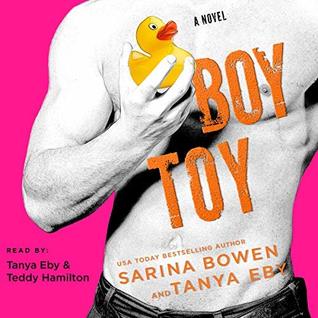 Boy Toy
by
Sarina Bowen
,
Tanya Eby
Narrator:
Tanya Eby
,
Teddy Hamilton
Series:
Man Hands #3
on August 23, 2018
Genres:
Contemporary Romance
Length:
6 hours, 7 minutes
Format:
Audiobook
Source:
Purchased
Goodreads
Amazon
, 
Audible
, 
Audiobook
, 
Barnes & Noble





A brand new romantic comedy from your favorite snort-laughing duo!

Liam

The moment Sadie Matthews walks through the daycare center door, I feel my world tilt in her direction. Again. I fell for her when I was fourteen, and I'm still not over her. Problem: she still thinks of me as a teen she used to babysit. But I've learned a few things about pleasing a woman in the last fifteen years. I can't wait to show her how good it could be. I need to move quickly before I lose her again. This is more than a game to me, but I still plan to win.

Sadie

I've just survived the worst year of my life. As a single mom of twin toddlers, I don't have time for a man. I barely have time to finish a thought. Who knew that Liam McAllister would grow up to be so devastating? He's everything my husband was not: tall, built, and willing to have a tea party with my girls.

I can't possibly get involved with him. He's too young for me. Too handsome. But he's so persuasive.
Boy Toy is a laugh out loud, nod your head in agreement, sexy romance..  It's the third installment in the Man Hands series and holds its own next to its predecessors.  If you haven't read the first two, no worries.  It works well as a stand-alone, too.  It's the story of Sadie, newly-single mom of toddler twins.  Her girls' new daycare provider isn't just good with kids.  He's a sexy-as-hell twenty-nine year old named Liam…that she used to babysit.  Liam has always had a thing for the college freshman his parent's hired to babysit him and his siblings one summer.  He's determined to win her over and his 14-year old inner dialogue eggs him on at every turn.
Sadie is a character I think many women can relate to in some way or another.  In the previous books in the series, Sadie seemed like the chick that had all her s**t together, gave excellent advice, and handled motherhood with serenity.  In Boy Toy, we get a glimpse behind the curtain.  We see how she copes with having her world turned upside down, how she struggles with body image and how she feels guilty for sending her girls to daycare so she can earn a living.  I loved the return of Brynn and Ash, and the camaraderie the three of them share.
Liam is so much more than a 'boy toy' and the tongue in cheek title does not give him full credit.  He's sensitive and respectful.  He knows what he wants and isn't afraid to let Sadie know.  He's charming and smart and great with kids.  It's how gentle and interested he is in Sadie's girls that made me fall for him.  I can so relate to this line by Sadie:  "This is some serious mommy porn I'm watching – Shirtless guy feeds toddlers before 8am."
Boy Toy  is a charming, fast-paced story filled with real-life poignant moments that will have you in stitches with laughter, fanning yourself, or signing with happiness.
Narration:
The narration was fantastic –  great pacing and enunciation.  I loved the seriously sexy voice of Teddy Hamilton as Liam.  He managed to convey youth without making the hero sound too glib.  Tanya Eby was wonderful.  I love the playful tone of her voice and the self-deprecating way she delivered facetious lines.  I believe her performance was enhanced by being a co-author, where the risk of a narrator misinterpreting Sadie's mindset was eliminated.
Listen to a clip:

Rating Breakdown
Plot
Writing
Characters
Dialogue
Narration (Audio)
Overall:
Related Posts