Review copy was received from NetGalley. This does not affect my opinion of the book or the content of my review.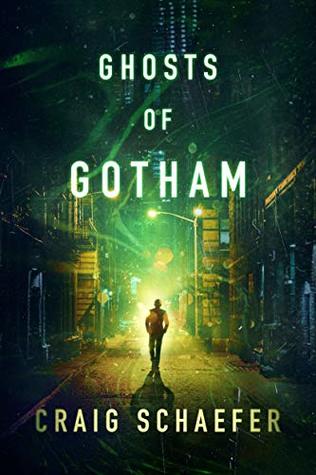 Ghosts of Gotham
by
Craig Schaefer
on April 9, 2019
Genres:
Science Fiction Fantasy
Pages:
427
Format:
eARC
Source:
NetGalley
Goodreads
Amazon
, 
Audiobook






Irresistibly drawn to mysteries, if only to debunk them, reporter Lionel Page exposes supernatural frauds, swindlers, and charlatans. His latest case is an obsession—at least for an ancient and wealthy heiress: verify the authenticity of a lost Edgar Allan Poe manuscript circulating through New York City's literary underworld. But the shrewd Regina Dunkle offers more than money. It's a pact. Fulfill her request, and Lionel's own notorious buried past, one he's been running from since he was a child, will remain hidden.

As Lionel's quest begins, so do the warnings. And where rare books go, murder follows. It's only when Lionel meets enigmatic stranger Madison Hannah, his personal usher into the city's secret history, that he realizes he's being guided by a force more powerful than logic…and that he isn't just following a story. He is the story.

Now that the true purpose of his mission is revealing itself in the most terrifying ways, it may finally be time for Lionel to believe in the unbelievable.
What can I say? Craig Shaefer has done something really special in Ghosts of Gotham.  He has taken an Edgar Allen Poe story and made it the focus of a mystery that delves into occult, that in itself is a good story.  But he has also taken two characters, which on their own might not be incredibly sympathetic and turned them into the heroes of this tale and made me wonder how long should someone pay for the sins of their past?  The magic in this story isn't just in the plot but in the stories of both Lionel and Madison (omg hold onto your hat for her backstory, it's knocking me off my feet)
Lionel is a reporter with a strange past who debunks frauds pretending to use magic.  He is good at his job and so far hasn't found one case of true magic, that is until now. Lionel meets a powerful woman, who would like him to get a copy of the true final page of an Edgar Allen Poe story.  It seems simple, go to New York, find the book and authenticate the final pages. It's not simple, its not easy and Lionel is about to find out the true magic he has been looking for is out there and it is coming for him.
ღღღ  The Best Things About this Story ღღღ
It is fun; it's fast and it takes two characters with demons and pasts of their own and makes you root for them while trying to decipher their backstories.  Lionel has few friends and a string of prior lovers who were left with feelings of overwhelming disappointment. Maggie is a witch and she is about to lift the veil for Lionel and show him things he can never un-see.  She is strong yet somehow broken, so I loved her immediately. Maybe these two broken characters might have it in them to fit together and fill the lonely gaps in each other's lives.
This Urban Fantasy world is subtle and fantastic.  There are witches, gods, cults, demons, ghouls, necromancy, secret societies and other things left unnamed that haunt children's fairy tales.  This is a detective story wrapped up in all the best things occult. You might think a book about searching for a book might be boring but when the undead alligator comes for you in a New York Sewer, I think you might change your mind.
Maggie's backstory was so unexpected that when it was revealed my jaw might have dropped to the floor with the stroke of genius it was.  I loved how Shaefer took a character I thought I knew and blew my mind with the 'what if' of it. *applauds* Well done Mr. Shaefer, well done.
Regina, the very powerful, very rich woman who hired Lionel and has some ties to Maggie as well, turned out to be a fantastic plot point and I loved the story arc behind her.  She is so mysterious and the pages couldn't turn fast enough to get through the story to learn everything about the pasts of all the players in the story.
Shaefer's writing and style is one with great moments of emotional connection to the characters, moments of fear for the characters and moments of wonder about how all of this is going to come together.  It is so easy to pick ir up and get lost.
☢☢☢  The Worst Things About this Story ☢☢☢
It might be a standalone, currently it looks like a standalone.  I loved being in this world and I adored Lionel and Maggie by the end of it.  This is a completely self-contained story but I want more time with Maggie and Lionel.  I want to go on more adventures with them and while this adventure is concluded, I really hope Shaefer has more ideas for the characters in this world.
"My dear boy, how charmingly naive. You know perfectly well that murder is humanity's favorite pastime. People will kill each other over a scratched fender or a pool-hall bet. The answer to 'Will someone kill for this,' no matter what 'this' is, is always yes."
The woman was a mystery. No. Mysteries were made to be solved. She didn't want any part of that. Maddie was a palace of locked doors. Lionel had been invited into her halls, permitted to walk through her world and get the barest sense of her design, but the actual rooms— the places where Maddie actually lived, where her heart and her memories held sway— were denied to him.
"This is New York City, sir. All the hotels are haunted by someone or other. You just have to pick the one with the ghosts that suit you."
Rating Breakdown
Plot
Writing
Characters
Dialogue
Overall:
Related Posts