Review copy was received from Publisher. This does not affect my opinion of the book or the content of my review.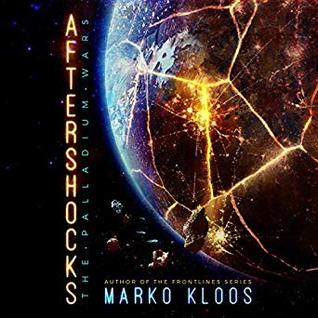 Aftershocks
by
Marko Kloos
Narrator:
Luke Daniels
Series:
The Palladium Wars #1
Published by
Brilliance Audio
on July 1, 2019
Genres:
Science Fiction
,
Space Opera
Length:
9 hours, 9 minutes
Format:
Audiobook
Source:
Publisher
Goodreads
Amazon
, 
Audible
, 
Audiobook




Across the six-planet expanse of the Gaia System, the Earthlike Gretia struggles to stabilize in the wake of an interplanetary war. Amid an uneasy alliance to maintain economies, resources, and populations, Aden Robertson reemerges. After devoting fifteen years of his life to the reviled losing side, with the blood of half a million casualties on his hands, Aden is looking for a way to move on. He's not the only one.

A naval officer has borne witness to inconceivable attacks on a salvaged fleet. A sergeant with the occupation forces is treading increasingly hostile ground. And a young woman, thrust into the responsibility as vice president of her family's raw materials empire, faces a threat she never anticipated.

Now, on the cusp of an explosive and wide-reaching insurrection, Aden plunges once again into the brutal life he longed to forget. He's been on the wrong side of war before. But this time, the new enemy has yet to reveal themselves…or their dangerous endgame.
What happens after the war has ended and everyone has hashed out the reporations and divided the booty? In  Aftershocks, Marko Kloos explores this scenario as the consequences of being the losing faction in the war become clear and new little rebellions begin popping up in various areas. 
This was a completely easy read.  Sometimes scifi/space opera books can throw me off.  However, Kloos was able to make Aftershocks flow well while still giving the reader enough perspective in the six planets, the history of the war and the fallout after using multiple character PoVs.
Aden has been a POW since Gretia lost the war.  At least he has lived in a nice prison and was well treated and fed.  He was part of an elite force and has some pretty big history happening that we don't learn fully in this book.  Aden's character is the one who walks us through most of this world as he gets out of the POW camp and has to figure out where to go afterwards since he still has a past to hide.
Idina is a soldier for the winning team alliance.  She has a lot of anger towards anyone Gretia and represents how most alliance probably feels post wars.  She also is about to get the first glimpse that the peace they shoved down everyone's throats isn't sitting well and there are some ready to fight back.  Her PoV captures most of what is happening on the ground.
Dunstan is another alliance soldier set on post to guard the Gretian fleet confiscated by the alliance until it can be divided up.  He just happens to be on rotation when the shit hits the fan and it becomes clear that maybe not everyone is taking the treaty well and someone is looking to wreak a little havoc.   His PoV covers most of what is happening in space.
Last, but not least is Solvieg.  She was seventeen when the war ended and they took her father's company from him.  It did help in the war effort with its tech. Since then, she has been trained to take over the reigns of the company and now, she is ready.  There are a lot of people watching her, and her father sees her as his in back into the family company through her. She is about to find that everything she knows is probably wrong and she isn't as safe as she assumed.
There are a lot of little confrontations and connections in this.  Aden does carry most of the story as we learn about the aftermath of the war and how Gretians are viewed now.   I felt the most connected to him and his journey. It isn't until almost the end of this that the action really gets going after some smaller altercations.  I was really into everything happening, trying to figure out who is behind all the new attacks and then…it ended. There is a little bit of a cliff hanger happening and I'm completely ready for Ballistic next year, continuing the Palladium War series. 
This was my first book by Marko Kloos, but it definitely won't be my last, as I enjoyed the story he brought to life and the world-building in the book.
He had been a prisoner of war for five years, but Aden still hadn't quite made up his mind whether a beautiful prison was really better than an austere one.
Her mother had approved whenever she showed courtesy to the AI in their house. She figured that if the Mnemosyne ever became fully sentient and staged a rebellion against biological life-forms, it would remember who had treated it with respect.
Narration:
Luke Daniels is a favorite narrator of mine and was one of the main reasons I requested this book.  As always, his performance is fantastic and he brings all of the characters to life in my head.
Listen to a clip:

Rating Breakdown
Plot
Writing
Characters
Dialogue
Narration (Audio)
Overall:
Related Posts