Review copy was received from Publisher. This does not affect my opinion of the book or the content of my review.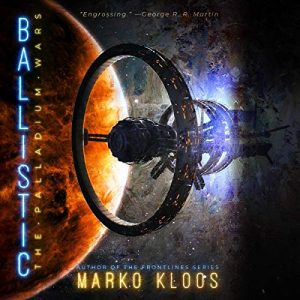 Ballistic
by
Marko Kloos
Narrator:
Angelo Di Loreto
Series:
The Palladium Wars #2
Published by
Brilliance Audio
on May 26, 2020
Genres:
Science Fiction
,
Space Opera
Length:
9 hours, 37 minutes
Format:
Audiobook
Source:
Publisher
Goodreads
Amazon
, 
Audible





There is a personal price to pay for having aligned with the wrong side in a reckless war. For Aden Jansen it's the need to adopt a new identity while keeping his past hidden. Now he's integrated himself aboard the Zephyr, a merchant ship smuggling critical goods through dangerous space. But danger is imminent on planet Gretia, as well. Under occupation, torn between postwar reformers and loyalists, it's a polestar for civil unrest.

Meanwhile an occupation forces officer is pulled right back into the fray when the battle alarm is raised, an ambitious heiress is entangled in a subversive political conspiracy, and an Allied captain is about to meet the enemy head-on.

As Aden discovers, the insurgents on Gretia—and in space—are connected, organized, and ready to break into full-scale rebellion. History is threatening to repeat itself. It's time that Aden rediscovers who he is, whom he can trust, and what he must fight for now.
Ballistic is the second book of The Palladium Wars and needs be read after Aftershocks, the story of a place five years after a war and the repercussions felt over six different worlds.
I really enjoyed getting to see an expanded world. For instance, one of the planets, Acheron, we get to visit this time is toxically gaseous. People live in planned, domed cities that float in the atmosphere. The way of life there is very pleasure based and if you have the credits, you can get just about anything your heart desires. It reminded me of Vegas if it was floating and a little cleaner.
Ballistic follows four different PoVs to give the reader the full scope of the story happening in multiple places. Aden (former PoW), Solvieg (Aden's sister and heir to a huge corporation), Dunstan (Palladian Space Police), and Idina (Alien ground military on Gretia). Each PoV add to the worldbuilding/galaxy building of the story and add a unique perspective.
In Aftershocks, I felt it was very much Aden's story. Ballistic incorporated the other characters PoVs more, opening up the world and the characters in it. Aden's PoVs were definitely my favorites in the first book of the series but I found myself really warming to a few of the other characters this time around.
Aden has found a multinational crew to work with running cargo. Most of it is legal everyday supply type runs. However, they have one of the fastest ships around and take on a job that is less than reputable. What was supposed to be a basic run has some very serious consequences and Aden and crew are in some really tight spots.
Solvieg works for her father's company. He isn't allowed to be a part of it anymore since Gretia lost the war and that company was one that supplied weapons for the Gretian soldiers. It has been held for her to take a spot at the executive table as a way for him to still have some control of the company. Solvieg doesn't really want to be his puppet and is trying to make her own way as well as build a relationship with Aden, the brother once thought dead without her father knowing.
Dunstan's PoV was one of the most interesting for me in this series. He is the captain of a military ship and is on space patrols. Something strange is happening though, he gets the sense that possibly he and his men are in over their heads when he comes upon a destroyed vessel and can't figure out what went wrong with it and how it was destroyed. He is about to be a key player in a rebellion that seems destined to get started and the rebels don't seem above guerilla warfare.
Idina is foreign police on Gretia. She is there to work with the Gretian police to keep law and order. As an occupying army, there are a lot of mixed feeling towards her, but she has at least made a few connections on planet. The reader gets to experience some of the prejudices and hard feelings since the war through her and see what is happening planet side that might tie in with what Dunstan is dealing with in space. Someone isn't happy the war is over and less so that they lost. There might be some looking to spark another interstellar war.
Ballistic ends on a bang and things are really starting to happen. All of our characters are left in pretty precarious situations and it will be interesting to see what they all do after the fallout that happens at the end of this book.
Overall a completely engaging and interesting story.
Narration:
Angelo Di Loreto did a good job with all of the PoVs in Ballistic. He is a change in narrator for the series, as Luke Daniels narrated Aftershocks, so it took a little time to warm to his version of the voices. I was able to listen to this at my normal 1.5x speed.
Listen to a clip:  HERE
Rating Breakdown
Plot
Writing
Characters
Dialogue
Narration (Audio)
Overall:
Reading this book contributed to these challenges:
Related Posts