Review copy was received from NetGalley. This does not affect my opinion of the book or the content of my review.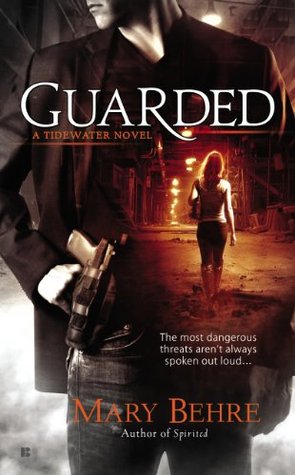 Guarded
by
Mary Behre
Series:
Tidewater #2
Published by
Berkley
on August 5, 2014
Genres:
Paranormal Romance
Pages:
320
Format:
eARC
Source:
NetGalley
Goodreads
Amazon
, 
Barnes & Noble




Veterinarian Shelley Morgan has always preferred animals to humans, and not simply because she can communicate with them psychically. Unlike most people she's known, animals have never broken her heart. But after six months in her new town, some of her favorite four-legged companions begin disappearing from the local zoo. Determined to track down the animals and their thief, the telepathic vet decides to investigate, unknowingly delving into a deadly mystery…

He's ready to make her heart go wild…

Although his bear-like physique has been an advantage in the Tidewater Police Department, Dev Jones's size often intimidates people. Only Shelley has seen past his massive build to the intelligent man inside, but that was years ago. So when she contacts him requesting his help to solve a series of animal kidnappings, he's eager to reconnect with her. But the thefts escalate to murder and all the evidence points to Shelley as the killer, and Dev faces a devastating choice: forsake his career or risk losing the woman he's grown to love…
ICYMI is a post from my early days of blogging at Yummy Men & KickAss Chicks.   You can see the original review here.
Yummy Man – Dev Jones
Kick Ass Chick – Shelley Morgan
---
Guarded is the second book in Mary Behre's Tidewater series.
As per usual, I read the first book in the series, Spirited, before I read this second book. Both books start slow for me. This series is a paranormal romance series, as each book has a different couple and we do get lots of the first couple in this second book.
I liked this book much better than the first, perhaps because things were already set up as the couple was friends in college and knew each other very well before the time where this book begins. So, the romance / sex doesn't happen too fast, since they already had a relationship.
The paranormal aspects in these books are limited. It seems to just be the psychic sister, Jules, the heroine from the first book, who can see and talk to dead people. And in this book, Shelley is a veterinarian who can understand animals. The other sister, Hannah, was only 3 when the sisters were split up into different adoptions or foster homes so I'll be very curious to learn her talent. Jules has been hunting for her sisters awhile.
Jules is engaged to a police detective and Devon Jones, the hero for this installment, is his partner. Once he met Jules, he was struck by how much she looks like Shelley. Just about that time, Shelley contacts Dev to help her with the mystery of animals going missing at the zoo.
The story begins with Shelley at the clinic with her intern, Jacob. I didn't like him from the second he was introduced and actually skimmed the part about him in the first chapter. I found him boring and annoying. Shelley is trying to get her life together after her fiancé broke up with her. She came here to work towards a partnership with the veterinarian who has been having memory issues. She's enjoying the work and the small town life and people. She just believes she shouldn't love anyone or have children, since she has lost everyone she loves.
Devon is from a prestigious family and is a great cop. He is smart and compassionate. He was in love with Shelley in college when he was a football player and she was his tutor. But she was dating his best friend. Now that the friend is out of the picture, he is determined to develop a relationship with Shelley. He starts with helping her with the zoo mystery. Once he is in town, it isn't just animals disappearing, it turns into people missing and found dead.
I found Shelley's insistence to protect the animals at the zoo, even at the risk of her own and others' safety, a little frustrating. I thought she should be smarter than that. Devon is better at recognizing the dangers and tries to protect her.
The romance was sweet and sexy, fitted in around the mystery. They make a fine couple and a good team. The story wasn't particularly humorous, the villains not as developed as characters so their motivations are more typical but overall, Guarded was a fun, interesting read. I'm assuming the next book is about the third sister, Hannah, but no information has been released yet. I also wonder if there will ever be anyone other than these three sisters who have any abilities. I guess we'll have to wait and see.
Latest posts by Anne - Books of My Heart
(see all)
Related Posts