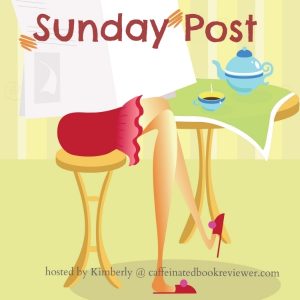 The Sunday Post is a weekly meme hosted by Kimberly  @ Caffeinated Reviewer. It's a chance to share news~ A post to recap the past week on your blog and showcase books and things we have received.
Stacking The Shelves
is also a weekly meme hosted by 
Tynga's Reviews
and Marlene from
Reading Reality.
It's all about sharing the books you are adding to your shelves, may it be physical or virtual. This means you can include books you buy in physical store or online, books you borrow from friends or the library, review books, gifts and of course ebooks!

Don't forget to look at my giveaways on the right sidebar.
Every week now is jam packed. My daughter is doing well with school. She had just 2 medical appointments this week.  We didn't make it to quilting again this week because I was so tired, after picking her up from classes I slept from 1-5pm on Wednesday.  I was happy to have Thursday open to stay home and work on stuff.
I was also looking forward to this weekend to just stay home and unpack, read, cook, etc.  Sadly, I got sidetracked.  Friday I had planned to run a couple errands while she was in class. First stop was a framer to get my art work fixed up. Some needed the frames repaired, some needed new dust covers, etc.  She was able to recommend someone to do upholstery so I went over there. I liked her. She can't do it until December but she's reasonable and told me where to get fabric for $8 a yard.  I got a quote earlier in the week and they charge $45 a yard! So then I was out of time.  So then I took my daughter home and went back to finish at the framer, then to the garden center, Walmart and Aldi. I was going to go to Lowes since I had a 10% off coupon which expired at the end of August but I was too tired to do that and cook dinner.
Saturday I went to the fabric place recommended as they are only open Saturday /Sunday.  The traffic was horrible and a cop told me it was the first home football game. I got there, got parked, and the guy wasn't there today. People were shocked because he is always there. The next vendor over texted him and found out he was sick but planned to be there tomorrow. I asked her to text me tomorrow morning because I don't want to drive again if he isn't going to be there. I did find fabric I liked. I did a return at Big Lots and then got the stuff at Lowe's .  I had hoped to finish up by noon, but I left later morning and was not home until 4pm.
I really need to work on the yard and garden.  And I want to unpack.  I need to not go on tangents of art work or upholstering pieces and just get stuff unpacked first.  I'm excited to get everything fixed up and working well though. At least I was able to listen to my audiobook a lot in traffic and waiting, etc.  Next week is really busy so thank goodness it is only 4 days.
---
August Reading:  I had another good reading month but I felt like I couldn't read fast enough.  I managed to read  26 books. Some count for more than one challenge.  I listened to  16 audiobooks, read  14 New Releases,  8  library books,  26 COYER Hunt books, and 12  Beat the Backlist books.
---

Stacking the Shelves is hosted by Tynga's Reviews and Reading Reality.  These are the exciting ARCs I received this week (If you click on the cover, it will take you to the Goodreads entry):
    Nothing.                             
(If you click on the cover, it will take you to the Goodreads entry)
Oops these were from the Bookworm Box I signed up to try at Book Bonanza, not freebies.

Now the really scary one. This is all the Kindle and Audible freebies I grabbed this past week. You can see why I need to do Thrifty Thursday to be sure I read a few at least one each month.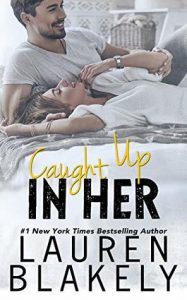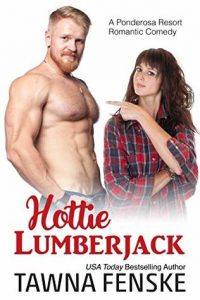 I really meant to cut back on freebies BUT  they are free so I guess that won't be happening.

I'm not including things like reviews posted or upcoming as they are always in the right sidebar. And, my challenge status is also there.
If you like this and want to see me do the Sunday post, as often as I can manage, leave me a comment and let me know.
Anne
Latest posts by Anne - Books of My Heart
(see all)