Review copy was received from Publisher. This does not affect my opinion of the book or the content of my review.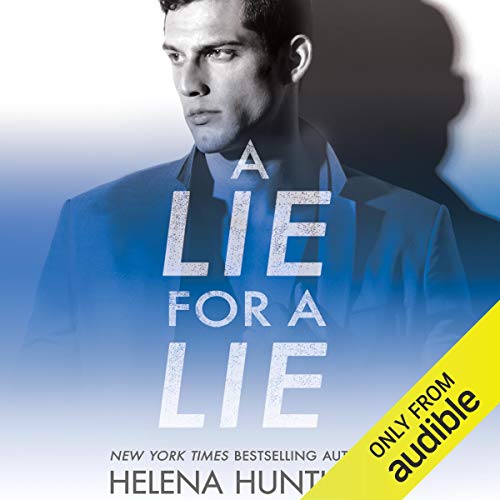 A Lie for a Lie
by
Helena Hunting
Narrator:
Stella Bloom
,
Jason Clarke
Series:
All In #1
Published by
Brilliance Audio
on October 15, 2019
Genres:
Contemporary Romance
Length:
8 hours, 35 minutes
Format:
Audiobook
Source:
Publisher
Goodreads
Amazon
, 
Audible
, 
Audiobook





Sometimes I need an escape from the demands, the puck bunnies, and the notoriety that come with being an NHL team captain. I just want to be a normal guy for a few weeks. So when I leave Chicago for some peace and quiet, the last thing I expect is for a gorgeous woman to literally fall into my lap on a flight to Alaska. Even better, she has absolutely no idea who I am.

Lainey is the perfect escape from my life. My plan for seclusion becomes a monthlong sex fest punctuated with domestic bliss. But it ends just as abruptly as it began. When I'm called away on a family emergency, I realize too late that I have no way to contact Lainey.

A year later, a chance encounter throws Lainey and me together again. But I still have a lie hanging over my head, and Lainey's keeping secrets of her own. With more than lust at stake, the truth may be our game changer.
A Lie for a Lie is a second chance hockey romance by Helena Hunting, the first installment in the All In series.  The opening sequence of the story had me laughing out loud and immediately thrilled to be back in the Pucked world.  For those of you familiar with Helena Hunting's Pucked series, All In is a spin-off series, set a few years after the last Pucked book.
Sheltered and smart, Lainey Carver is escaping her oppressive home life and venturing into the Alaskan wilderness to research her master's thesis.  When Rook meets Lainey, he's just a normal guy on a fishing holiday.  He's RJ, not Rook "Rookie" Bowman, the captain of Chicago's NHL team.  The attraction between RJ and Lainey is instantaneous and electric.  RJ's happy to keep his celebrity and former womanizing ways a secret, although it isn't long before he regrets not telling Lainey the truth up front.  An unfortunate chain of events separate the two for over a year, until they are reunited under hilarious and uncomfortable circumstances.  With the truth of RJ's life in the open, Lainey has to decide if she's able to trust him with her heart again, not to mention she has her own secret.
There is so much to like about both of the characters in this book.  We see real vulnerability in RJ when he discusses his dad, and loss that is still very real.  He has a deep love for his family and close relationship with his sister, and he's not afraid to show Lainey how much he cares for her.  Lainey is intelligent, kind, and patient.  I appreciate that she struggles with anxiety and (I assume) PTSD.  Her position as a strong, smart, woman is not diminished by these afflictions.  Instead, we witness several examples of her using various strategies to manage her anxiety.  RJ is incredibly supportive and accepting, which is just another reason to love him.
Even though the story is fiction set in a fantasy world (ie: NHL star meeting a country girl nerd), at the heart of it, this is a simple, sweet love story.  There were several poignant moments that were so much like real life and real love, it was very easy to connect with the characters and the story.
With A Lie for a Lie, Helena Hunting skillfully transitions to a fresh new series; including all the things I loved most about her work; hockey, humor, banter between the team mates, close-knit friends and families, and of course, sizzling chemistry between the hero and heroine.
Narration:
The narration for this book was alternating point of views between RJ and Lainey.  Both narrators did a fantastic job, both the diction and pacing were perfect.  And wow, Jason Clark has a seriously sexy voice.  I enjoyed this at normal speed, but it would be easy to listen to at 1.25x if one were in a rush.  I hope both narrators are brought back for the next installment in the series.
Listen to a clip: HERE
Rating Breakdown
Plot
Writing
Characters
Dialogue
Narration (Audio)
Overall:
Related Posts