Review copy was received from Publisher. This does not affect my opinion of the book or the content of my review.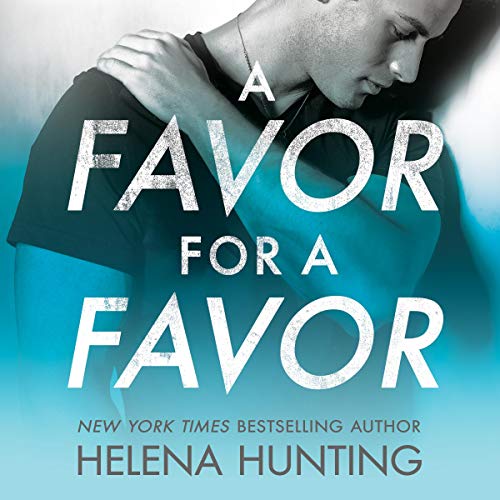 A Favor for a Favor
by
Helena Hunting
Narrator:
Erin Mallon
,
Jacob Morgan
Series:
All In #2
Published by
Brilliance Audio
on January 28, 2020
Genres:
Contemporary Romance
Length:
8 hours, 5 minutes
Format:
Audiobook
Source:
Publisher
Goodreads
Amazon
, 
Audible






When I joined Seattle's NHL expansion team, I thought it was the start of something great. But nothing ever goes the way you expect. Take my introduction to my new neighbor. She came rolling in on the hot mess express at midnight, making a racket while she tried to get into my team captain's apartment. Did I mention that he's married to a woman who definitely was not her?

Imagine my surprise when I end up with an injury that has me out of the game for weeks, and she's the one to offer to help me. I should probably add that she's not the captain's mistress. She's his sexy, pastel-haired younger sister.

So we come up with an arrangement: she rehabs me so that I can get back on the ice sooner, and she can add a professional athlete that isn't her brother to her client list. Seems simple enough. As long as I can keep my hands to myself and my hormones in check.
I can't think of a better read to celebrate Valentine's Day then A Favor for a Favor.  This is the second installment in the All In Series by Helena Hunting, a spin-off of the Pucked Series.  While it is definitely a sports romance, it is also a perfect enemies to friends to lovers story that will have you laughing out loud, blushing with heat, and sighing with happiness.  I am a huge fan of Helena Hunting, especially her hockey romance.  She effortlessly makes the characters real and relatable, even when the premise is a bit fantastical.  (If you have a hot NHL boyfriend/husband this doesn't apply to you.)
In A Favor for a Favor, we meet Stevie and Bishop.  Stevie's moved to Seattle, eager to begin the next stage of her life and ready to move on from her cheating ex-boyfriend.  Bishop has left his old NHL team to be part of Seattle's expansion team, where he hopes to earn a long term position and secure a future for himself and his younger brother.  The two go from cold 'underwear wars' to unlikely allies where they find that the insecurity and uncertainty around being the new kid on the block is universal, no matter if you are a professional athlete or beginning your first post-college job.  The two characters fight against their undeniable chemistry as the sexual tension escalates.
Helena Hunting's heroes are never the stereotypical jocks.  They have quirks and real life issues, but are presented in such a way that their vulnerabilities don't decrease their masculine appeal.  Her heroines are strong and competent women, even when they might not have their act together or their life plans have been derailed.  Stevie and Bishop are no exception, and I was invested equally in their HEA.
I really enjoyed the way family, both blood and found, has an enormous influence on the characters in the story.  Their relationships apart from each other were just as engaging as they were together.   I loved the camaraderie of the team, the banter (sometimes tasteless and crass) between friends, and the humor in the most awkward of situations.   A Favor for a Favor could easily be read as a standalone novel, although I think it is worthwhile to at least read the first in the All In Series, as the characters are closely connected and a source of tension in this story.
A Favor for a Favor is more than just a sexy romp.  It is a slow-building romance between two flawed and conflicted characters, served with a heavy dose of comic relief.
Narration:
I loved the narration.  Both of the narrators captured the essence of the characters and did a great job with pacing and diction.  Erin Mallon always delivers a great performance, and is adept at communicating vulnerability without crossing over into whiny.  I can easily say that Jacob Morgan is one of my top three favorite narrators ever.  The combination between Ms. Hunting's dialogue and his delivery make the performance so believable.
Listen to a clip: HERE
Rating Breakdown
Plot
Writing
Characters
Dialogue
Narration (Audio)
Overall:
Related Posts