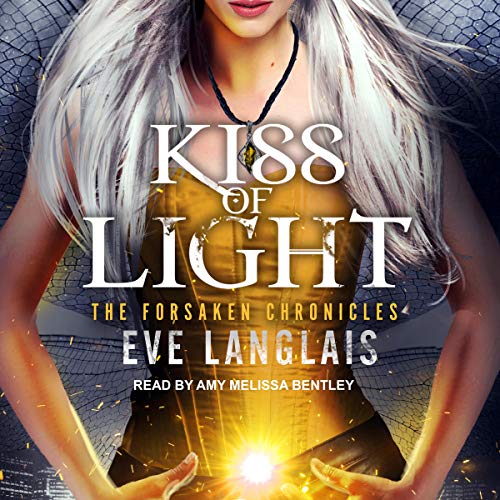 Kiss of Light
by
Eve Langlais
Narrator:
Amy Melissa Bentley
Series:
The Forsaken Chronicles #3
Published by
Tantor Audio
on September 26, 2019
Genres:
Urban Fantasy
Length:
9 hrs and 11 mins
Format:
Audiobook
Source:
Publisher
Goodreads
Amazon
, 
Audible
, 
Audiobook
, 
Barnes & Noble
, 
Apple




The truth is unfolding, almost as fast as her memories. Yet Adara still has questions that only he can answer.

But being near Desmond fills her with confusion—and thoughts of violence. It's his fault she was tortured. He failed her in so many ways.

Is it any wonder she turns to others for comfort? Revels in the dark jealousy in his gaze?

Now isn't the time for romance or petty games. Those who brought about her downfall are still at work. Determined to silence her before she discovers the truth.

They're right to fear because she will hunt the bowels of Ha'el itself for vengeance and when she discovers the truth, she will set it free.

Warning: This story is a dark urban fantasy rife with violence and mature subject matter. Reader discretion is advised.

This is the third (and I assume final) book in Eve Langlais's The Forsaken Chronicles series. I say that I assume it is the final book, because it reads like the last book in a series, but I've also read books that continue on after the first story arc ends.
So this series follows Adara as she goes from a woman who doesn't even know who she is to learning about the existence of vampires and werewolves. She struggles with who and even what she is, because she's not human. She knows she has been forsaken, cast out of her homeland and even tortured.
I don't want to go into what happens in this book, because it will spoil everything in earlier books. I also don't quite know how I feel about the ending. Things didn't go entirely the way I expected. I'm not even sure if I like where the story went, but I also think it does work the way it was written. It made me feel for some of the characters (some more than others). It also made me dislike some characters more. I know I'm being extremely vague, but again, no spoilers.
I think I've said this in every review for this series, if you're an Eve Langlais fan, this series doesn't have the strong humor you'd expect from her stories. This is a much darker series, showing that she is more than just a snark writer. I don't want to discourage anyone from trying this series, I'm extremely glad I listened to it. I just don't want a fan to pick it up expecting the humor you would expect from her normally. As a fan of humor and dark (and often the two are intertwined), either works for me, but I always know which I'm in the mood for.
Narration:
I think this series is the only series where I've listened to Amy Melissa Bentley. I've really enjoyed her narration. There isn't a huge cast to this series, though this book had the largest cast of the three, but she does a good job of different voices for all the characters. I thought the voices fit each character's personality. I would listen to her again, for sure.
Listen to a clip.
Rating Breakdown
Plot
Writing
Characters
Dialogue
Narration (Audio)
Overall:
Related Posts