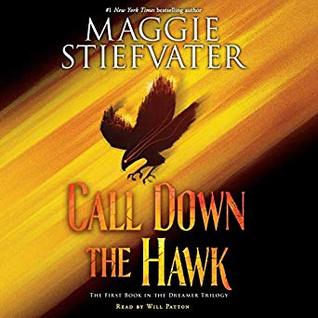 Call Down the Hawk
by
Maggie Stiefvater
Narrator:
Will Patton
Series:
Dreamer Trilogy #1
Published by
Scholastic Audio
on November 5, 2019
Genres:
Fantasy
,
Young Adult
Length:
13 hours, 45 minutes
Format:
Audiobook
Source:
Purchased
Amazon
, 
Audible
, 
Audiobook
, 
Barnes & Noble
, 
Apple





The dreamers walk among us . . . and so do the dreamed. Those who dream cannot stop dreaming – they can only try to control it. Those who are dreamed cannot have their own lives – they will sleep forever if their dreamers die.

And then there are those who are drawn to the dreamers. To use them. To trap them. To kill them before their dreams destroy us all.

Ronan Lynch is a dreamer. He can pull both curiosities and catastrophes out of his dreams and into his compromised reality.

Jordan Hennessy is a thief. The closer she comes to the dream object she is after, the more inextricably she becomes tied to it.

Carmen Farooq-Lane is a hunter. Her brother was a dreamer . . . and a killer. She has seen what dreaming can do to a person. And she has seen the damage that dreamers can do. But that is nothing compared to the destruction that is about to be unleashed. .
The Raven Cycle is one of my favorite series ever, so I was both excited and really nervous to read Call Down the Hawk.  This is the first book in a brand new series but I don't think that the enjoyment level will be the same, or that all of the Dreaming stuff will make as much sense, if you haven't completed The Raven Cycle series, plus it is a wonderful experience and if you don't enjoy that series you are not going to enjoy this one.
Ronan grew on me through the Raven Boys series, but this isn't a book just about him.  Call Down the Hawk is a book about all the Lynch boys, secret societies, Dreamers, Dreams and the possible end of the world.  It was really a fascinating story that I think only hits the tip of the iceberg of what this series is going to turn into.
I was nervous this wasn't going to live up to the series before it, but it is just as wonderful in a completely new and twisted way.  It has so many great new characters and I'm loving all the time in the dream worlds and meeting new dreamers as well as the people that are hunting them down.  It's one of those books that you get to see things from multiple sides and so no one is all good or all bad, they just have different motivations and think they are doing the right thing.  I really love the various shades of gray so far.
The story was captivating and one of my biggest surprises was Declan, the oldest Lynch brother.  I kinda hated him in the Raven Boys but getting to know him in this series was eye opening to the deeper character there.  I love the mystery surrounding this new plot and the factions that are involved. I'm really hoping there is a team up of sorts down the road but right now it is too soon to tell.
Since I loved the first series so much, I was sad not to get more cameos. There are a few mentions of characters from the first series and what they are up to now.  
This was a great opening book that set up the overall feel of the story, introduced the players, posed some dangers and made me want to dive into the next book in the series, which isn't out yet.  I was so happy to step into the story Maggie Stiefvater is dreaming up for us and I for one will be ready to read the next book on release day.
"He sucked in more longing with every inhale, he exhaled some of his happiness on the other side. How miserable."
It felt like sadness was like radiation, like the amount of time between exposures was irrelevant, like you got a badge that eventually got filled up from a lifetime of it, and then it just killed you.
"You are made of dreams and this world is not for you."
Narration:
Maggie Steifvater's prose is one that I personally adore, it's almost like the book is meant to be read aloud and listened to.  I always get her books in audio because they are just that more enjoyable in that format and Will Patton does a stellar job with the performance as always
Listen to a clip:

Rating Breakdown
Plot
Writing
Characters
Narration (Audio)
Overall:
Reading this book contributed to these challenges:
Related Posts