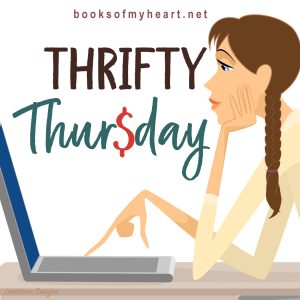 The purpose of Thrifty Thursday is to read a book which was free (at some point).
Kindle freebie on March 19, 2020  (currently $5.03 at Amazon as of writing this post and also in Kindle Unlimited)
Overall rating 4.05 with 739 ratings and 122 reviews
Reckless in Texas
by
Kari Lynn Dell
Series:
Texas Rodeo #1
Published by
Sourcebooks Casablanca
on August 2, 2016
Genres:
Western Romance
Pages:
416
Format:
eBook
Source:
Purchased
Goodreads
Amazon
, 
Audible
, 
Audiobook





Violet Jacobs is fearless. At least, that's what the cowboys she snatches from under the hooves of bucking horses think. Outside the ring, she's got plenty of worries rattling her bones: her young son, her mess of a love life, and lately, her family's struggling rodeo. When she takes business into her own hands and hires on a hotshot bullfighter, she expects to start a ruckus.

She never expected Joe Cassidy.

Joe came to Texas to escape a life spiraling out of control. He never planned on sticking around, and he certainly never expected to call this dry and dusty backwater home. But Violet is everything he never knew he was missing, and the deeper he's pulled into her beautiful mess of a family, the more he realizes this fierce rodeo girl may be offering him the one thing he never could find on his own.
Three years ago I read the third book in the Texas Rodeo series. I always meant to get back to it. I got the first one, Reckless in Texas as a freebie, so here we are.  Now I really want to read them all.
The author does a really wonderful job in the world-building with obvious knowledge of the rodeo world. I always appreciate those authentic details in career or business aspects, so I was very happy here.  But that doesn't mean the character development gets ignored.
Violet is the kind of strong, smart, and capable woman anyone can admire.  She has a son and a whole circle of family and friends. The support and camaraderie of the rodeo team really adds to the story. Violet has always been attracted to the bad boy, but they aren't the type to stay around.
Joe Cassidy has worked for half his life for Dick Browning.  He loves the ranch in Oregon, working on it while he works as a top bullfighter in the rodeo circuit.  His friend, Wyatt, arranges a three rodeo stint in Texas to give him a chance to consider his life.  Violet is more than he ever hoped to find.
I liked Violet and Joe and they fit well together, both aware of the ups and downs in the rodeo circuit.  It's always amazing when each one thinks the other one is a bit out of their league. They both feel like they are so lucky.  It takes them sooooo long to really communicate with each other, which is always frustrating. I'd like to have seen them be closer friends to each other in the time they had.  They did provide each other with some emotional support, at least, and that's a key to any relationship.
I really loved Reckless in Texas and I recommend it to anyone who wants to read about cowboys and the rodeo.
---
These are only Kindle freebies I get, or ones through author newsletters which anyone can sign up and get for free. I don't include things like Kindle Unlimited or Prime Free Reading (I do have it). Both Tantor and Audible have occasional free audios (to anyone) and I do include those.  Since I one-click on 1-2 freebies a day or probably at least 5 a week, I came up with this feature to make sure I start reading them.
So I have thought about doing a Thrifty Thursday Challenge someday. For now,  what I think would be fun is if you have read and reviewed  a freebie, link up to your review (Goodreads, blog, facebook or wherever) below.
---
You can link up to the first post of the day HERE
Latest posts by Anne - Books of My Heart
(see all)
Reading this book contributed to these challenges:
Related Posts