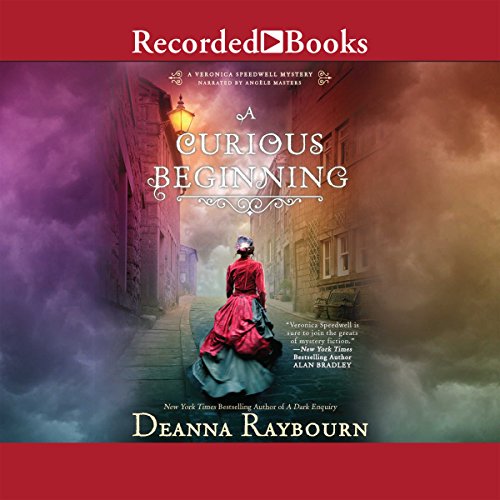 A Curious Beginning
by
Deanna Raybourn
Narrator:
Angele Masters
Series:
Veronica Speedwell #1
Published by
Recorded Books
on September 3, 2015
Genres:
Historical Fiction
,
Mystery
Length:
10 hours, 51 minutes
Format:
Audiobook
Source:
Purchased
Goodreads
Amazon
, 
Audible
, 
Audiobook
, 
Barnes & Noble
, 
Apple






London, 1887. As the city prepares to celebrate Queen Victoria's golden jubilee, Veronica Speedwell is marking a milestone of her own. After burying her spinster aunt, the orphaned Veronica is free to resume her world travels in pursuit of scientific inquiry - and the occasional romantic dalliance. As familiar with hunting butterflies as she is fending off admirers, Veronica wields her butterfly net and a sharpened hatpin with equal aplomb, and with her last connection to England now gone, she intends to embark upon the journey of a lifetime.

But fate has other plans, as Veronica discovers when she thwarts her own abduction with the help of an enigmatic German baron with ties to her mysterious past. Promising to reveal in time what he knows of the plot against her, the baron offers her temporary sanctuary in the care of his friend Stoker - a reclusive natural historian as intriguing as he is bad-tempered. But before the baron can deliver on his tantalizing vow to reveal the secrets he has concealed for decades, he is found murdered. Suddenly Veronica and Stoker are forced to go on the run from an elusive assailant, wary partners in search of the villainous truth.
I am not embarrassed to admit a well-designed cover is sometimes the deciding factor in my book selection.  And no, it's not always a naked, male torso either.  In looking at a list of historical romantic suspense, my attention was captured by the flourishing text and simple silhouettes of A Curious Beginning by Deanna Raybourn.  I was catapulted, along with the heroine, into an unexpected adventure from the very first chapter.  It is a testament to the elegant prose and interesting characters that I'd soon forgotten why I'd selected this book in the first place.
A Curious Beginning is the first installment in the Veronica Speedwell Mystery series.  The titular heroine is a plucky, independent-minded scientist, who has made a name for herself as a scientific expert in lepidopterology (the study of butterflies).  She is brusque and arrogant at times, traits that often earn women a negative label.  She embodies all the traits of post-Victorian era New Woman, with a few modern sentiments thrown in.  She knows exactly what she wants and is not afraid to go after it.  Until, at least, a mysterious stranger, a murder, and a darkly brooding natural historian have her on the run and at the heart of a scandal with potential to turn the country on its head.
Veronica's unwilling partner in adventure is the taxidermist-cum-natural historian, Stoker.  They have a slightly contentious relationship, not helped by Stoker's unpredictable moods and disdainful manner.  However as the story progresses, it is obvious they have more in common than at first glance.  Both Veronica and Stoker are fiercely independent and hold themselves apart from others emotionally.  In each other's company, the walls they've each built begin to give way.  I would not claim this story to be romantic, but I would say the characters have chemistry and I can only hope that their partnership leads to more later in the series.
A Curious Beginning is full of clever characters, both delightful and villainous.  The story might seem implausible, with some questionable motivations and actions, but it makes for some great fun and daring escapes.  If I wanted to make a comparison to another series out there, it would be Lemony Snicket for grown-ups.  The title speaks for itself.  This is a curious beginning to what is sure to be a grand adventure.
Narration:
I enjoyed the narration of this book and think Angela Masters gives an excellent performance.  I think she did an exceptional job with Veronica, although she was able to create unique accents that clearly imparted the personalities of the other characters.  I think the pacing was spot on and rather suited the tone of the novel.
Listen to a clip:

Rating Breakdown
Plot
Writing
Characters
Dialogue
Narration (Audio)
Overall:
Related Posts