Review copy was received from Publisher. This does not affect my opinion of the book or the content of my review.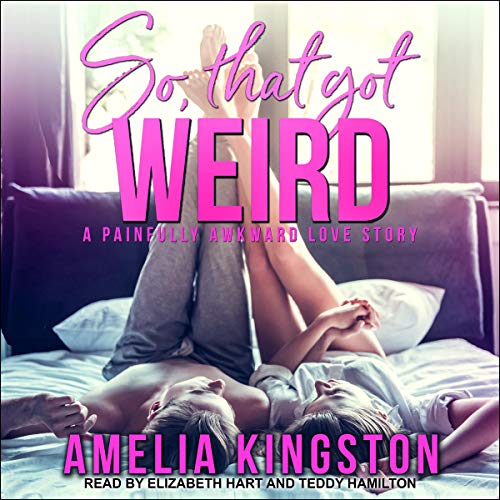 So, That Got Weird
by
Amelia Kingston
Narrator:
Teddy Hamilton
,
Elizabeth Hart
Series:
So Far So Good #1
Published by
Tantor Audio
on October 27, 2020
Genres:
Contemporary Romance
Length:
8 hours, 50 minutes
Format:
Audiobook
Source:
Publisher
Goodreads
Amazon
, 
Audible
, 
Audiobook
, 
Barnes & Noble
, 
Apple





A painfully awkward love story.

Incomprehensibly awkward Elizabeth Wilde is desperate for love. Connection. Intimacy. After a lifetime of romantic failures, the twenty-one-year-old gamer realizes she needs help. Professional help.

She needs… A sex tutor.

The devastatingly hot jock Austin Jacobs is just the man for the job. As the reigning campus sex god, he has the playboy act down pat. But underneath those six-pack abs beats a broken heart. He doesn't trust people and he sure as hell doesn't believe in love.

The odd couple strike a deal. Four weeks of 'tutoring' for five thousand dollars.

When Austin coaxes Elizabeth out from behind her computer screen, the attraction they feel is undeniable. They're both a little broken, but somehow their jagged edges fit. And when their world comes tumbling down on top of them, they each have to decide if this weird thing called love is worth fighting for.
So, That Got Weird is the first book in the new NA series So Far, So Good. Elizabeth grew up in a family that was very controlling and isolated from kids her own age.  She is awkward and really never learned how to talk with people one on one.  Now in college, away from the familial forces that kept her down, she wants desperately to make a connection in the real world with another person.  After another failed date with someone she invested six months into in her game life, she has decided to get a tutor, a sex tutor to be more specific.
Austin Jacobs has the stats required for her needs.  He has been rated on a college site to score your score and gets high marks in almost everything.  He definitely leaves his partners satisfied, but he is a one and done kind of dude.  There is no dating in his life and since Elizabeth just needs the physical, he seems like the perfect guy to be her sexual Yoda.
Austin can't believe that someone wants to pay him to teach her how to flirt, kiss, touch and finally how to have sex.  She is hiding a cute little bod under all of those baggy clothes so he doesn't get how she could have a problem until the first time they hang out and he realizes this girl has been beat down and just needs some confidence.  He'll follow along with the sexabus (sex-syllabus) he has been given and show her that there are a lot of ways to feel sexy for yourself first and then project that.
"The sexiest asset any woman can have is confidence"…
"So you're saying I'm screwed?" I deadpan. He laughs, his shoulders shaking with the deep, sweet sound. I can't help but smile back at him. I'll never get sick of that sound. Making him laugh makes me feel good.
"Well, confidence and a great rack. One out of two ain't half bad." His voice is sultry as he lowers his eyes down my body to my chest."
As they learn a little more about each other, it becomes clear that both of them are broken in different ways.  Still, together they are working their way through feeling comfortable in their own skin, and Austin is starting to show her the real him. He puts on a show for most people but this girl is honest and kind and he is starting to feel like he isn't going to be able to let her go when the month is through.
"I trace the curve of her full bottom lip with my thumb, my pulse quickening as desire surges through me. I want to be her hero. I kiss her fiercely, with everything I am. With everything she believes I could be.
This girl shatters me.
She gives me hope that the world isn't exclusively pain and shit."
I enjoyed the courtship between the two characters.  Elizabeth just needed someone in her corner and Austin needed someone to believe in him unconditionally.  They have a few bumps along the way.  Austin can be a real jerk when hurt and Elizabeth's coping strategy in the past has just been to shut down.  Still both don't take any crap from the other and I like that about the two of them.
Overall a really cute story of how the gamer girl got some game and learned real life might be just be better than the online life she was leading.
Narration:
Elizabeth Hart I've enjoyed before in some of her narrations for Tiffany Reisz books.  She was a good fit for the gaming, socially awkward voice of Lizzy.  Teddy Hamilton is not new to the romance game and it shows.  His voice brought a sultry air to portrayal of Austin and his teaching prowess.  I was able to listen to this at my usual 1.5x speed.
Listen to a clip:  HERE
Rating Breakdown
Plot
Writing
Characters
Dialogue
Narration (Audio)
Overall:
Reading this book contributed to these challenges:
Related Posts