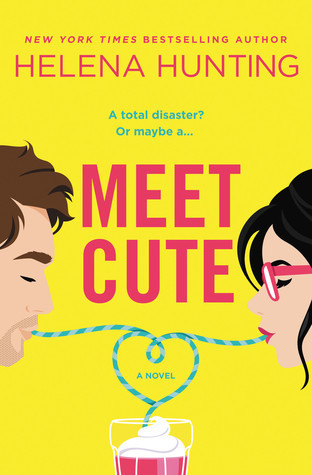 Meet Cute
by
Helena Hunting
Published by
Forever
on April 9, 2019
Genres:
Contemporary Romance
Pages:
384
Format:
eBook
Source:
Purchased
Goodreads
Amazon
, 
Audible
, 
Audiobook
, 
Barnes & Noble




Talk about an embarrassing introduction. On her first day of law school, Kailyn ran - quite literally - into the actor she crushed on as a teenager, ending with him sprawled on top of her. Mortified to discover the Daxton Hughes was also a student in her class, her embarrassment over their meet-cute quickly turned into a friendship she never expected. Of course, she never saw his betrayal coming either...

Now, eight years later, Dax is in her office asking for legal advice. Despite her anger, Kailyn can't help feeling sorry for the devastated man who just became sole guardian to his thirteen-year-old sister. But when her boss gets wind of Kailyn's new celebrity client, there's even more at stake than Dax's custody issues: if she gets Dax to work at their firm, she'll be promoted to partner.

The more time Kailyn spends with Dax and his sister, the more she starts to feel like a family, and the more she realizes the chemistry they had all those years ago is as fresh as ever. But will they be able to forgive the mistakes of the past, or will one betrayal lead to another?
A 'meet-cute' is a scene, usually in film or TV, in which a future romantic couple meets for the first time.  With an adorable, retro-style cover, featuring profiles sipping through a love shaped straw, I picked up Meet Cute by Helena Hunting expecting a romantic comedy.  The prologue describes a funny fangirl-esque interlude that made me smile and nod, totally on board with where this was going.  However, after that, the story took a circuitous route through tragedy, teenage angst, predictable villainy, and questionable ethics.  Although my final destination was the HEA I'd hoped for from the beginning, the road to get there was all over the map.
Kailyn Flowers, is a career-focused lawyer, whose goal is to make partner by the time she is thirty.  Circumstances put her in the path of her former teen idol crush and law school rival, Daxton Hughes.  Dax is just as career-driven as Kailyn, however, his life is turned upside down by tragedy, forcing him to reassess his priorities and completely change his lifestyle.
There was a lot to like in the story.  Kailyn and Dax are a good match-up and have great chemistry.  I enjoyed their interactions and the evolution of their relationship and the steaminess of their romance.  Dax's sister, Emme, is also a primary character in the story.  Watching Dax and Emme's relationship change in the aftermath of tragedy was heartbreaking and uplifting.  Dax's adventure into the 'red aisle' of the drug store was both the most poignant and the funniest scene in the book.  Helena Hunting is gifted at using humor to turn cringe-worthy situations into the sweetest testaments of love.
The issue is that all of the reasons to love this book didn't fit together in one cohesive story.  Fangirl meets idol, brother to dad struggle, second chance/secret romance, battle to keep the family together, and the struggle to keep an innocent out of the clutches of a greedy guardian would work fine independently, but just served to confuse the story and dilute the reader's ability to connect with the story.
In addition to the general plot problems, there were also some details that did not sit well with me.  I find it hard to believe that Dax didn't immediately recognize Kailyn, by name or face, at the meeting with his parents.  I had a problem with the way Kailyn dismissed the 'wrong' done to her way back in law school.  I thought the villainous aunt was obvious and predictable, and that that plot line was too conveniently wrapped up.  Lastly, I questioned the ethics of Kailyn, the custodian of his sister's trust, pursuing a relationship with Dax.
The best way to describe Meet Cute overall might be 'cute.'  It lacked the humor and quirkiness I've come to expect from Helena Hunting, but there were some touching moments that tugged at my heartstrings and brought tears to my eyes.  All said and done, the story left me with a smile and the good feelings I look for in a romance.
Rating Breakdown
Plot
Writing
Characters
Dialogue
Overall:
Related Posts