Review copy was received from Publisher. This does not affect my opinion of the book or the content of my review.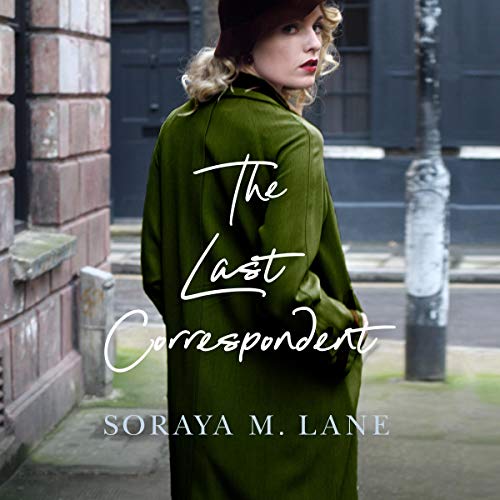 The Last Correspondent
by
Soraya M Lane
Narrator:
Sarah Zimmerman
Published by
Brilliance Audio
on November 1, 2020
Genres:
Historical Fiction
Length:
9 hours, 34 minutes
Format:
Audiobook
Source:
Publisher
Goodreads
Amazon
, 
Audible




When journalist Ella Franks is unmasked as a woman writing under a male pseudonym, she loses her job. But having risked everything to write, she refuses to be silenced and leaps at the chance to become a correspondent in war-torn France.

Already entrenched in the thoroughly male arena of war reporting is feisty American photojournalist Danni Bradford. Together with her best friend and partner, Andy, she is determined to cover the events unfolding in Normandy. And to discover the whereabouts of Andy's flighty sister, Vogue model Chloe, who has followed a lover into the French Resistance.

When trailblazing efforts turn to tragedy, Danni, Ella and Chloe are drawn together, and soon form a formidable team. Each woman is determined to follow her dreams 'no matter what', and to make her voice heard over the noise of war.

Europe is a perilous place, with danger at every turn. They'll need to rely on each other if they are to get their stories back, and themselves out alive. Will the adventure and love they find be worth the journey of their lives?
I find the stories of women in World War 2 compelling.  The struggle for social equality combined with the desire to support one's country, and perhaps the whirlwind romances have made this my go-to in the historical genre for the past year.  The Last Correspondent by Soraya M. Lane is a stand alone novel primarily set during the latter part of the war, which showcases the less-common trade of female correspondents and journalists.
This story is told from the alternating points of view of Ella, Danni, and Chloe.  Ella is the frustrated journalist who seizes the opportunity of her career by moving to England to report on women's issues.   Danni, a well-known, photo journalist, has made a name for herself reporting from hotspots during the war and longs to have the same rights as her male counterparts to tell the story from the front lines.  Chloe is a former model that leaves it all behind to find love.  Switching between the three story lines is a bit jarring at first, but less so as the novel progresses, and the women's stories become more entwined.
"I have too frequently received the impression that women war correspondents were an irritating nuisance.  I wish to point out that none of us would have our jobs unless we knew how to do them and this curious condescending treatment is as ridiculous as it is undignified." – Martha Gellhorn
I appreciate the angle this book took in representing women during WW2, beyond nursing or tending the home fires.  The struggle of female journalists to find a voice in a male-dominated field is completely new to me.  I was interested to learn more, specifically about the women that were quoted at the beginning and end of the novel.  I am not sure that Danni and Ella, as fictional characters, did them the justice that they deserve.   Rather than portraying two women who outsmarted a male-dominated, sexist industry, and creatively overcame a ban on women reporting at the front, Danni and Ella come across as reckless; making life-altering decisions for no better than reason than that they were goaded into it or told they couldn't.
This is a fast-paced story with a lot of action, but perhaps this was at the expense of character development.  Key details that help the reader understand the characters, such as their education, social status, past relationships, etc. were mentioned briefly or missing from the narrative.  It seemed that Ella, Danni, and Chloe were simply moving from action to action.  Without having any background to understand their deeper motivations, I rather felt like they were pretty much winging it.  I am still not sure to whom the title "The Last Correspondent" is referring.
There were some historical inaccuracies that frustrated me, however, I think  I found it very difficult to connect with or understand Chloe.  Her storyline was unbelievable at best.  While I actually admired what the author was trying to accomplish with Ella and Danni, I do not understand the point of Chloe's narrative.  I was so very frustrated with the logistics behind her trip to France, her attitude towards the war and the Resistance, and her complete naiveté, especially considering her brother's well-respected work in war correspondence.  Her character lacks any significant arc.  She was self-occupied and oblivious and I never got the feeling she grew beyond that even at the end.
I actually enjoyed this story for the romance more than anything.  It involved one of my favorite romantic tropes (austere hero/smart and sassy heroine) and I was completely invested in Danni and Ella's love lives.  When I pick up a romance, I expect an HEA, because, after all, that is the point.  However, The Last Correspondent was represented more as historical fiction, so I was on tenterhooks pretty much the last quarter of the story wondering if any of these girls would find true love.  Perhaps that wasn't the author's overall intent, but I have to admit, it was this aspect that elevates my rating and allowed me to be more forgiving on some of the other things.
As a romance, I really enjoyed The Last Correspondent.  As a story chronicling the struggle of women trying to define their selves in the midst of WW2, it fell just a little short of my expectations. There was a lot of potential, but unfortunately it was not as well-executed as it could have been.
Narration:
Sarah Zimmerman did a nice job with the overall performance.  I enjoyed the story at the standard 1x pace.  There were slight differences between the speed and manner of speaking that allowed me to distinguish between Ella and Danni.  I think she did a very good job on both the American and British accents, although I don't feel there was enough information about the characters to know if there should be more Midwest-tone or posh-Brit.
Listen to a clip: HERE
Rating Breakdown
Plot
Writing
Characters
Dialogue
Narration (Audio)
Overall:
Related Posts